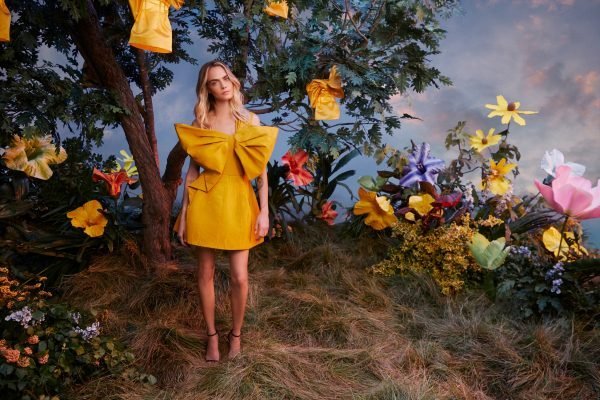 In May, Amazon joined forces with CFDA and Vogue to launch the virtual Amazon Fashion storefront in the United States. The announcement was met with raised eyebrows; the 'everything store', after all, is synonymous with everything that high fashion isn't. The designer line-up was tight but the sponsorship from Vogue lent credibility. And now, Amazon has extended it's sartorial footprint to Europe. Earlier this month, the retail conglomerate debuted a digital storefront at London Fashion Week titled 'Amazon Fashion x London Fashion Week' that hosts a curation of twelve designers including 1×1 Studio, De La Vali, Grenson, Les Girls Les Boys, Emilio De La Morena, Olubiyi Thomas, Preen, Teija, Ponder.er, Sabry Marouf, Bags of Ethics and AiSPi favourite Kat Maconie.
Says designer Kat Maconie of the collaboration, "Amazon's global reach was a massive draw for us, and we have been watching closely as their fashion profile has grown. Our main goal is to have an excellent sell-through rate and knock-on effect uplift in sales across all of our channels, both DTC and wholesale." The virtual storefront in partnership with the British Fashion Council along with 'Amazon Fashion Connects' is part of Amazon's latest efforts to crack into designer fashion, a category that seems to have evaded the retailer for years. Encouraged by the pandemic, Amazon hopes to leverage it's global consumer and diversify it's sartorial offering to encourage small and medium sized businesses to join the platform. Amazon also recently sponsored the Mercedes Benz Fashion Week in Madrid, including live-streamed shows and collections that were immediately available to shop on Amazon.
Amazon's global reach was a massive draw for us, and we have been watching closely as their fashion profile has grown. Our main goal is to have an excellent sell-through rate and knock-on effect uplift in sales across all of our channels, both DTC and wholesale.

Kat Maconie, Designer
Ever since it's launch in 1994, Amazon has come to be recognised as the store that sells everything, overlooking the emotion that high fashion is synonymous with. For the company to diversify into high fashion, partnering with Vogue and BFC lends credibility and allows it to work towards effectively communicating a brand image that appeals to a fashion aficionado.
Still, the journey hasn't been easy so far. When Common Threads launched in May, the designers faced unexpected challenges ranging from poor quality images to an unexpected drop in the original prices. Chloe Gosselin, one of the first few designers who were a part of the Common Threads experiment says, "While Amazon had approached me years earlier, I did not think that my customers were likely to buy shoes on Amazon. The Vogue endorsement changed that. However, four months later, my shoes are no longer on Amazon, primarily because other online wholesale partners complained. And while I did make sales (the items editorialised by Vogue were the most popular) returns were quite high."
On the contrary, designer Tanya Taylor has found success in selling her vibrant dresses on Amazon; the designer is now considering a long-term partnership and working with Amazon influencers. Taylor has hit the sweet spot by adopting a unique strategy that is exclusive to Amazon; says the designer, "Unlike customers of luxury websites, Amazon customers are not shopping with seasonal trends in mind, so it enables the brand to sell excess inventory. The customer that is buying our product [on Amazon] isn't aware which season it's from. Amazon shoppers prioritise delivery speed and reliability. That is different from luxury, which builds into its model that you are willing to wait. That delayed satisfaction is the opposite of Amazon."
Amazon plans to invest $18 billion dollars to invest in a range of tools and services that will facilitate an improved on boarding process and enable brands to set up high quality fashion centric storefronts using tools such as 'Fix Your Product', 'Creator Connections' and 'Manage Your Experiments'. Still, Amazon needs to work harder to change it's consumer psyche, most of which feeds off of a competitively priced business model that is detriment to high fashion. Says Gosselin, "I received negative reviews that her shoes were too expensive. When I buy things on Amazon like electronics, I look at reviews, so I know how important they are. I can spend time explaining that it's a handmade product made in Italy in small quantities, but people are not used to seeing a $700 shoe on Amazon. It's a shock for them."
Similar to Gosselin, not all designers see Amazon as the ideal fit. When London-based designer and strategist Niki Raja was approached by the company for a partnership earlier this year, she declined. Amazon required minimums that she was not able to meet and they also charged a fee. With an approach like this, Raja sees the dichotomy between Amazon and high fashion widening.
Going forward, Amazon will have to work harder to alter the approach of the consumer beyond that which it has cultivated in the decades since it's inception. The company will have to educate its consumers and evolve to allow a luxury fashion shopper to associate it with high fashion; whether it is able to, remains to be seen.
Source: Vogue Business
---
– Written by Soha Joshi 
Follow AiSPi on Instagram here and check out our blog here to stay updated on the latest from the European fashion industry.