From Indore to Staffordshire, AS by Akansha Sethi is already making waves. Inspired by her deep love for traditional Indian craftsmanship and a childhood spent trailing along with her parents who are passionate art collectors, Sethi mixes her unique artistic sensibilities with contemporary designs for a collection of jewellery that is every bit as modern, global and rooted as the designer herself. Team AISPI sits down with the designer for a tête-à-tête where we chat about all things jewellery and business and get a peek into Sethi's colourful journey as a designer and the birth of her brand.
Hi Akansha, can you tell us a little bit about yourself? Where are you from and how did you decide to get into the jewellery business?
I was born in Indore (India) and moved to Staffordshire (United Kingdom) when I was a month old. My parents' burgeoning art collection – ranging from jewellery, artefacts to paintings – exposed me to the world of art and design from an early age. Their passion for collecting art has manifested itself into a global business, which often requires them to travel all over the world in search of beautiful objects.
I joined them on these scouting trips throughout my childhood, an activity that organically sparked my interest in creating an adornment that is timeless, conveys a narrative and evokes emotions which can be passed through generations. I feel that out of all fashion forms, jewellery is the only object that fulfils all these criteria. 
Tell us a little bit about your project at Goldsmiths, how did that influence your journey as a jewellery designer?
The diverse nature of my learning at Goldsmiths University allowed me to explore different art forms. I belong to a family where we can trace our history back to more than ten generations through photographs and family heirlooms. Studying these heirlooms has helped me to understand the power of the narrative in elevating the significance of the object.
My project allows key aspects of each narrative to be highlighted to maintain the presence of the stories within the family network while simultaneously allowing them to evolve. As there was no physical presence of the objects from the stories or visual references, simple prototypes were made out of clay – an activity that started a new family ritual through which the original stories could be re-told. This process helped aid my understanding of the importance of narrative when designing and also how to translate a narrative into an object.
I express my ideas through my artwork, which allows me to visualise my ideas through a range of mediums. By the time I had completed my degree, I felt that I had the skill set and ideas required to continue developing my ideas for jewellery design and a voice inside urged me to see these to completion. The excitement of this opportunity and an urgency to share my ideas with the world seamlessly took me from paper to production.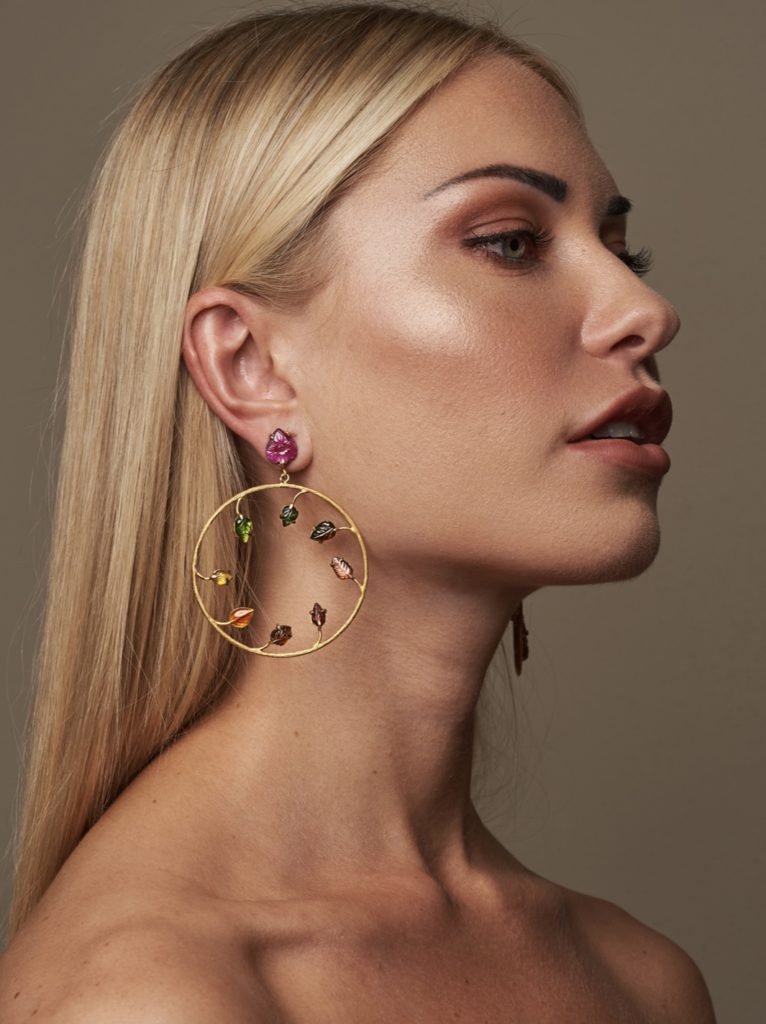 What are your inspirations? How do you translate those into jewellery?
Art in India has evolved over centuries and India is one of the select places where I can study this wide variety of art forms and incorporate them into my designs. The colourful forms of India along with the narratives that make up my family heirlooms form the backbone of my jewellery collection. I also seek inspiration from my travels.
The Nritya collection was inspired by the City Palace in Udaipur, where each room has a story to tell through the beautiful motifs and vibrant colours as well as the unique stories of each room. Each piece in the collection captures the essence of the space through a combination of hand carved stones and enamelwork. Folio, a collection designed using hand carved multi coloured tourmalines and enamel work represents the way leaves change colour from spring to autumn while the mini Deco collection was inspired by my love of fine art. In essence, my jewellery is an outlet for my interests which I love to share with my clients. My recent collection Jardin Majorelle was inspired by the bright colours and the juxtaposition of cacti throughout the garden against the blue buildings in Marrakech. This was represented by hand carved gems set to seem like the garden itself.
How tough has it been to set up your jewellery business? What has been your biggest hurdle?
Being a first generation jewellery designer, creating awareness for my brand has been the hardest part. However, by participating in jewellery shows and working hard on building my network of buyers and media representatives over the past three years, I have been able to promote my brand and the narrative behind each collection. It has been incredibly wonderful to have the support and appreciation for all the collections from my client. I truly love jewellery and it has always played a significant part of my life from childhood so designing each collection and seeing each piece transform from a sketch to a real piece of jewellery been the most exciting part.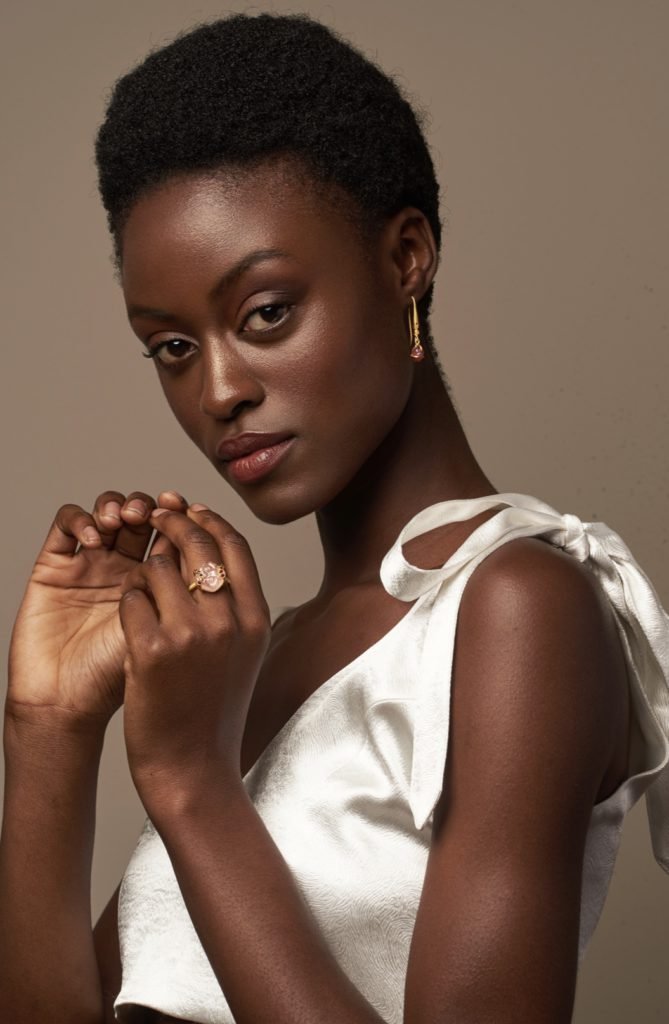 Tell us a little bit about your jewellery – what kind of pieces can we find in a Akansha Sethi collection? 
Each collection is my interpretation of the places that I have visited and been inspired by, which is represented in the colour, materials and craftsmanship. My jewellery is not just an adornment but a piece of art that connects with and complements the wearer's personality. In all my collections, I have designed the pieces to cater to a wider cliente. Some of the statement pieces have also been designed to transform into smaller pieces that allow the wearer to gradually gain confidence in wearing a bolder piece and tailor their jewellery to suit their mood and needs every day.
What about the materials? Do you only use precious metals and gemstones?
A popular collection Gulab was created by using real rose petals and immersing them in 18k rose and yellow gold. It all started when I was working on a bespoke piece for a family friend wherein I tried different ways to preserve the flowers given to her by her fiancé. This form of plating works best to capture the delicacy of the petals. It also reflects the authentic characteristics of the petals and also enables them to remain delicate and lightweight, whilst still allowing me to create demi fine jewellery pieces that are one of a kind. These petals have been embellished with a detachable hand carved stones, to compliment the character or the colour of the petal inside. I will be introducing another range of pieces using the same process with even more unique natural forms and a pop of colour.
Who is the Akansha Sethi woman? Where do you see women wearing your pieces?
Each AS piece is designed around a narrative and represented using brightly coloured stones and enamel work. Personally, I tend to wear clothes that are more subtle and which can be highlighted with either a few small pieces of jewellery or a bold statement piece.
The AS woman is a woman who likes to stand out and is confident enough to wear accessories in vibrant colours. Most of our pieces can be transformed to be worn in a variety of ways allowing women to wear them during the day with their workwear and also in the evening for a dinner. Each piece can be styled in a multitude of ways, both with Indian and Western clothing, during the day or in the evening.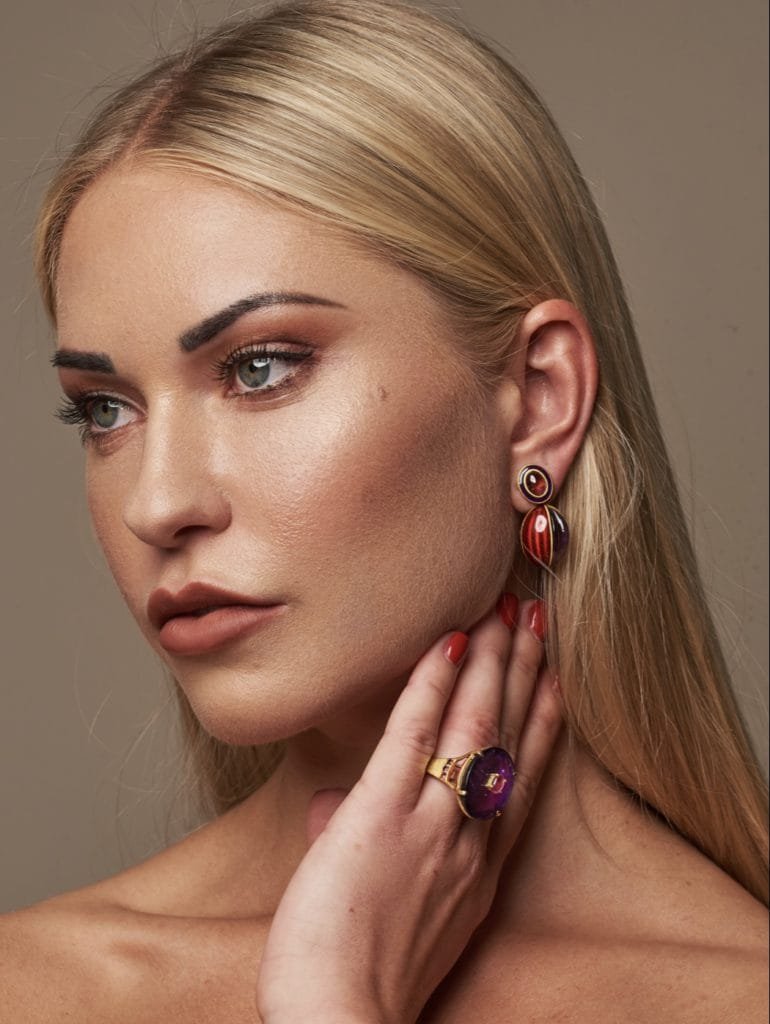 How do you think the way women perceive jewellery has changed? How does your brand work at keeping up with this change?
Initially, jewellery was bought only for special occasions but now, it is seen as more of a fashion statement rather than just an investment. Mixing new materials with designs that are more traditional makes it more accessible. At AS, I have tackled this change by using traditional Indian techniques such as hand carving stones and Meenakari work along with contemporary designs to make it more relevant to women today. People have also started to appreciate and look for a story behind each piece or the meaning behind a design, which has caused an increase in demand for carved stones as they are a form of storytelling through jewellery. 
As an Indian woman, how do you keep up with the demands of a foreign market? Does your culture reflect in your designs and the way you do business in any way?
In terms of the setting, jewellers are now working with metals other than gold and using different processes because of which, jewellery is being worn by many more people rather than a select few. This has also caused a rise in the popularity of semi-precious stones due to an increase in demand for more colourful pieces, influenced by the Western market. Most of the AS collections are either inspired by my travels to India and have been created to highlight Indian craftsmanship, such as the traditional meenakari work seen in the Nritya rings that shows how an old Indian technique can be used in a contemporary way with vibrant semi-precious and precious stones.
Do you have any advice for young jewellery designers out there? What do you think they need to do to set themselves apart from the competition?
When building the foundations of AS by Akansha Sethi. I had the option to either join an existing company as a designer or start my own company, I had complete faith in my product. When starting off, it can feel a little overwhelming as you have to do everything by yourself. This should be taken positively as it allows you to have full control over your work and helps you learn about the different aspects of creating a product and building a brand. I think having a basic knowledge in graphic design, photography or filming is very important when setting up a brand, especially in the age of social media. My advice to new designers would be to have faith in your product and work with full dedication to obtain your objective.   
What are your thoughts on AISPI? As the fashion industry continues to celebrate diversity and upcoming talent with increasing enthusiasm, how do you think the company will help shape the future of businesses like yours?
With ease of access to information from one side of the globe to the other, we can now see more Indian designs in the Western market and vice versa. It's an evolving market that would change on a day to day basis, which I feel is something that AISPI will be able to help highlight.
All images courtesy of AS by Akansha Sethi.
---
– Written by Soha Joshi
Follow the AISPI blog to discover more designers like Akansha Sethi and stay updated via Instagram as we bring to you the latest from the local fashion community of Europe.