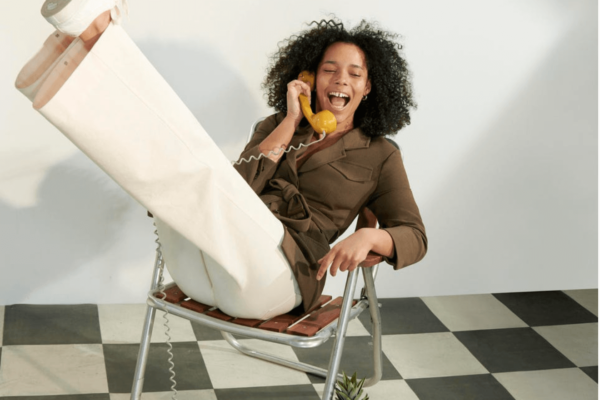 Did you spend the better part of last year in sweat pants, activewear, pyjama's or hoodies? Now that offices are starting you don't want to let go of the comfort but also want to bring elegance and a chic factor to your wardrobe? Look no further because a good power suit can help exude confidence and elegance (that you may or may not have 😉 ) yet be a comfortable wardrobe choice. The suit or even just a blazer are a definite go-to for the next coming year.
When I say 'suiting', in 2021 it has a whole new viewpoint. It isn't just a wardrobe essential for corporate men but a sweet-spot for women to actually look fashionable & powerful yet be comfortable. 
The Reason To Choose Suiting
Below, you'll find some of the reasons I advocate a suit so much in the current fashion context:
A New Silhouette
Trousers or blazers are no longer starchy and boxy materials with no room to move. Like in the images above, it is clear that the materials and cuts have progressed to give a relaxing yet chic look to your body type. You can choose from pleated, stretchy, flair bottom, culottes, shorts, bermudas or ballooned to have the comfort you need.
Revising Materials
Now, you can also choose from leather, melange twill, linen, cotton, jersey, velvet and so many other materials according the climate in your area and the occasion you're wearing it to. The 'Rogala stretch culotte' in the centre picture by M.M. Lafleur is actually super stretchy, wrinkle resistant and perfect for even travelling. So wearing a suit is perfect for working from home, being on the go, and everything in between.
The Versatality 
Suits are just such a versatile style option. You can dress it up for a night out or a special dinner or dress it down for a coffee meeting.
Work To Play
The cut and style of a suit is meant for as formal workplace meetings at the office or as informal for remote work. Just add a blazer to a plain t-shirt and some statement earrings and you'll want to turn on your zoom cam for this one. 
An oversized blazer with padded shoulders can definitely take your confidence to the next level and make you feel so powerful. A leather suit can make you feel like a rockstar. A linen suit can make you feel super summer chic. The correct outfit really does have the power to completely change how you look and feel and I believe that any suit, chosen according to your body type can really make that difference. 
If you're familiar with European fashion, you would know that powerful silhouettes that highlight the female body have always been popular. So, was it any wonder that we found some of the coolest suits in our favourite designer's latest collections? 
Need an outfit you can take from work to party outfit? We recommend this cool blazer and flared pants 16Arlington. Made with blended cotton, the oversized blazer has a belt closure for ease of wear. The contrasting flared trousers add gives the entire suit a seventies vibe which only add to its glamour! What do you think?