Amsterdam: 5 Amazing Boutiques to Visit in the Nine Streets
02-Jul-2018
So if you are an Amsterdam newbie, or an experienced visitor, the famous 9 streets known as De negen straatjes should be a MUST VISIT on your list.
The 9 streets, is pretty self explanatory. A block of 9 streets crossing each other surrounded by cute cafes, the famous canals of Amsterdam and lots of greenery. A perfect place to get away from the regular touristy hustle bustle. For me, it is also the perfect place to find really cool things that are often shadowed by the craziness of Dam Square. Read on to see my AISPI list of boutiques that you have to visit
1. United Nude
My absolute FAVOURITE! Come here to experience shoe fashion as never before. These shoes redefine the word STATEMENT. I have one pair from them and I dont remember a single time when I haven't been stopped and asked where I bought them from. The store itself is super funky and you can spend hours trying on their quirky and funky designs.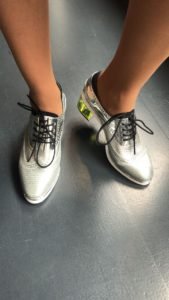 2. RUM
To get a good idea of what RUM has in store, check out our coverage here
RUM is your one stop shop for scandinavian curated design. Their specialty is in leather products – I found the most gorgeous and detailed leather jacket that goes with everything. The great part is the effortless yet quality finds. It is really for people that have an understated style but with an eye for detail
3. Maria Tailor
Check out our full coverage here
My go to place for fun and flirty dresses. You have a night out with the girls or a sunny brunch, Maria Tailor does not dissapoint. The great part is the value for money – all their dresses are extremely well priced (under €100) and during sale, catch me going crazy! Like the founder itself, the brand stands for feminism and an elegance that is very obvious in all their cuts and designs
4. Atelier Amstrdm
Check out our full coverage here 
This store is really special – run by husband and wife, the whole store is inspired by snake – snake print silk, snake print linen, snakeskin leather backpacks, loafers and what not. The colors are beautiful from royal gold and jet blacks to bordeaux and purple. The prices are slightly on the higher end, but given the fact you are paying for genuine leather that is durable and eye catching, I would say its worth it
5. Rain Couture
Check out our full coverage here 
This store made it to my list given the high relevance that it has to our daily lives. For all of us living in Europe, the rain is an inevitable part of our life. How many times do we enter a meeting, or a dinner looking absolutely terrible because of what the rain does to our clothes and hair. Or, the fact that we have to cover our beautiful outfits with an ugly rain coat. With Rain Couture, you can remain fashionable and comfortable at the same time. The founder Daphne gives an amazing run through of all the technology behind the coats here 
Last but not the least, DEFINITELY stop by this AMAZING CREPERIE and have the salted caramel crepe – Cocotte –  It is right opposite United Nude and you will thank me!
To keep up to date of stores in Amsterdam that will help you express your personality and stand out from the crowd, follow our instagram and hashtag #aispixamsterdam