Lisbon: take a stylish tram to the fashion world
13-Feb-2019
If I described Lisbon as a human, it would be a dynamic woman with an wise soul, with a bunch of deep secrets in her pocket and in a trendy outfit. She would have worked in historical art museum and spent crazy night-outs with her friends. Lisbon is a city where trams riding through the blood system of narrow streets, a city of the sunrise that softly touches the brown roofs and a city where fashion has its own unique character. 
Lidija Kolovrat (click here to discover)
Lidija Kolovrat is an extravaganza of colors and details where each piece tells its personal story. If you are ready to let the freedom spirit run through your vein and are up for set free your most peculiar desires, this is a place for you! The artistic shirt dresses with stripped ornaments, flowered shoes, bright coats, and many other tailor-made pieces are waiting for you in the shop with a truly cultural vibe.  Each piece could be personally adjusted and curated. Prices start from 200€.
Amelie au Theatre (click here to discover)
Playful yet romantic style of Amelie au Theatre will conquer a heart immediately. Simple cuts with a touch of prints and floral patterns appeal to a little and dreamy girl inside every woman. Childish elegance and beauty of innocence curate the character of the brand. You simply would not be able to pass by a long yellow dress that screams "femininity" and would not resist to try out their magnificent floral bandage and geometric necklaces. Prices between 30€ and 200€ are perfectly suitable for treating yourself with an elegant skirt or lace dress within any budget.
Cantê (click here to discover)
Cantê says their resolute "NO" too boring swimwear and gives them a new colorful and fashion life. This boutique discovers the soul of a new exotic city and gives this spirit to their colorful and flattering pieces which definitely make your beach outfit to claim a title of "Summer Queen". Come here to fall in love with each bikini and feel through an eternal summer vibe, because like they say, its always summer somewhere? Prices fall between 150€ and 200€ which is not much for a unique swimsuit piece, isn't it?
Typographia (click here to discover)
Who said that a basic tee-shirt should be boring and ordinary? If your closet has tons of those, but none of them is truly your character, Typographia is a place to go! The unique and peculiar designs will match very even picky soul and make a final touch to your basic wardrobe. They work with artists all over that create collections that are simple but magnificent! Prices are 50€ on average which include high-quality and good mood for all day in it.
In between exploration of treasuries of Portuguese fashion, treat yourself with a walk around the city and get some more inspiration from the sunny streets and smiley monuments. Hang around Alfama district because the colorful narrow passages and atmospheric small houses definitely carry a true city vibe. And don't forget to hop on the famous yellow trams to catch Lisbon carefree spirit!
Charlie (click here to discover)
Charlie is a store full of guilty pleasures with one major advantage – you stay on budget! Great variety of clothes, accessories, and shoes which make you be on top of a current fashion trend or just stay tuned with your own style. Dive into the world of patterned dresses, classic wears and colorful bijouterie with Charlie and you will not regret a minute spend here! With prices vary around 50€, you can afford to enlarge your looks with oversize sweaters or vinyl pants and many more indulgences.
21 PR Concept (click here to discover)
21 PR Concept comes a friendly and peaceful place for calm yet satisfying shopping. Moving through the boutique step by step you will not notice as the time passes by. Here, you can find anything from eclectic jewelry to romantic outfit for a date with Mr. The One. Feeling lost with choice? Ask a piece of thoughtful advice from the client service in this store and you won't get disappointed! Prices that are between 100€ and 400€ make it possible to get a chic yet classic white jacket and painted pants from the brand's amazing selection of Portuguese designer.
Real Slow Retail (click here to discover)
Real Slow Retail works hard to deliver the best-emerging designers and their pieces to the customers coupled with great customer service. The founder carefully selects the most relevant and remarkable local artists and shapes the mood of the boutique. This store allows you to be yourself and diversify your everyday look with a fresh and mind-blowing detail in a form of boho clutch, hipster sunglasses or a shirt-like dress. Prices range between 50€ and 150€ allow you to diverse your wardrobe with vibrant shoes, classic sunglasses or cute household item to raise your mood on a rainy day.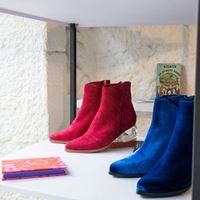 The Feeting Room (click here to discover)
Celebrate fashion with trendy and ambitious shoe collections of the Feeting room! Their strong dedication is expressed an impressive choice of curations and colors, this multiband boutique makes your feet look creative and noticeable and comfortable at the same time. Do you feel like a high-heel or flat? Wanna rock boots or dance all night in sandals? The Feeting room gives you a chance to have it all! Prices between 100€ and 300€ are fair compensation for a pair of extraordinary shoes or perfectly fitting dress.
As the shopping is over, definitely, grab a coffee or tea take away and pastel de Belém (custard tart) and go to meet a sunset in the most romantic and fabulous Torre de Belém. Amazing view, good sweets, and successful shopping, what could be a better way to spend your day?!
---
Want to know about the boutique stores near you or discover emerging designer? Click here and dive into the world of top European boutiques and designers with AISPI! Don't forget to check out our blog regularly to stay updated with trends!
-Daria Mulikova