Rome: fashion curated from ancient history
20-Mar-2019
Stop for a second. Take a deep breath. Let the spirit of Rome fill your lungs. The sweet air with a dash of wisdom dust, wide avenues with webs of narrow passages and charm of ancient masterpieces. A city where alongside with historical beauty of gracious fountains, the greatness of basilicas and wisdom of ancient ruins, there are pleads of notable designers' boutiques that carry a distinctive vibe of Roman majesty. With this small guide, AISPI wants to show you fashion stores that you as a mindful fashionista would not want to miss.
La Gallinelle (click here to discover)

La Gallinelle's style is rooted in the philosophy of simple and clean lines with a touch of aesthetic details. The brand's collections are full of classical yet unique must-have items as the founder seeks to enhance sophistication to each piece and celebrate the natural and free spirit of unconventional women. The aspirations from books, music, art, and people reborn in the form of clothes with prices between €50 to €200. Amazing combination of good fabric and interesting vintage-like cuts find its way in silky floral dresses that can be specially adjusted to your taste.
Code 272 (click here to discover)
Code 272 is a boutique store full of playful and girly items. Everything starting from lace dresses with an elegant silhouette to sexy brings sequin skirts will help you to stay tuned with current trends or simply experiment with your style. Their clothes and shoe collections will diverse your everyday looks with fresh and colorful printed pants, screaming pink sweater and long floral dresses. Prices are at €100 at average reflect a good mix of quality and trendy design.
Di San Giacomo (click here to discover)
Di San Giacomo makes a compliment to your feet by creating handmade sandals. This store possesses ready-to-wear shoes alongside with a wonderful opportunity to create your very own customized ones. Imagine, you jump to a chair, a master make exact measurements and you are free to pick any design you dream about! Variety of colors, heel high, and buckles, straps – all these details will allow you to make a true fashion statement with your sandals! Each sandal pair will cost you around €80-200 depending on chosen options.
Nickel (click here to discover)
Nickel is founded by the husband-wife duo of leather wizards who creates impressive shoes, jackets, and bags from high-quality materials. The brand's collections are suitable for each even picky soul and will make your feet feel the true moment of heaven. Stylish designs items from durable and comfortable leather fabric worth around €150 to €450 and costs every penny you spend. Nickel's footwear has a story behind each curation and is ready to share it with customers. What is an idea behind this high heel geometric oxfords? Visit Nickel to check out!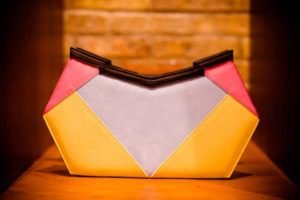 Alessandro Giada (click here to discover)
Holy, bags! Alessandro Giada's brand curates geometrical colorful bags which become one of your favorite accessories in the minute you enter the boutique. This store petrifies you with the strictness and elegance of each line and shape combined with materials, bright shades, and pigments. Priced around €300, these statement-like bags will enlighten each style and raise your mood immediately! Inspired by art and architecture, the boutique offers you a chance to adjust each piece with a touch of your character!
Rome no doubts is filled with an impressive amount of antiques which blow your mind and carry away to explore the centuries of Roman greatness. Tons of known and non-known beauty is a city's distinctive trait. To deviate from popular tracks and discover hidden gems, AISPI advises finding your way to fairy-like magical Quartiere Coppedè. This small district descended from the pages of children books with buildings and fountains are crafted with hundreds of details. It is worthy to visit if you are ready to dive into the world of magical fantasies.
Le Nou (click here to discover)
Le Nou goes beyond simple clothes selling and invites you personally participate in the process of creation. This family running brand gives you a chance to sew something extremely unique and customized. That is you who in charge of your style and fabric, pick the one that matches your souls and mood, develop the cut you wish and dream about and let Le Nou to make the magic of sewing. And as a cherry on top of the pie, the prices vary around €100. Come here to curate your dream dress or even a bikini because this place makes it possible!
Spazioif (click here to discover)
Spazioif is a brand which mastered the art of leather and bag-making. Their bags are puzzle and mystery. Within seconds it turns to backpack to tote and back. That is you who dictate which style and design you are going to wear today. Variety of colors and shapes will satisfy the eyes of every fashionista and chose exactly the one that appears to be a perfect fit. With high-quality materials and prices between €150 to €400, Spazioif promotes individuality and creativity all at once! Come here also to have a glance at the bag manufacturing and dive to the world of craftsmanship.
Prive Concept (click here to discover)
Prive Concept breaks the wall of everyday boring classics and aims to spread its funky vibes all over your wardrobe. If you are looking for ideas and pieces to express your playful and easy-going soul, this boutique store is the place to visit! Here, you can find bags with funny patterns, leopard long dress and lace cover-ups which are priced around €150 and make your look to stand out in one moment. Prive Concept will energize you with their stylish care less & express more approach and help you to highlight your own vibe!
Perlei (click here to discover)
Perlei celebrates art and different textures. This brand is not afraid to mix and experiment with shapes and colors and produces spectacular and eclectic jewelry with a strong identity. The necklaces handcrafted with wool threads in various geometric shapes, spiral earrings and many more quirky and catchy pieces priced €50 to €300. Perlei breaks the laws of ordinary classic structures and leaves the imagination to travel across to come up with ultimate statement-like pieces of jewelry which will amaze every fashion party you are attending.
The Verde (click here to discover)
The Verde breathes with luxurious aesthetics. High-quality materials are used to curate silk smooth dresses, wool sweaters and cashmere skirts that compliment your body and enrich your looks with minimalistic and forever-classic pieces. These clothes are a must-have for a people who search for a combination of high-quality and chic design within a reasonable price range (€300 to €700). The great selection of basic simple yet elegant shirts, dresses and blouses are waiting for you in the Verde boutique.
Co.Ro. Jewels (click here to discover)
Co.Ro. Jewels make peculiar and catchy accessories to support and diversify your look. Their collections include rings shaped as Eiffel Tower, necklace looking like a Chinese temple, web-like bracelets with patches of bright stones and many other stylish and cute pieces. The brand makes get inspiration from the beauty of architecture and converts it to the artistic jewelry which adds an important final touch to every look. It captures memories of travels and adventures and curates every sweet moment to pieces you won't be able to resist. Their prices vary from €100 to €300.
Rome saves in its pocket many surprises. The daytime rounds of intensive sightseeing gradually change to the wild night outs full of fashionable parties and unexpected adventures under the starry sky of the Italian capital. To make an Instagram-worthy checkpoint, visit Antico Caffè Greco. This cafe is one of the oldest cafes in Italy and has even seen Casanova, listened to Lord Byron's speeches and poured tea to Hans Christian Andersen. Though it could seem pricey, the experience of touching real history is costless, isn't it?  
In addition to discovering amazing fashion finds, we are always dedicated to making your travels more memorable. Hence, we came across this super cool travel website that you must check out –  Trip&Travel
In the mean time,  follow us on  Instagram to discover a new designer each day! 
---
– Daria Mulikova
Check our blog for the latest fashion trends.