ASOS x Hello Kitty
16-Nov-2017
Who would've thought that a collaboration between ASOS x Hello Kitty would ever happen? Well, never say never because it's here! This past October, the two brands dropped their newest collection, and let me tell you how we feel about it.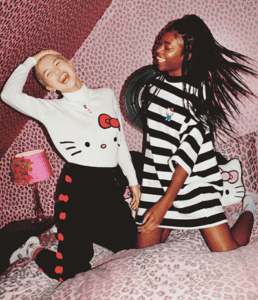 I have AISPI(ed) this partnership because it's special, unexpected and gives a huge throwback to our younger days of being little Hello Kitty fan girls.
This collection combines the best of both worlds: party-wear and street-wear . In this line you will find 40 unique pieces that are overloaded with cuteness and look extremely comfortable. You have sweaters, dresses, and accessories. The collection has used colours that are young, warm, and have a girlish touch. At first glance, you may think this collection is targeted at a younger audience, but, let me remind you fashion has no age limit.
If you don't believe me let me show you some pieces that will help change your mind.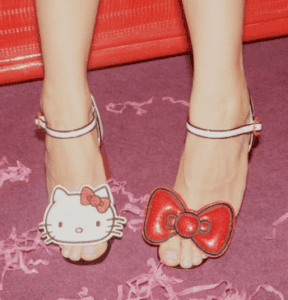 One of my favourite pieces of this collection has to be the Hello Kitty x Asos heeled sandals with the removable badges. The reason I chose this piece is because it stands out from the others and  radiates fun and young vibes. The removable badges add an extra advantage as you can change them up or remove them for a more sober look. These heeled sandals cost $87 which in my opinion is a reasonable price. For a perfect look, I would combine these heels with some light boyfriend jeans,  a warm red jumper, and a classic long black coat.
Personally, this collection gives me the possibility/ freedom to feel young and have fun while dressing up because, it allows me to combine pieces and colors that I would never wear else wise. I guess it's all about embracing the "I just wanna have fun" vibe. That's what fashion is all about. Expressing yourself by wearing outfits that make YOU feel good in your own skin, while at the same time allowing you to be comfortable and unconcerned about others opinions.
Here are some other pieces that I would definitely put on my christmas list:
You can find all these pieces on asos.com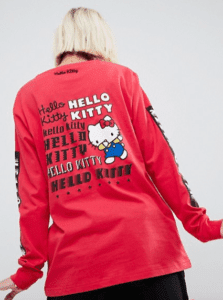 Hello Kitty X ASOS Long Sleeve Skater T-Shirt
  Hello Kitty X ASOS Bow Joggers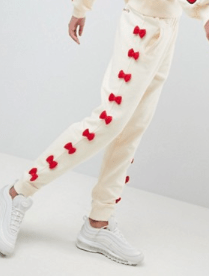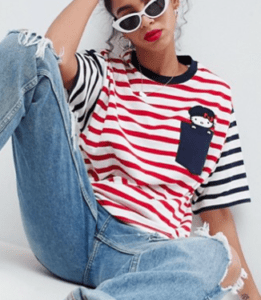 Hello Kitty X ASOS Oversized Striped T-Shirt
There's more where this came from! Follow our instagram account here to discover unique finds and designer collaborations! 
By, Alexia De Brabandere