Fashion featuring the EU flag? Yes it exists!
28-Jun-2018
How many t-shirts or sweaters in your closet feature the American flag? How many of them have maybe California or NYC stamped in bold letters? The American flag and the name of the states have been marketed, in my opinion, through department stores more than we could ever find in any tourist store. Until now we didn't have any collection with the European flag just yet.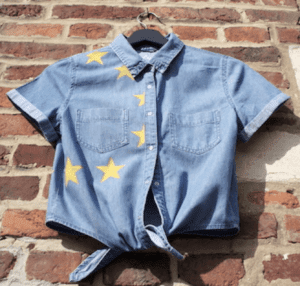 The collection proposes a line of fashion pieces that feature the European flag in both subtle and bold ways. For every age, each piece will be made in a fully European process from the suppliers to the developers. This crowdfunding project allows you to buy a voucher that will allow you to buy any of the pieces once it is launched. The original goal was to raise 10,000 euros and it reached the 46,000 euros. Everybody awaits the final launch of the collection. It's not only about t-shirts but also scarfs, jackets, sweaters and even pants.
What does the EU flag have to do with fashion?
Other than European pride, you may ask yourself why should you include the flag in your wardrobe? Well, you are not the only one. Through my research, I discovered that even high-fashion brands have featured the flag in their designs on the catwalk. Agi & Sam's Fall 2017 Menswear collection featured 2 pieces that showcased the European flag. First on a subtle way by adding the iconic circle of stars to a jacket and scarf. Then adding a more bold statement to its show by designing the characteristical blue color into a distressed sweater and the circle of stars right in the middle. Guess we have the scoop of a new trend.
Would you wear a fashion piece with the European flag? Let us know on our Instagram account if you would do it and how.