L.K. Bennett X Preen bound to make heads turn
08-Jun-2018
Have you seen the new collaboration between British high-street brands: L.K.Bennett and Preen?
L.K. Bennett, is a London footwear brand,  founded by Linda Bennett in 1990. Since its launch, the brand has earned a reputation for its trademark style, which has differentiated their heels from others in women's footwear. The brand has become exceptionally popular, especially among power-house women around the world. In 1998, L.K. Bennett  introduced their first ready-to-wear collection which consisted of a line of foot-wear for every occasion. Today, L.K. Bennett is reputed as an affordable British luxury brand which represents the modern women by creating selections of versatile footwear in sustainable styles.
Preen, is also a label based in London and was launched by the power-house couple, Justin Thornton and Bea Bregazzi. Does this brand ring any bells? If not, there is a major possibility that you have already have seen some of their designs without even knowing it. They are mostly-known for their glamorous dresses, which celebrities and public figures have worn, such as, Kate Middleton, Beyonce, and Michelle Obama amongst others. In addition to all that jazz, Preen is a completely independent UK fashion label, these two inspiring designers have had a strong vision on how to differentiate their designs from others, and in the process have created their own trademark of directional slant's in silhouettes.
Now, for the exciting part!!!
During an interview with telegraph, Justin Thornton and Bea Bregazzi, designers of Preen stated:
"Everything we design has our hand-writing on it, so when collaborating with the L.K.Bennett team we wanted the essence of Preen to be integral to the designs."
It makes sense that they want to integrate the essence of their own brand into a collaboration but, that's not always easy as it seems. There are many collaborations where both brands don't balance their identities or stay loyal to them in the process of selling a unique product.
In the same interview, Thornton and Bregazzi also revealed that the collection has been inspired by their home in Walberswick, Suffolk. During their time there, they found some key elements that became an inspiration for their prints. The idyllic village is surrounded by amazing history which led them to discover sketches from the artist, Charles Rennie Mackintosh. Most specifically, floral drawings by Mackintosh caught their attention. These drawings ended up becoming an inspiration for the collection.
Cactus Waterflower from 1915:
Japonica pencil drawing from 1910:
This collaboration collection consists of 15-pieces that start at $195. Items in the collection are made from pure silk.
Ask me my favorite pick?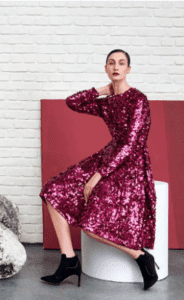 The "Sonic Sequin" dress is defiantly my pick! I love the combination between the color and the fabric of the dress. The length of this dress is also a plus point! It's edgy and chic whilst still being elegant. I would wear this dress practically anywhere, throw on some heels for a formal night out, or dress it down in sneakers for a more casual look.
Share your favorite pick with us on our Facebook and Instagram page!
By Alexia De Brabandare