Here's how you make your old clothes feel like new
19-Jul-2018
Taking a break from work, like every other afternoon I was scrolling through some blogs until I came across www.theannaedit.com and her blog post on how to make old clothes feel new. The idea automatically caught my eye, wearing old clothes and making them feel just as good as the first moment I wore them without spending a cent. I mean isn't that every girl's dream?
At first, I thought she would talk about vintage stores and styling your mom's clothing but the more I read the better I could picture myself doing it. So I decided to follow 5 of her tips that day. Let's face it, when it rains on a Summer afternoon it's time to try new things.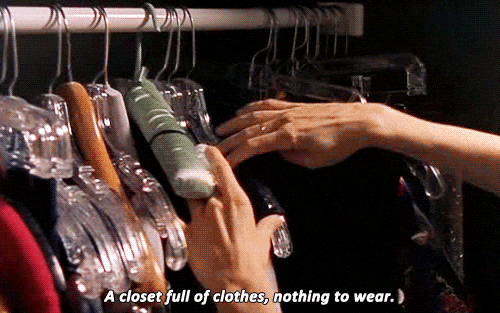 Suddenly I felt like Carrie Bradshaw in an episode of Sex and The City.  Anna wrote that we should try to escape the itch to shop and work with what we have hanging in our closet. That came of course with the advice to challenger ourselves and put on a fashion show in our bedroom to explore new outfit combinations.  The truth is I didn't hesitate, I choose a great 90's playlist and started waltzing in my room with all of my clothing. You were right Anna, I had totally forgotten those pants but don't tell my boyfriend he already thinks I have too many shoes, we don't need to put those away.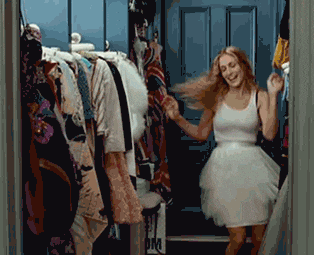 The fashion show helped with another step in Anna's list, the capsule wardrobe. Putting away unseasonal clothing to make it a new experience next year. And it's true, not seeing a specific piece for a while makes it feel new and dazzling the next season.
It wasn't always easy. We all have that one piece of clothing that we bought and we couldn't find but one outfit to wear it with. Fear not! Anna found a solution for that too. Our usual solution to all of our problem, Google helps with this one too. She recommends us to look for that one jacket and describe it in the search bar to find ways people are styling it. My personal favorite was Pinterest. I told you sparkly boots went with more than one outfit.
Her last and most important tip was layering.  That's something I learned when I moved to Europe. Adding a jacket or a scarf always elevates your outfit and gives it dimension. That's how I pull off wearing a plain white T-shirt without anyone noticing.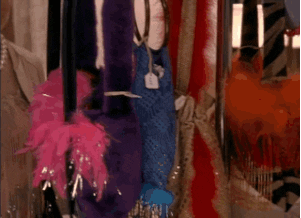 That's how I ended up here, channeling Carrie writing her best articles, in front of her computer wearing great shoes. I just had to share this great tips from Anna, so you can also look chic without breaking the bank.
Although shopping is, in fact, my cardio and I enjoy it way too much to give it up just yet, I found a great way to save up some money to use later to buy exciting and unique pieces. That,  without spending money on others that were actually in my closet all along. And hey, every penny counts. As Carrie would say, I like my money right where I can see it… hanging in my closet.