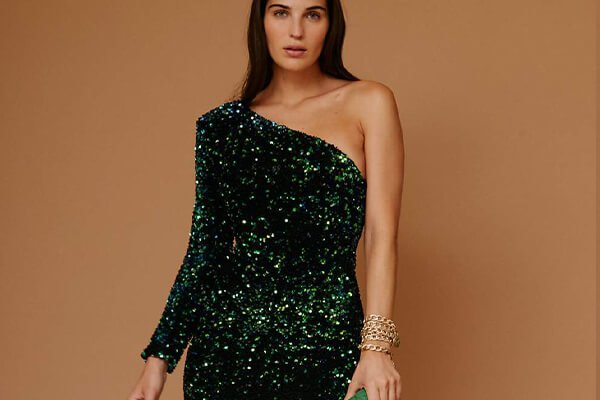 Although at first glance the name suggests that our brand might be related to some sort of chocolate, what Emilio Ayala and Dolo Britz make are delicious designs. Cocoa Spain is a clothing brand from Seville co-directed by the aforementioned duo. 
This tandem of inexhaustible travelers and trend hunters studied design at different schools in Madrid, London and Miami. Today among the  several accolades in the world of fashion, they cumulate participations at events such as Paris prèt-a-porter, Madrid Fashion Week, NewYork Fashion Week and Magic Las Vegas-USA. 
Serotonin-filled collections
The brand inaugurates the post-pandemic season with enthusiasm, hope and lots of colour. Festive and gleeful themes featured by bright and reddish tones, shining textures and glitter make up for all the missed events of 2020!
The founders argue that you don't have to spend a lot of money to dress well. The quality of its creations is the premise of Cocoa. It seeks comfort through research and evolution of the fabrics that are imported from diverse parts of the world, updating the classic cuts and innovating with the most avant-garde designs.
"We don't compete with haute couture, we offer elegant designs with exquisite handcrafted care in cuts, finishes and details yet accessible to everyone."
It is, indeed, a desirable balance.
The collections flirt with the latest trends. They are crafted to satisfy women's desires, listening, watching and feeling what their clients ask from them. These two Sevillians bring a touch of madness and chaos to their looks that merge with a classic, chic and empowered style. Take a look at their collection.
The fashionable history
In 2002, when Dolfo was still living in London, he opened his first Cocoa store. The journey commenced with buying stock, opening shops and selecting the proper name. It finally came together in an act of serendipity when Dolfo went on a voyage across the Indian Ocean.
It was not until 2008 that the entrepreneurs embarked on the wonderful adventure of design. Since then, Cocoa Spain has launched a myriad of projects, their collections exported to more than 50 countries and dressed actors in their designs as well as aristocrats and celebrities from halfway around the world.
All images are courtesy of Cocoa. 
---
– Written by Clara Antúnez Martínez
To know more about the boutiques of Seville, visit our city page. Follow us on Instagram for a daily dose of the best of European fashion.