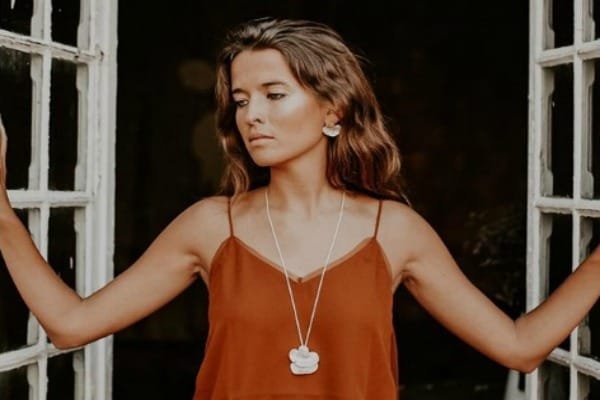 Who doesn't love a story where passion is a driving force enabling one to follow their dreams? We at AISPI certainly do which is why we bring you Cristina Costa a geological engineering graduate who decided to sing a different tune and design jewellery for her brand – Cris Maria Jewelry.
Cristina's designs for Cris Maria jewellery speaks three words – Silver, simple yet sophisticated. Each of her collections has a piece of her heart and a significant inspiration varying from nature to art to architecture, fashion trends to celebrating everyday life in this beautiful world. We bring you straight from Alfama, a quaint little Lisbon locality, not only Cristina's unique jewellery but her special story.
A geological engineer to a jewellery designer. When did you realize your passion lay in jewellery designing?
I have always been passionate about design and creation and absolutely obsessed with rings and the precious metal, silver! My curiosity to know more gave me a yearning for jewellery making so during my engineering career, I attended a jewellery course, as a hobby, at the Direct Contact School in Lisbon. This intensified my passion and drove me to a full-time course at the Design Jewelry Course at Lisbon Jewelry Center (CJLx). Since then, I've been able to shape and bring life to my deepest thoughts which is something that really makes me feel alive. An opportunity soon followed to establish my studio / shop, where I now show my work and sell my jewellery to the public.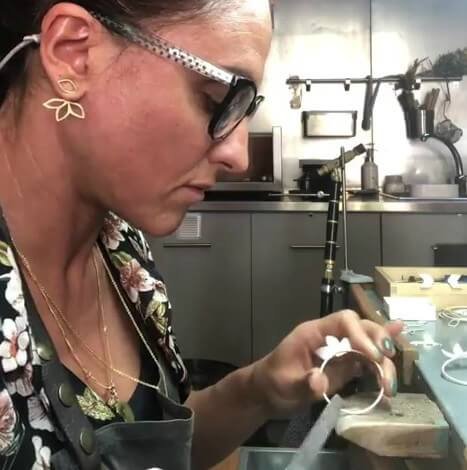 Do you know of any other designers who graduated in one discipline but decided to shift gears to jewellery designing? How do you differentiate yourself from the others?
Yes, I do. Many of my jewellery course colleagues come from different fields of expertise. All of us have different ways of expressing our creativity and that's what makes us one of a kind. My challenge is to design and create trendy and meaningful pieces that will pass on love and value to future generations, making them timeless.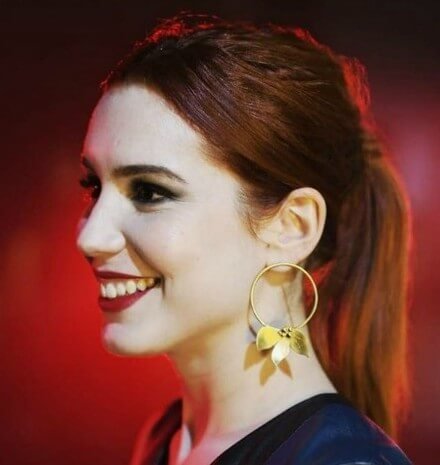 Does your background in geological engineering lend a hand in your jewellery design mission? Are they sectors that can interact with each other?
I worked for a big international engineering company for 17 years and I was fortunate enough to gather a skill set that can be applied in my new endeavor. Interestingly, during my university education in Applied Geology to Engineering, there were many courses dedicated to the study of stones and rocks, their origins and evolution over time. What I learned then is an added advantage today for the integration of precious stones in my jewellery design. In such instances, there is a direct interaction between the two sectors.
Your Nature collection is positively inspiring. A profound connection can be made with nature when it is truly 'experienced'. Having said that, how do you induce an emotional response towards nature with your jewellery and convince your consumers to make a purchase?
My Nature collection sends us back to the elements of nature. It uses organic elements collected directly from nature over time. It is intended to be an expression of awareness for the urgent need to protect our precious planet.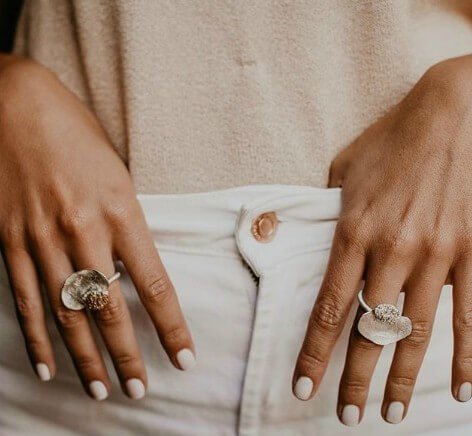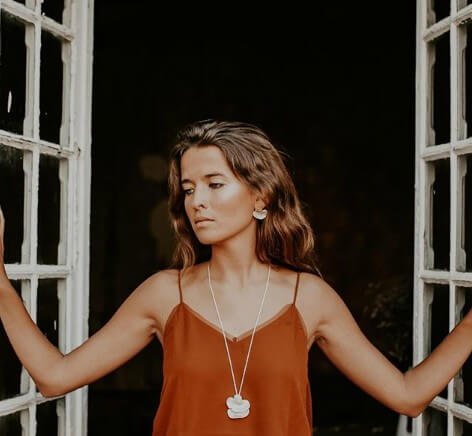 The Nature Collection
The Saudade collection is a breathtaking assortment. What was the message you wanted to convey with this collection?
Saudade is a unique Portuguese word, roughly translated to our minds being nostalgic of something we love, cherish and that gives us comfort, in all its form.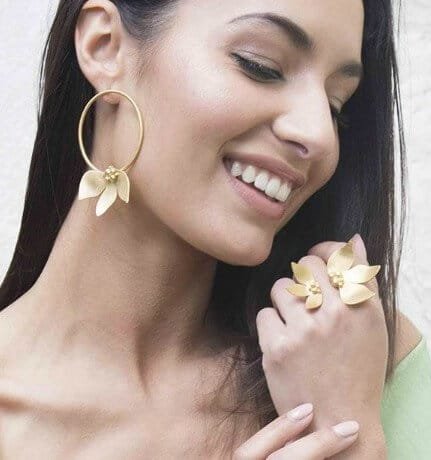 What is the inspiration behind your next collection? What is the message your consumers should look forward to?
My next collection will be about unity! We are living in challenging times but if we stand together we can easily achieve what we are fighting for. What's better than chains to represent that?
Why do you stick with only silver as your raw material? Do you intend to use any other materials in the future?
My passion for jewellery came from my love for silver! I also work with yellow gold but silver will always be my favorite raw material and maybe combine it with other precious metals or alternative materials. These metals can be recycled, transformed and reused which nowadays is a priority.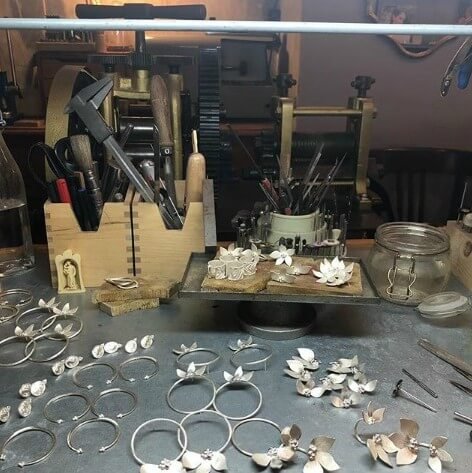 What is your most favorite item in your personal jewellery collection?
I love all my jewellery so I don't have one favorite item but I do have a special crush on the ring and the big earrings from my Goddess collection. They're a real tribute to women!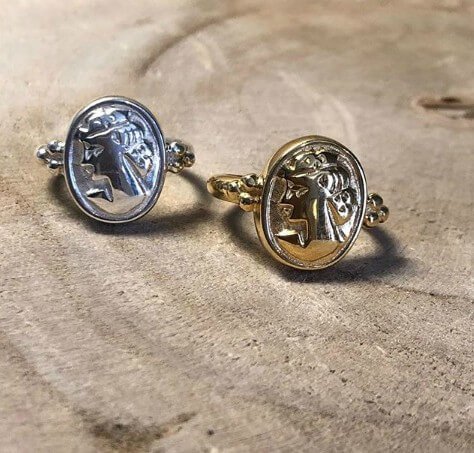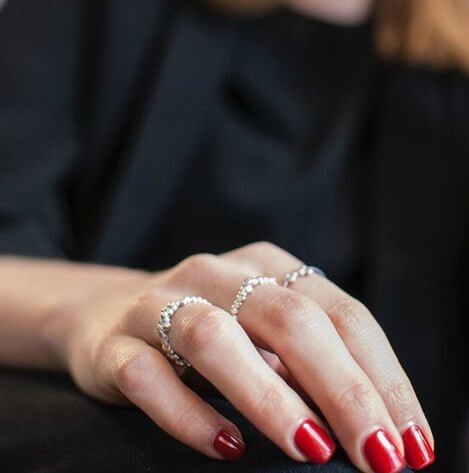 The Goddess Collection
What is the most challenging and most rewarding part of owning your own jewellery label? What are the steps you took/are taking in building your brand more efficiently and successfully?
The most rewarding part of owning my jewellery label is doing what I love and sharing it with people who love it too. The most challenging part is to consistently make meaningful pieces without losing my identity that my clients will enjoy and cherish. There is a need to always be faithful to the principles of handmade craftsmanship and sustainable work, keeping alive the traditions of my country.
What would you say about the work we do at AISPI?
I would say congratulations! The work that you do where you look for emerging designers, boutiques, and unearth their stories whilst understanding all their efforts in keeping their brand up is praiseworthy! Always focused on what's going on in the fashion world! Thank you AISPI, for your contribution in shining the spotlight on a community of creators who value sustainable and craftsmanship work.
"I like to think that my clients own a Cris Maria jewellery piece for them, and for their future generation."
Have you ordered your Cris Maria piece of jewellery yet?
---
– Written by Sureka Naven
Emerging fashion and jewellery designers are what gets us revved up and the results are awesome scoops about boutiques, events, cities, and so on. Visit us at AISPI and follow us on our Instagram today!