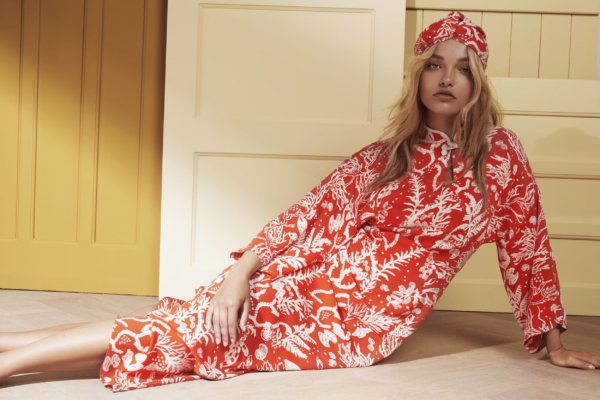 Colour, craftsmanship and Chapot. Fabienne Chapot reimagines nature in the form of creative and contemporary designs. This brand loves to tell stories by combining antiques with modern elements in a colourful palette. 
There are journeys that do not end even when you have already returned home. This is precisely what happened to the brand architect, Fabienne, who found herself fascinated by Asian folklore when visiting the continent. Today there is still a lot of influence in the patterns, textures and colours  fruit of that transformative adventure.
Merging the best parts of Asian fashion with the ease of Europe, Fabienne designs garments that are timeless and luxurious. From knits to slinky tops to vibrant skirts, their collections include a variety of silhouettes.
The waistcoat on the right features embroidered white plant motifs on a black background, all framed by sheepskin emulating fabric.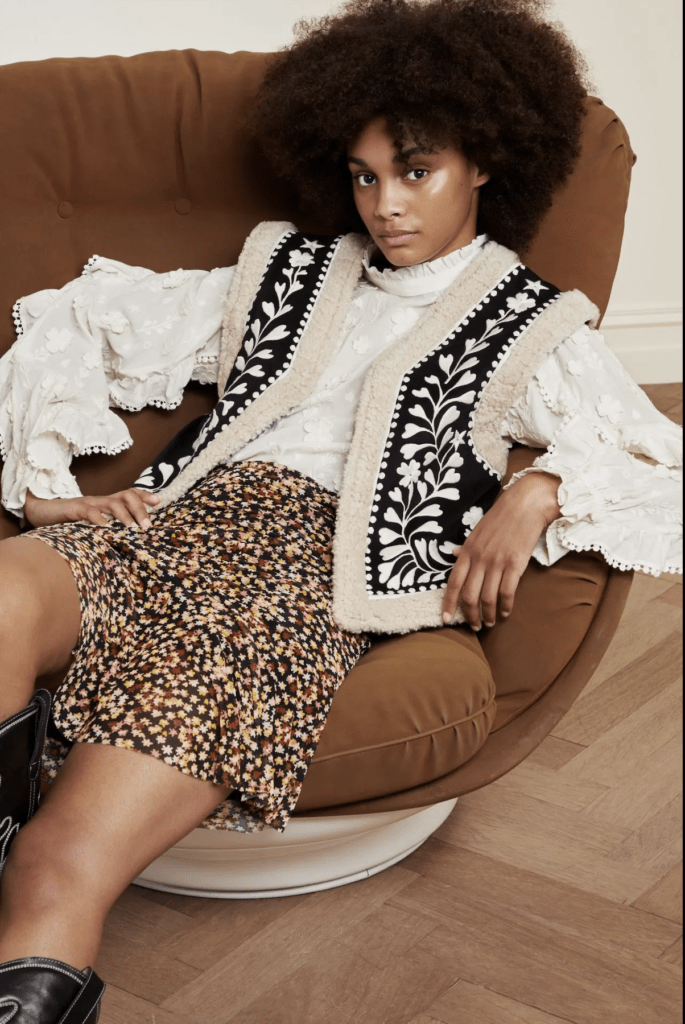 The silky textures give fluidity to the garments. The ensemble in shades of green reminds us of nature, lush, hidden landscapes and jungles. This idea is reinforced by the details and pleats on the sleeves as well as the floral print on the skirt.
Bright colours, sinuous lines and daring combinations revivify old axioms at a time when the predominant fashion in central Europe was conceived in muted tones and fabrics were pragmatical winter cold-oriented. 
Shapes and fabrics that highlight the feminine shapes are key features for the Amsterdam-based brand.
Cherry blossoms brought pink tone, floral reliefs and whimsical shapes of this blouse. This versatile garment can be worn with jeans, pastel shades pants and spring skirts. Highlight your features with natural make-up for an everyday look.
Beyond what is known as fashion creative process itself – beyond patterns, beyond prints, beyond colour combinations– there is still creativity.
Creativity is usually associated with the artistic side of the process. However, for Fabienne creativity transcends business. She understands creativity as the art of conceiving ideas. Any young entrepreneur must be creative, not only in coming up with innovative solutions, but creative in carrying them out, and in communicating them. In short, creative in thinking. This 360º conception is being implemented on her company, where this skill is highly valued.
Fabienne Chapot's new collection called En Route is reminiscent of wet leaves, retro cars and a long journey in search of adventure.
In it, the garments mimic various environments, along with people and experiences that make up their muse–a woman who is in continuous pursuit of deep meaningful connections.