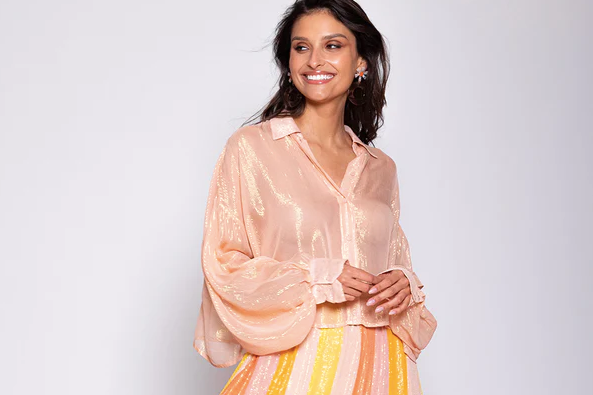 It's no secret that we seek out reasons to dress up for any special occasion. But when it comes to dressing everyday, we keep away our occasion wear and opt for something a little more basic. The question remains–why shouldn't we dress up each day like its a party?
You see, during the numerous lockdowns, we all felt a strong sense of nostalgia for our time spent with friends, for making memories, and for dressing up for all those missed parties and events. No matter how hard we tried, nothing could even come close to emulating the pure joy of donning the glitziest outfits, not even matching loungewear sets or exquisite satin slippers could compare. Such was the longing, we even experienced an itch of sorrow for the now-forgotten sensation of donning a heel so lovely that the balls of our feet almost vanished. We all looked forward to the day when we could put them on once more, whether it was appropriate or not.
Well, guess what? There's no need to wait for an occasion to wear these pieces! You got a two piece outfit you love for a party and now it's over and you can't wait to wear your ensemble again.
Well, what if we told you that you don't have to wait to wear your dressier pieces—just pair each with basics like white T-shirts, cotton shirts and sneakers or slides and you're all set to bring a little dose of glamour into your daily OOTDs. And if you want even more versatility in your style repertoire? Try mixing in a statement necklace or bracelet with each piece! 
A Versatile Dress by Celia B
Celia B's creative energy lies with its founder, Celia Bernardo. She is on a mission to bring joy and laughter to everyone who wears her creations because of her love of vibrant colour, complex knitting, and ability to create beauty out of chaos and clashing silhouettes. The brand's designs are intended to convey a sense of individuality and freedom to those who wear them by being timeless, entertaining, and unusual.
This pretty star-printed Iris dress by Celia B is incredibly versatile. Available in two pretty shades (although we prefer the lilac), the dress can be worn as an overlay with a slinky slip underneath, over your bikini with flats or simply styled with a leotard and sneakers. 
A casual lunch or an after party, this ruffled piece will definitely be your go-to!
Maryam Khan founded Daska in 2021 after noticing a void in the fashion industry for high-quality, stylish modest clothing. The label believes that dressing modestly does not require compromising style. The aesthetic of DASKA is that its designs are universal; anyone can wear them.
The collections push the envelop by offering seamless designs in ecologically sound fabrics, while incorporating timeless silhouettes, whimsical patterns and a vibrant colour palette that's loved by all.
The Nadia skirt is covered in glittering sequins and made with repurposed fabric. Although you can definitely style it for parties, you can also take it out for a spin during the day by pairing it with a simple tee and sneakers. Whether you have a coffee date or a dinner engagement, you'll have a gala time with your loved ones.
Bodycon Dress by Georgia Hardinge
Georgia Hardinge is a modern fashion label that is fascinated by innovation. The creative spirit of the business provides an alternative to fast fashion and the overconsumption of trend-led clothing. The creative head strives to make her one-of-a-kind creations better by design, and she intentionally focuses on increasing the sustainability of both products and processes when designing each collection–using recycled fibres and ethical practices.
This Dazed dress by Georgia Hardinge is crafted from luxuriously soft fabric and drapes over any body beautifully. Providing a flattering fit, this midi dress is pleated throughout, has a sunray design and a unique gathered detail near the thigh.
You can style it for a night out on the town or simply wear it to work with a cool blazer or oversized shirt–it's the perfect addition to your wardrobe. Versatile and super-flattering, this midi dress can be styled in many ways to suit your mood. 
This brand's collections pay tribute to the genuineness and sweetness of life. Inspired by Mediterranean culture, the brand perfectly symbolises elegance and leisure aesthetics. Their creations strike a balance between simplicity and richness. They are imagined in France and handcrafted by the artisans in India and Italy.
This Suzanne Skirt is a long and flares beautifully. It has a gathered yokes that adds lightness to its movement, leaving you free to dance and twist. The voluminous design is emphasised by the multicoloured stripes and sparkling yarns that catch the light. This maxi skirt can be worn with a simple beige tank top and slides, or a slinky shirt and even a bandana for added drama (like the model).
Cary by Sundress is a flared jumpsuit with a deep neckline and a plunging open back that can be tightened on the shoulders courtesy of ribbon-like strap details. The jumpsuit features multicoloured stripes in a shiny fabrics and has a free-flowing design which allows you to move around seamelessly.
Depending on your mood, a wide belt can be fastened at the waist to add a little structure to this otherwise flowy silhouette. For day-to-night glam, pair this jumpsuit with a tee underneath or a shirt on top and slides.
Romantic Dress by Sister Jane
Sister Jane is a London-based fashion label that designs feminine collections with a splash of nostalgia. They are never shy and combine amusing eccentricity with a distinct style old-world stamp. Pieces emphasise one-of-a-kind, surprising features that are colourful, new, and trend-led, with a nostalgic twist. And everyday is different: the brand wants to renew your wardrobe by releasing a new capsule collection every six weeks, making each piece a limited-edition gem.
Let the sheer fun begin when you grab downtown beverages in this floral jacquard midi dress by Sister Jane! The neckline features mini ruffles along the back and a big bow–giving it a whimsical touch. A style statement for party in the back! A dress worthy of the Paris buzz, spin your tiered skirt into the lights. 
You don't have to store this pretty poof away during your laid-back days. Bring it out of your closet and pair it with some chunky sneakers and a cute crossbody for a casual lunch.
Ruffled Skirt by Akshi Jogani
Akshi Jogani is a womenswear label that creates garments for the modern woman. She combines her Indian roots with a western perspective to make designs that are creative and stylish. Her emotionally charged collection features a rainbow of colours, flexible fabrics, stunning forms, and a distinctly Indian flair.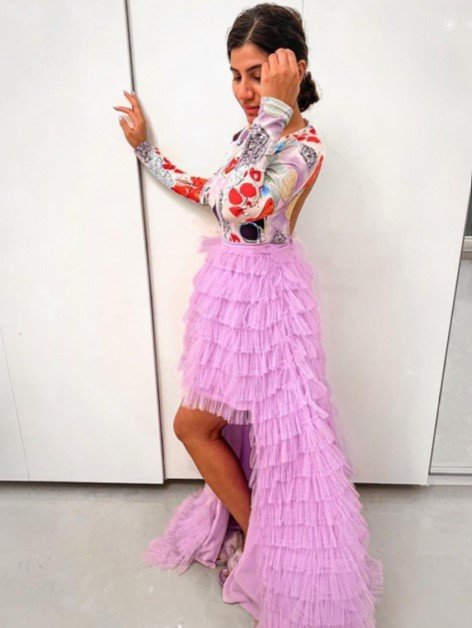 The founder of the eponymous womenswear label, has created this range of multi-layered ruffle skirts. This ruffled romantic skirt with just a basic tee and slides can set you up for day to night ensemble.