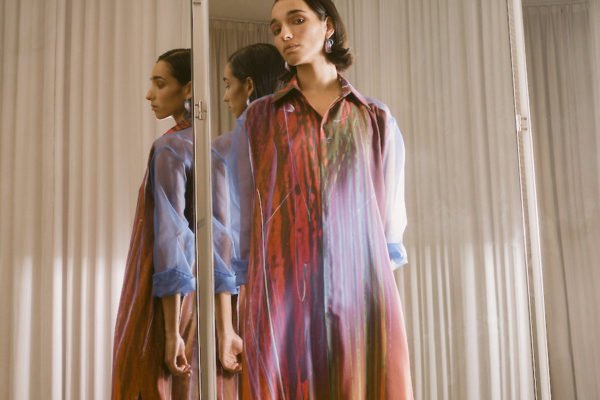 Blurring the lines between art and fashion, Austrian-born designer Romana Zöchling is carefully balancing wearable and statement design. Her textile art pieces empower those daring to break away from the binary. From maternity wear to genderless garments, inclusivity is evidently at the core of Ferrari Zöchling. 
The label was founded 10 years ago by the designer. Clear cuts, flowing silhouettes, and clean shapes combined with eye-catching shades are the signature design elements of Ferrari Zöchling. The expressive prints used in some of her easy-to-wear design pieces were created in collaboration with Viennese artists. They are bursting with bold colours, emotions, and style–just like some of her modern muse and. 
Ferrari Zöchling encourages fluidity by utilising high quality fabrics such as silk and viscose. She allows both the garment and the wearer free movement as if entangled in a delicate beautiful dance. Romana sources her textiles from across Europe, travelling from Germany to Italy while seeking the finest fibres.
The notion of relaxation echoes within each collection where flowing silhouettes are designed to bring a sense of weightlessness to the wearer. Reminiscent of her college days in Tokyo, the structures are similar to that of the kimono. 
By merging the worlds of art and fashion, bold colour and prints have subsequently become synonymous with Ferrari Zöchling's brand image. Working collaboratively alongside the likes of  Denise Rudolf Frank, Katharina Höglinger and Marianne Vlaschits makes each collection diverse and individual. The collections delicately balance eye-catching prints with contemporary design, resulting in flowing shapes and cuts that are effortlessly beautiful. 
From Left to Right: Katharina Höglinger, Denise Rudolf Frank, Marianne Vlaschits. 
A Decade of Ferrari Zöchling
Since launching in 2013, Romana has accelerated Ferrari Zöchling's success by collaborating with a host of creditable artists. She incorporates each artist's personal handwriting while simultaneously exploring her own. With this, her bi-annual collections provide a fresh take on the arts, culture, and their influence. 
Romana's creative flare is hereditary, having been dressed in hand-sewn clothing crafted by her mother. Now, she is praised as one of Vienna's most successful young designers with her garments featuring on fashion week's runway, season after season.