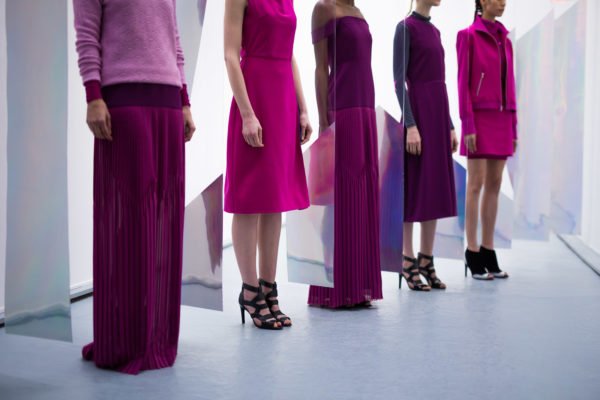 The London based self-named brand Georgia Hardinge launched in 2010 and is now recognised for its' sculptural yet wearable garments. With the designer taking inspiration from architecture, new technology and innovation, it is definitely a brand for someone that likes to make a statement with their clothing.
Since attending Parsons School of Art and design in Paris, and receiving the best designer award for her graduate collection, Hardinge has gone on to create bespoke outfits for the Victoria Secret Fashion Show with Swarovski and released a 14 piece collection for River Island. Her designs have been seen on the likes of Florence Welch, Beyoncé, Lady Gaga and more, as well as being featured in Harper's Bazaar, Vogue and Marie Claire. Georgia Hardinge has raised over £200,000 for wildlife conservation for The Elephant Family, as well as making regular donations to SeaLegacy and the Beach Clean Network.
"Hardinge works on developing minimal pleating techniques from paper sculptures, combining this with new technological fabrics and textile treatments."

From the Georgia Hardinge official website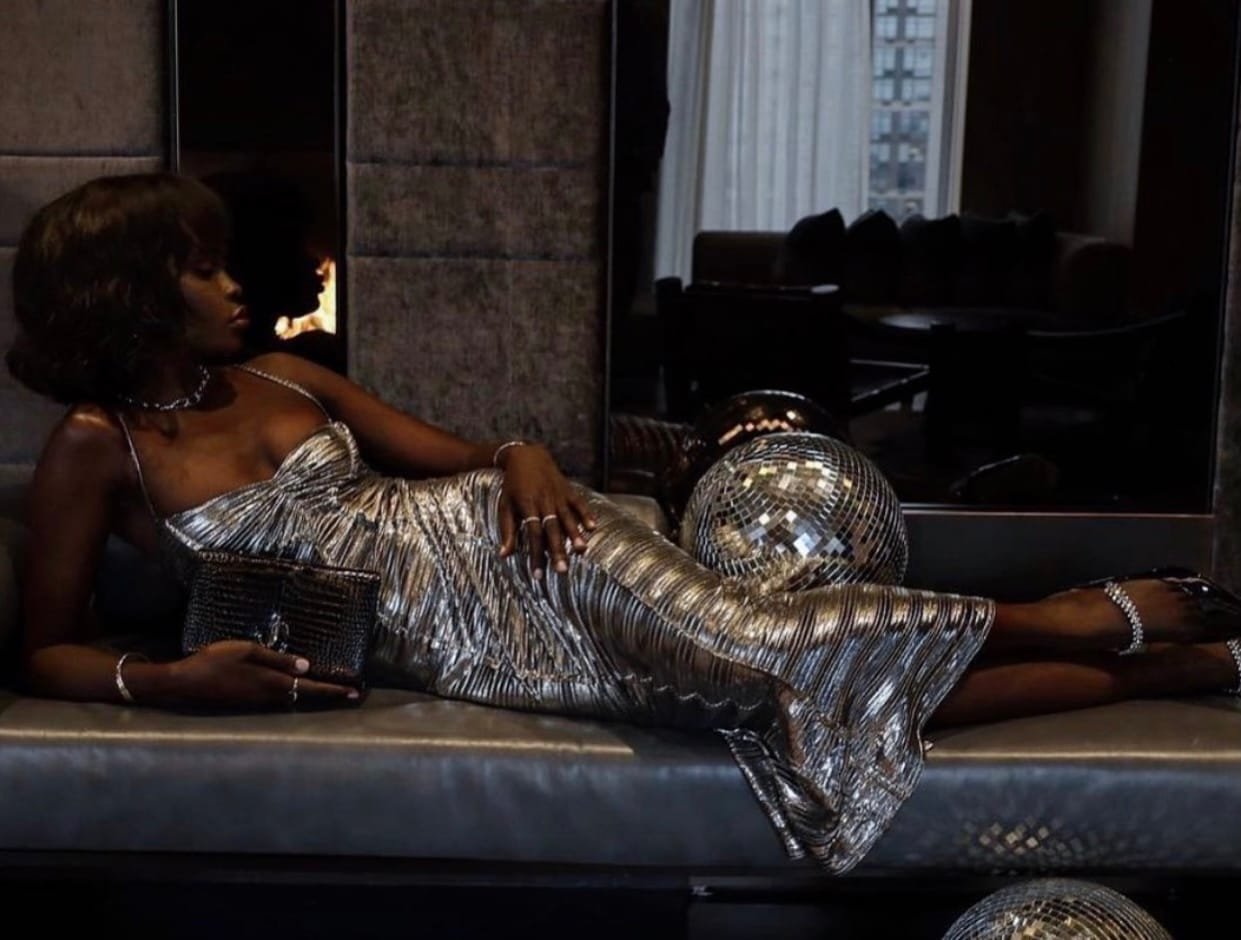 Hardinge wants her brand to act as "an alternative to fast fashion and the overconsumption of fashion by encouraging a conscious approach to wardrobe building, inspiring customers to appreciate each purchase and its longevity" – something that grows ever more important due to the current global situation. The concept store opened in 2019, on St. Christopher's Place in London, also aims to give the customer an immersive and educational shopping experience. As well as reflecting the brands' architectural aesthetics with the raw materials of the space exposed, there are scannable barcodes to show customers the creation process of certain techniques. Mock up designs have been preserved into sculptures to depict the level of intimacy of each individual garment.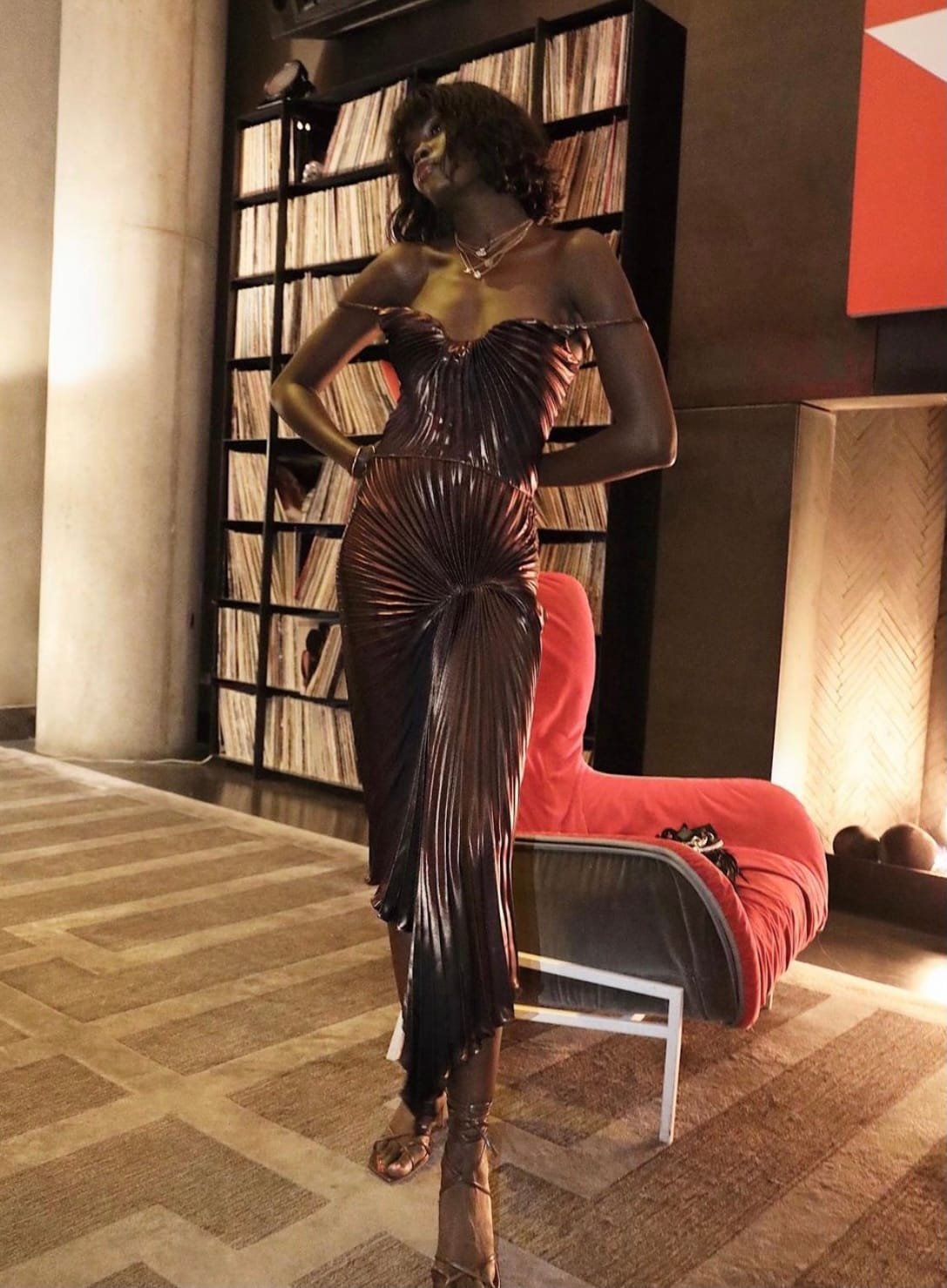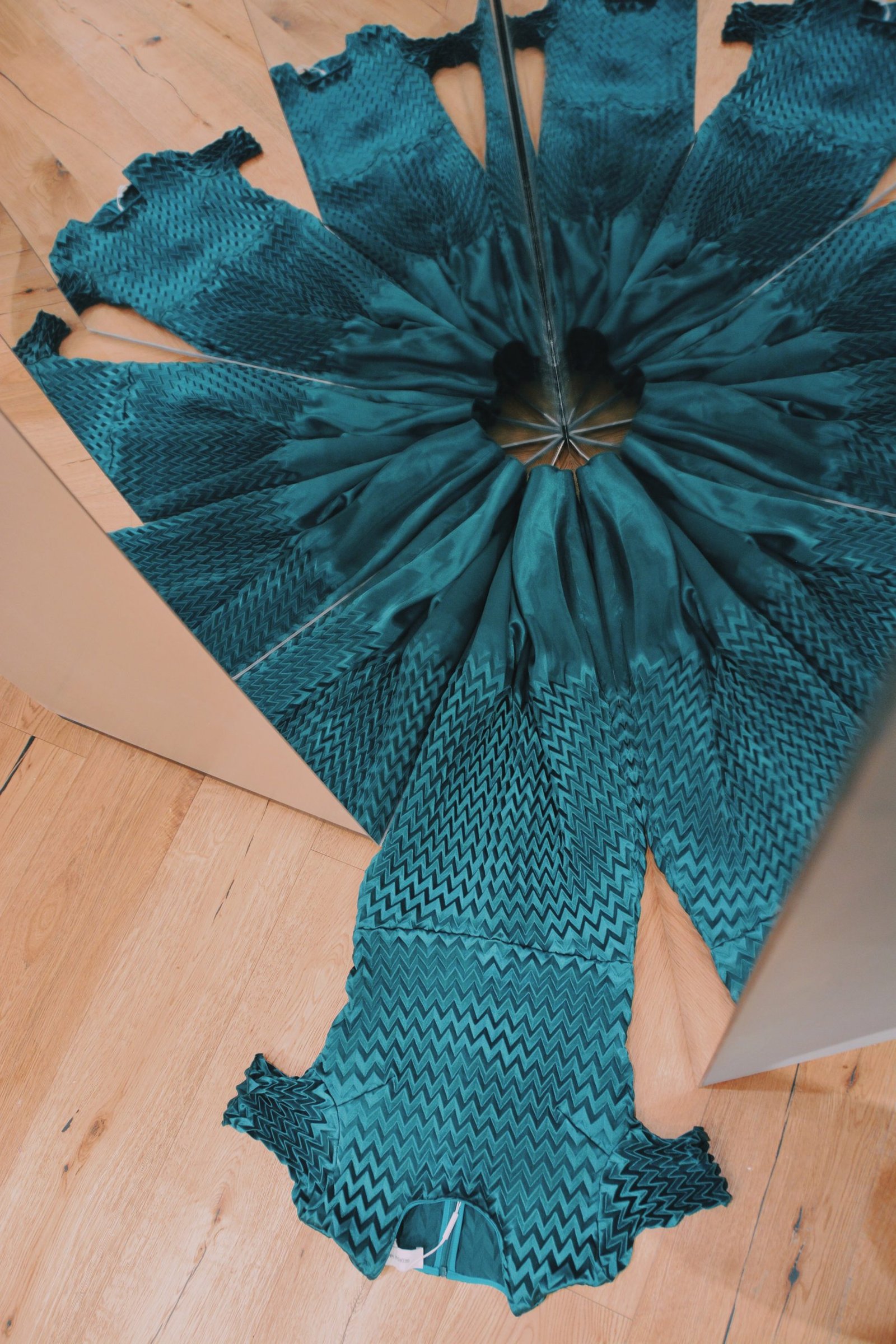 Click here to see a behind the scenes video of the construction process of the store, designed in collaboration with Studio Lucy Sanderson.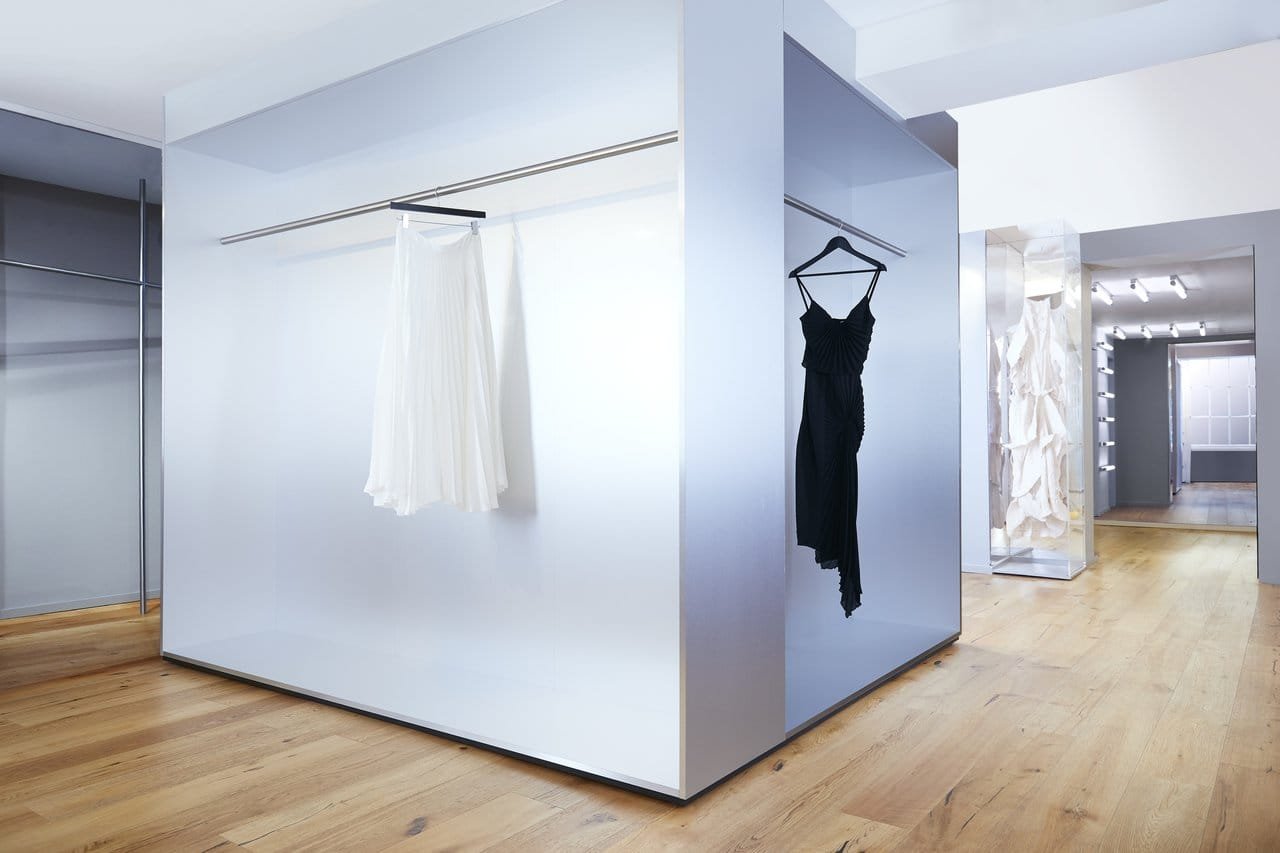 The brand supports local craftsmanship, working closely with London-based pleaters, ensuring each handmade piece is worked into the garment with precision. Every mock up is created in-house, reducing the brands's carbon emissions, allowing changes to be made more easily and guaranteeing the best quality for each little detail. Click here to see more of Hardinge's creative process. Production is sourced to local manufacturers and small scale factories, in the UK and nearer parts of Europe, with all scrap fabrics being sent back to the studio to be reused, recycled or donated. Georgia Hardinge also runs an internship program, teaching students the process of pleating, how to develop the technique and encouraging innovation.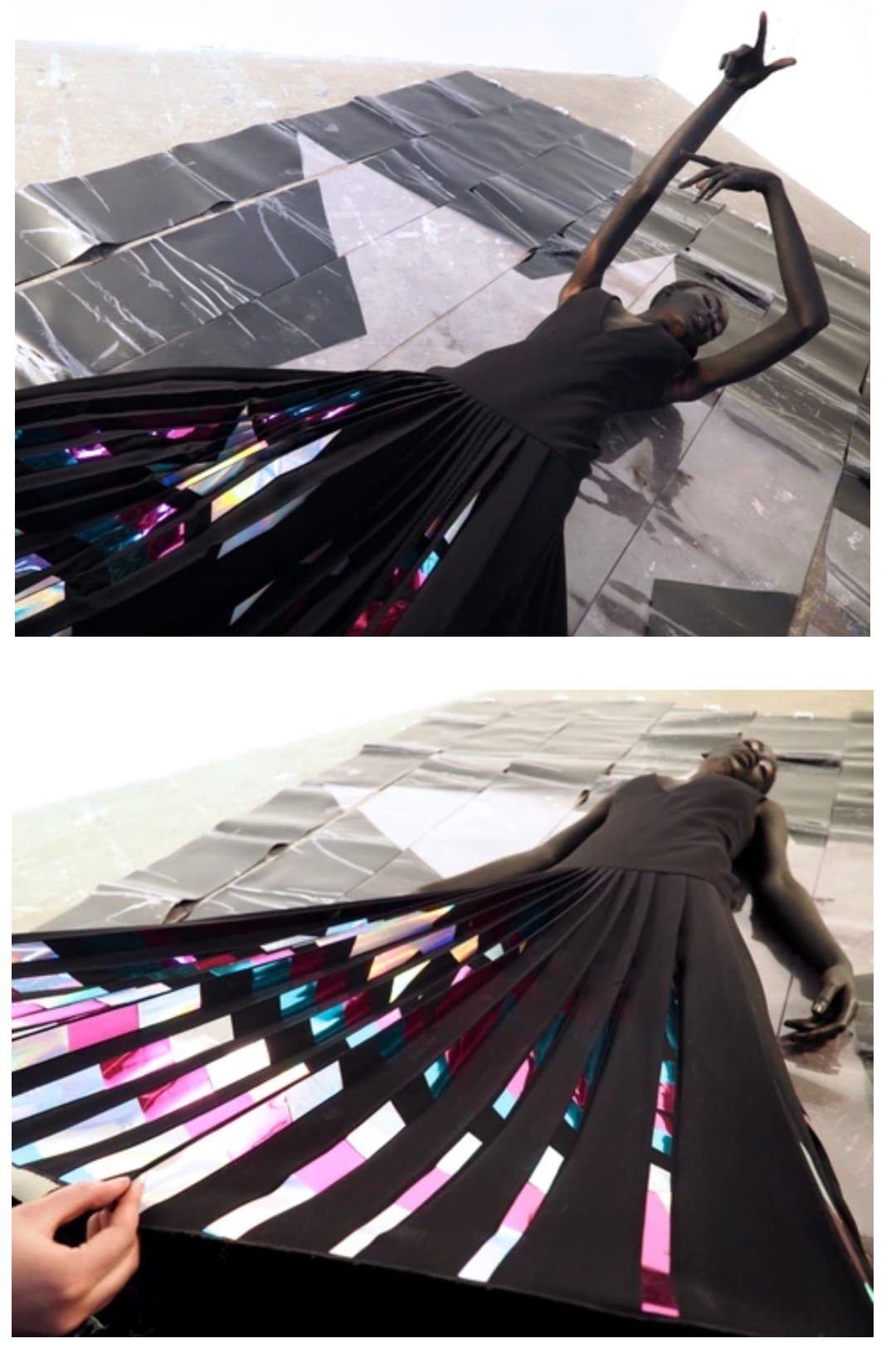 Looking more closely at the use of fabrics, Georgia Hardinge has been introducing more certified sustainable fabrics into their production since 2019, with an aim to soon be the only source of material. The garments are constructed with fabrics such as polyester made from recycled PET bottles and TENCEL modal fibres. An array of colours, contrasted with unusual shapes and structures, each garment is unpredictable yet elegant, rigid yet soft, with the perfect amount of femininity. Think asymmetrical hem lines, waves of organza, ruches, exaggerated silhouettes and of course, an abundance of pleats.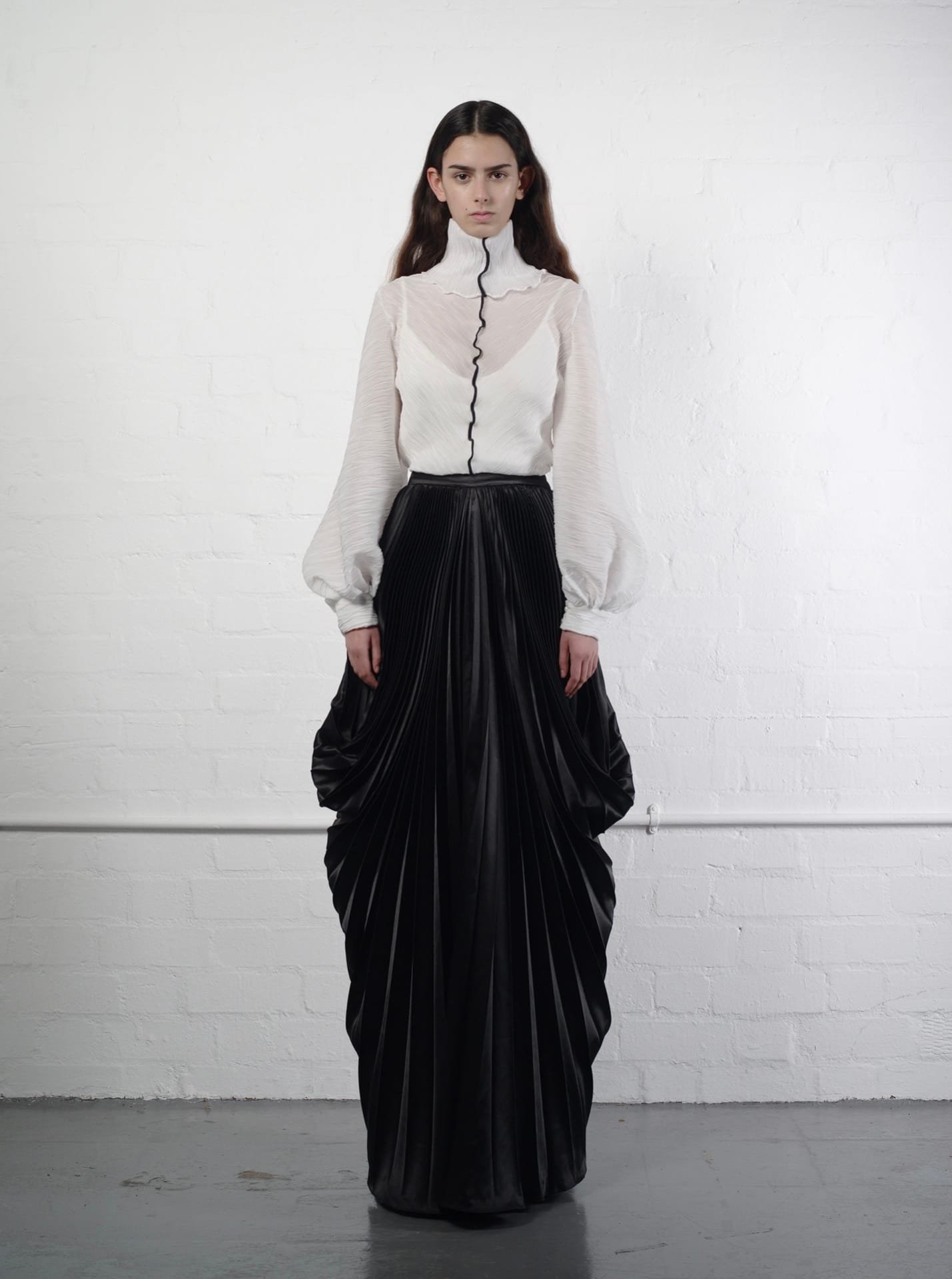 All images are courtesy of Georgia Hardinge.
---
– Written by Amelia Butler