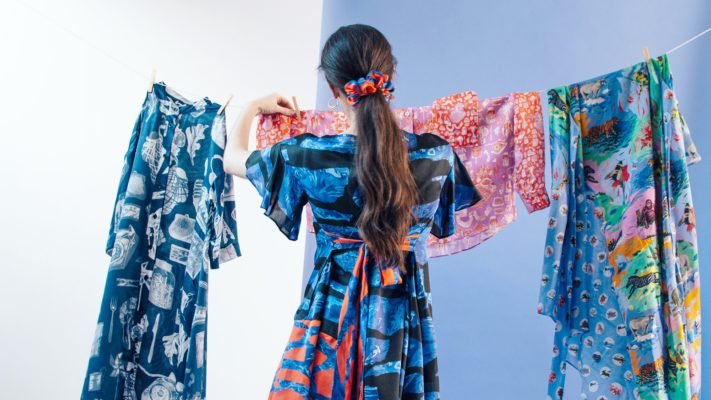 Walking out of a boutique with a gorgeous dress in your hand is swell but throw in a packet of organic seeds with every purchase, now that is something else. And that's what Sophie Dunster, founder of Gung Ho is all about. Not just a smashing brand name accompanied by dynamic colors and brilliant designs but an educational brand to highlight the environmental issues some of us are oblivious of.
No, this does not mean she sits you down and lectures you on how to be more fashion responsible when you shop with her, rather she incorporates the issue at hand into her prints and patterns. So the next time you're complimented on your stunning bee sweatshirt or your pesticide dress, make sure to say thanks and a little more about your contribution to the environment!
Each collection circles around a specific situation that desperately needs our attention and is cleverly and passionately designed with gallant compositions, striking colors, unique designs, and secret messages all to make you look good and feel good. Sophie Dunster–not just about big floral earrings, but a big vision and a bigger heart. 
Sustainable clothing brands have a reputation of being monochrome, terracotta and/or earthy pieces. Gung Ho, however, believes in the opposite. Is this the niche that you want to set you apart from other sustainable brands?
The niche that sets us apart is the hidden messages in the print design. Everything you wear shouldn't just make you look good but showcase the values you believe in. If fashion is your first impression of somebody, what they're wearing should be the conversation starter.
Gung Ho represents fun colors and designs but also plays a serious role in being a sustainable clothing brand that gives back to charities. How did you manage to think of it all? Was this your vision even before you started out?
My dad was a zero-carbon architect, and I was heavily influenced by a sustainable lifestyle when I was little. More than being just a fashion brand, I wanted to be an education brand, trying to influence people to think about different environmental issues so working with sustainable fashion and involving charities in my line of work was what was logical to me. I'm an all or nothing person so it makes sense in the bigger picture.
As an emerging designer, wouldn't it have been easier to start out as a regular designer? Why go the sustainable route?
Before Gung Ho, I wanted to become a political artist with a message to convey. I started out by drawing on fabrics to go up on a wall but not many people can see and talk about it so I turned to clothing where one is a walking and talking point and that's how the concept started.
I have a message about sustainability which is what I'd like to convey through my designs and by offering something where buyers don't have to compromise on personality and style, the change is more effective.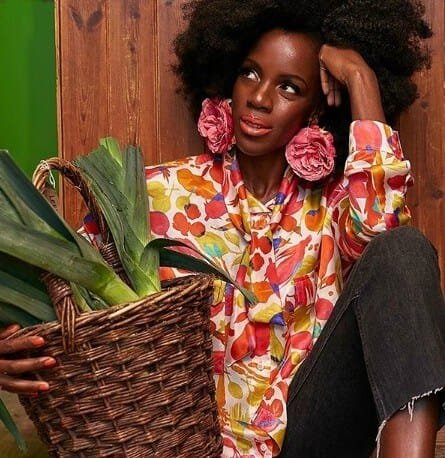 How would you explain the value of sustainable brands, like yours, to someone who isn't quite familiar in that field?
If we don't change what we are doing to the world, we're going to have a serious problem.
When you throw something away, where do you think it is going? Just because you can't see it, doesn't mean it's not there and it's scary because nature can't adapt as quickly as the damage that is being caused and we're looking at massive flooding and droughts in the next 100 years.
When you become a sustainable fashion supporter, you ensure people are being paid fairly, minimal chemicals are being used, and you buy something that is made well to last longer. Fast fashion is impersonal but sustainable clothing forms a relationship with the buyers.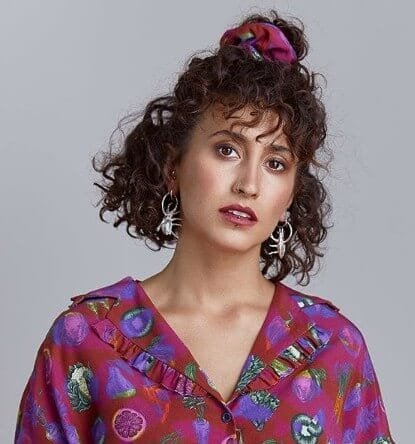 What do you see yourself doing more of in the future in the sustainability space?
I would like Gung Ho to become a movement to help educate, engage, and inspire people to turn towards sustainability.
I don't want to preach or hand out pamphlets but rather speak through my designs and excite the public so they want to be a part of the movement of change.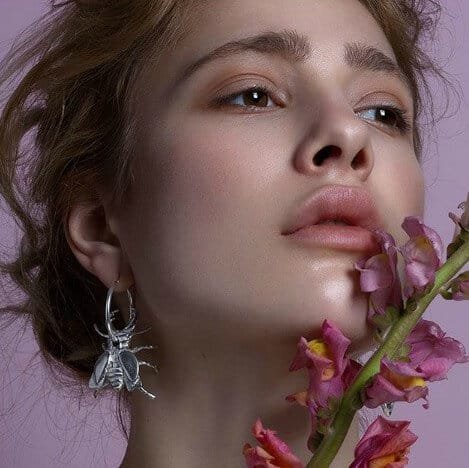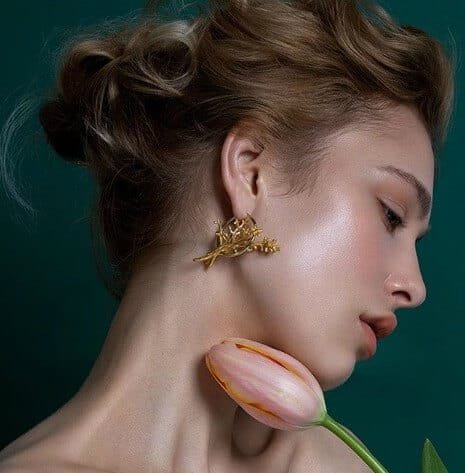 'Each year we pick an issue that needs attention. This year it's "Food For Thought".' What other issues have you created your designs with before?
We focused on precious insects the first year and plastic in the ocean the following year. The third collection dealt with food for thought and we wanted to do something different for the launch of this collection so we got twelve inspirational female chefs to design a dish around the topics that were being campaigned. All the chefs were dressed in Gung Ho, wearing the issue they were designing the dish around. The guests tasted the dishes and experienced the issue first hand which takes the experience to the next level.
The issue for the next collection is a surprise!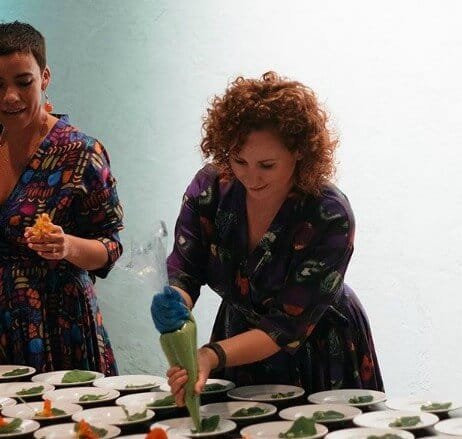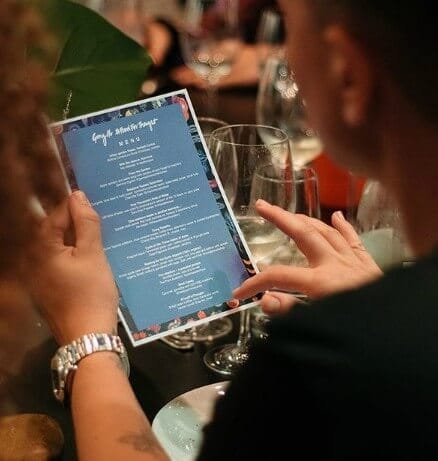 You design scrunchies and scarves to ensure zero waste, another commendable action on your part. What other cute little knick knacks does your brand carry or will carry?
Something that I'm proud of about Gung Ho is minimal wastage.
Our collections come in two sizes, extra small/small and medium/large and these outfits are adjustable so if you lose or gain weight, you can still be sure that it will fit you right. With the extra material that is accumulated, we make scrunchies, neckties, bow ties, and scarves.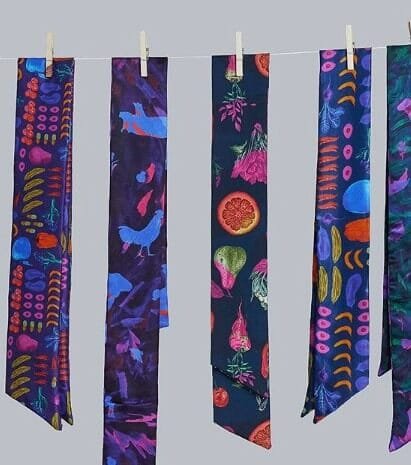 10% of your profits go back to the charity that has worked with you on that particular collection's issue – another commendable act. What other charities have you worked with?
We worked with 'Friends of the earth' for our first collection that focused on 'Precious Insects'. 'Surfers against sewage' was our charity group for the second collection that revolved around 'Plastic Ocean' and we are working with 'SeedsShare', a London based nonprofit for the third collection which is 'Food for Thought'.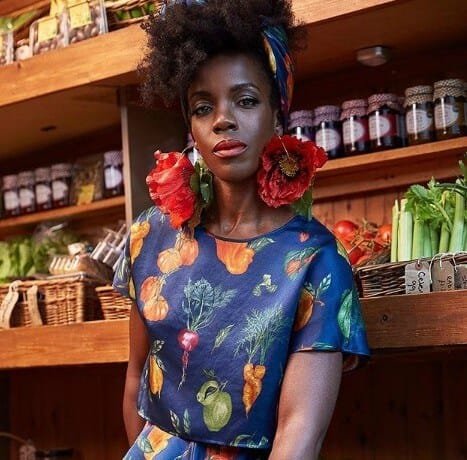 Your designs especially the 'Pesticide wrap dress', and 'Airmiles shift dress', gush with creativity. Tell our readers how ideas are initiated in your artistic mind.
First, we pick an issue that people should know more about, research and understand what is happening within the cause and the challenge is to illustrate it without it being too depressing. We deal with serious and hard topics such as pesticides, how do you convey that message whilst keeping in mind that the end result needs to be colorful and appealing? I then design incessantly and for instance what we came up with for the pesticide dress is a concept wherein the amount of spray in the design portrays how much pesticides you're eating. If you're not buying organically then the design shows which produce is safer and which should be more diligently washed before consumption.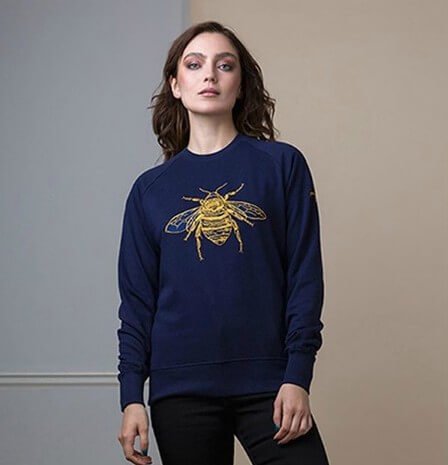 How effectively do you think AISPI helps emerging designers?
The problem emerging designers face today is the fact that they don't have big connections and they're in the fashion industry for the love of design in which case they need concepts like AISPI to support them in finding the right community to push what they are trying to get out there. You can design till the cows come home but if nobody knows or talks about it, there is no impact and this is where AISPI comes in with support and guidance.
Cows did you say, Sophie? Could this maybe be a hint for the next collection? Keep tabs on this brand that is high in morale and extraordinary in designs.
---
– Written by Sureka Naven
We love talking to such young emerging talent and sharing their stories. For more top-notch interviews, visit AISPI and follow us on our Instagram.