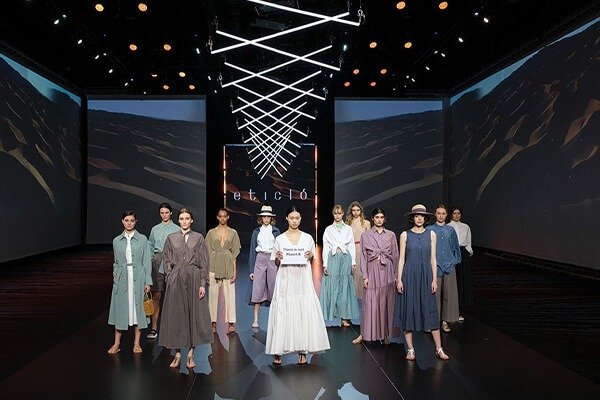 The year 2020 changed the fashion industry in many ways. Not only was it responsible for overnight decrease in sales, closing of numerous brands and world-wide panic, but it also completely tore apart the normal fashion calendar. From shows getting pushed back months to big-names like Giorgio Armani simply cancelling them, there were a lot of unprecedented changes within the industry due to the pandemic. 
There was a time when the fashion week used to be the event to attend for all fashion designers, editors, models, photographers, writers and celebrities. Now, the concept of the fashion week has evolved from physical runway shows to phygital ones. 
What is phygital fashion?
The word 'phygital' is the fusion of the words—physical space and digital technologies. As the coronavirus restrictions and social distancing laws caused traditional fashion shows to be cancelled, a new era of digital fashion was born. This content is a creative mix of narrative-based stories and visual showcases. It can be anything: a documentary on the making of the collection, a music video, a podcast or even an experiment in visual and augmented reality. 
The power of phygital
The question remains: will these virtual fashion shows continue to be the norm post pandemic? The only way to answer this question is to look at the pros and cons associated with them. 
Although virtual shows and films lack the physical appeal that the concept of fashion shows promises, they have the potential to create profound digital impressions and drive traffic. Thus, almost all fashion weeks–including the upcoming London Fashion Week, Milan Fashion Week and Paris Fashion Week, have largely adopted this new-normal and safer way of showcasing collections. 
While previously these exclusive fashion weeks were only accessible to the who's who of the industry, now through this new physical and digital hybrid, people across the globe can be a part of it. This has not only helped the brands reach newer, younger audiences but have helped them communicate more efficiently to their followers and fans on social media. 
While the accessibility to the shows is a definite advantage for consumers around the world, many fashion insiders have confessed that they miss the social interactions, events and the overall touch-feel factor that was present in physical shows. Watching from a screen is a different experience altogether.
As consumers are becoming more socially conscious, these luxury and high fashion brands can now use their personal platforms for spreading messages about social issues and promoting change. Last year, Black Lives Matter movement gained worldwide support from brands, designers and individuals across the world largely due to the power of social media and brands being unafraid of being 'apolitical'. 
During Dior's Fall 2020 show, Creative Director Maria Grazia Chiuri used her phygital show to promote women's empowerment following the #MeToo movement. She established Dior's brand identity as that of social activism by seating intersectional feminist Chimamanda Ngozi Adichie on the front row, which spread a powerful social message. 
One of the most debated topics around phygital fashion weeks is whether or not they restrict creativity. Many have argued that fashion films, virtual shows and Instagram live's don't allow for a lot of creative expression that may have been present earlier. For example, Raf Simon's first show for Dior saw a venue filled with the fresh scent of flowers, building up the anticipation. However, in a digital format, this experience cannot be replicated which can be stifling for some designers. Although it does allow a new creative expression in the form of edits and digital visuals, there is surely a lack of the much-admired 'human' touch.
On the other hand, there is the important matter of the environment. It's no secret that the fashion industry has been heading towards a more sustainable future for a little while now. And unfortunately, real-life shows which were far-flung across every corner of the world, posed a direct setback when it came to building an eco-conscious industry. 
According to a report by Ordre, fashion buyers and designers contributed to almost a quarter of a million tonnes of carbon dioxide emissions a year by attending the fashion weeks. Therefore, this new move towards a hybrid fashion week has been championed and supported by sustainability advocates including Dries van Noten. 
However, there is no real data available yet to confirm the hypothesis that the impact of digital fashion shows on the environment is lesser than that of physical ones. At the moment, due to the current situation, it seems that the shows will continue to be a balance of physical and digital events until further notice. And that is good news for anyone who cannot attend the shows in person, as they now get to experience and be a part of it through the digital world. 
---
– Written by Team AiSPi
To know more about the latest news on fashion, read through our articles or follow us on Instagram for a daily dose of the best of European fashion.