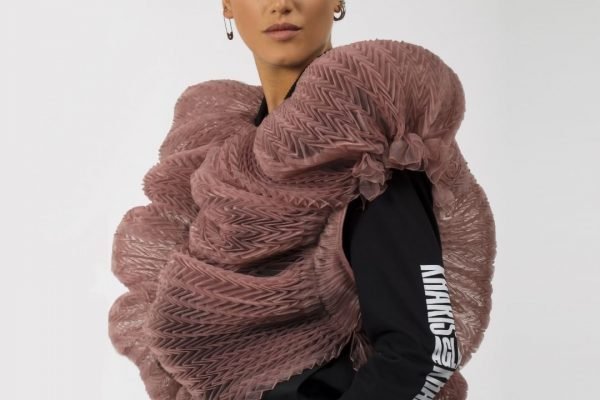 Currently in lockdown in Italy – one of the countries most affected by the novel coronavirus, Karisia Paponi speaks to me about her brand Kharis Aglai. A contemporary take on womenswear for the modern woman, Paponi designs pieces that are a stunning mix of strong and soft with a couture-like construction that is reminiscent of her European heritage.
As a company, AISPI's passion for local European fashion extends beyond business; we pour our heart and soul into bringing to you our discoveries while simultaneously ensuring that our designers benefit from all our activities. Stay tuned as we continue to shine the spotlight on talented designers from across Europe in these challenging times and in the meantime, scroll down for our interview with Karisia Paponi.
Hi Karisia, let's start by hearing a little bit about you. Were you always inclined towards fashion and the creative arts?
Yes, ever since I can remember, I was always surrounded by pencils and paper, fabrics or leathers, so I like to believe that I was drawn to the world of fashion and art from a very young age.
I got my high school diploma in science and right after, began started studying footwear design in my home town in Italy – one of the most renowned production areas for clothes, shoes and bags. I then moved to Milan to study Fashion Design at Istituto Marangoni, where I was happy, but after my first year there I realised that I was still curious to see and learn more. That's when I decided to apply to the Antwerp Fashion Academy in 2005. The four years that I spent in Antwerp until I earned my Master Degree were the most exciting yet challenging years of my life.
Sounds exciting, indeed! So what inspired you to start a fashion brand and how did you make the transition from a fashion student to a business owner?
After my graduation in 2009, I worked at Proenza Schouler in New York, for a while before returning to Italy and starting my brand KHARIS AGLAI in 2018. It has been nine years already since I have been running my own business; in the beginning it was hard to cope with all the responsibilities that come with being an independent professional. Two years ago, I also decided to pursue my dream of creating my own brand to define my own aesthetic on womenswear.
The name of the brand – Kharis Aglai – is so unique! How did you come up with that one?
The origin of my Italian name Karisia is Greek and it belonged to the Greek Goddes χαρις (kháris) – one of the three Graces in Greek mythology. KHARIS AGLAI is actually a mix of the Greek name and its Latin translation – a repetition of my name twice over. It was conceptualised very organically during the creative process and rather than choosing my own name, I preferred this unusual combination that immediately seemed so powerful.
Who does Kharis Aglai cater to? What kind of pieces can we expect to find in your collections?
KHARIS AGLAI was born out of the desire to provide a contemporary and demi-couture wardrobe for the modern professional woman, who works in the creative field and is passionate for beautiful pieces that are hard to find. She also has a strong personality and at the same time has a romantic outlook on life – a personification of cultural contrasts. Limited edition and statement pieces are a staple of the KHARIS AGLAI collections.
Do you have a favourite or memorable piece? Can you tell us a little bit about it?
My favourite piece is no doubt the plisse bomber jacket. Our iconic piece, made of organza cardboard plitted in Italy using traditional handmade techniques. It's volume and style represents the bond between sculpture and fashion, my two passions. The plisse jacket is a representation of time travel – it's fun and very easy to wear. I like to think of it as a hug to the body, almost as if you were wearing a cloud.
We hear you also spent a considerable bit of your time teaching fashion! What are your thoughts on the next generation of designers? As a teacher, what is it that you advice your students to keep in mind when they start out in the industry?
Fashion students are now much more aware of the environment and of how fashion is a major contributor to climate change and social issues. So I am confident that the future of fashion, even if slow, is headed towards sustainability and equality. And I am very happy about it. I tell them what I tell to myself every morning – be honest with yourself and to others. It is important to understand what your obsession is and translate it into your work.
What are the top three qualities a brand needs to keep in mind to succeed today? What do you think are the challenges that brands are facing today and how can they work towards overcoming these challenges?
To succeed in the industry today, a brand absolutely needs to have the qualities of honesty, coherence and uniqueness. I think that a successful designer has to be as good a businessman as an artist. To succeed in the fashion industry, you also need to be connected to a good network of stylists, editors and buyers and have a large amount of capital. For those who fall short of either or both, the only way to succeed is to keep charging ahead without taking no for an answer. While success may come a little later, soon you will see the light at the end of the tunnel.
Do you prefer to take the direct to consumer mode or retail through third-party brands? Why?
The visibility you get through well known platforms is very important, however, at this time of my career I see myself more as an artisan and that's why I prefer to go direct to consumer by means of my website and social media presence.
How did you get to know about AISPI? Knowing the work the company does, what do you think is the best way for young brands like yours to work with us?
I met Aisha at the Tranoi Fair during Paris Fashion week in February and it was a pleasure speaking to her. While sharing my professional experience with her, I realised how the platform enables me to gain access to a wider audience and connect with other designers to understand their approach to business and design.
As the novel coronavirus pandemic continues to rage across the globe, Italy remains one of the worst affected countries in Europe and around the world. Help us support the local fashion industry of Europe.
---
– Written by Soha Joshi
Don't forget to follow the AISPI blog and Instagram for more on the designers to know from Europe.