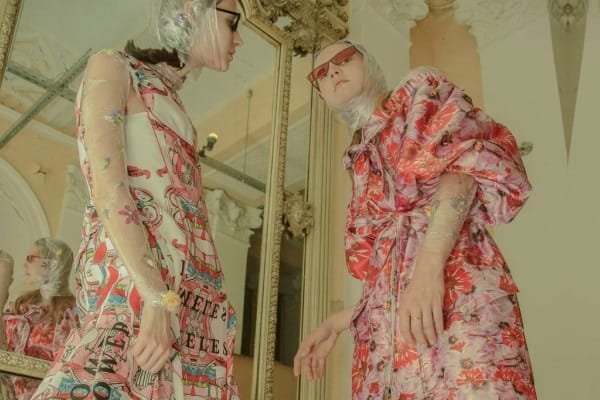 We all know the Olsen twins who slayed the fashion industry with their multiple clothing lines ranging from luxurious yet minimalist pieces to contemporary, edgy clothing and accessories. Demetra and Eirini Skalidaki are the new twin sisters in the fashion scene to win us all over with Laviate.

Laviate, a Greek label brimming with romantic plush brings together bold silhouettes, poetic personalization and exquisite craftsmanship in their medley of knitwear, coats, and dresses. Their collections embrace intriguing patterns, hand-drawn digital prints, and sensual fabrics. Laviate is a luxury womenswear brand that translates female empowerment into contemporary wear, inspired by authenticity, enigma, and individuality.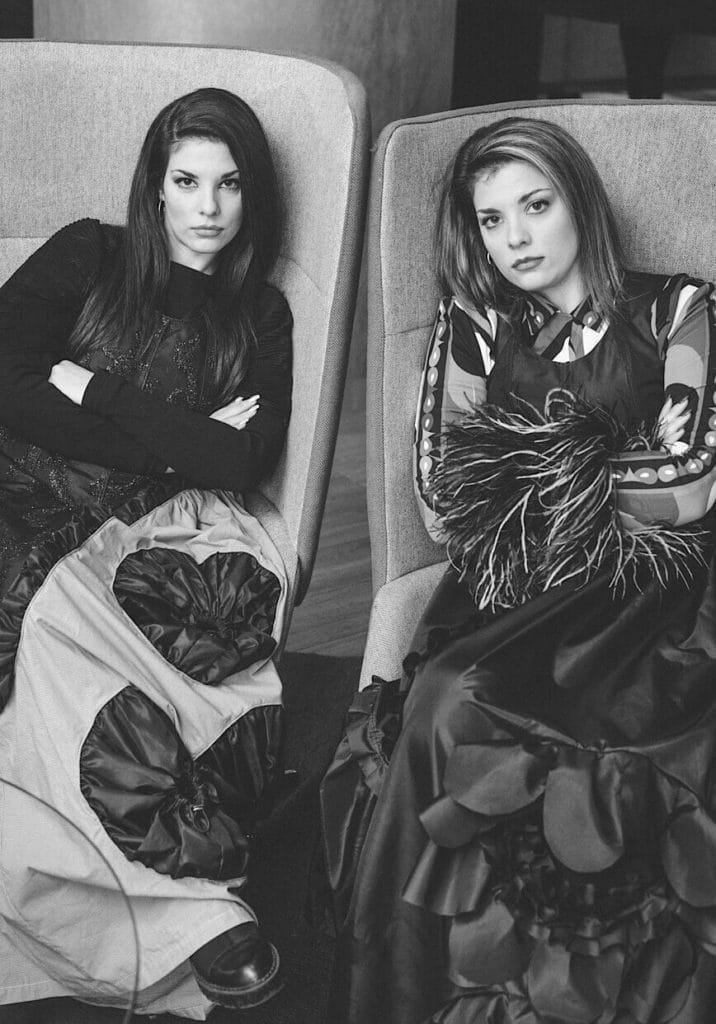 The sisters sought after a Fashion and Arts degree at Central Saint Martins in London to kindle their artistic zeal and love for fashion. However, this was not before majoring in Biomolecular and Genetic Science – two disciplines that have an affinity far more profound than conjecture. The young designers worked under the reigns of Gucci and Chanel and acquired embroidery expertise at Mary Katrantzou and tailoring proficiency at Yiorgos Eleftheriades before establishing their own label. The hallmark of Laviate can be expressed as this degree of knowledge coupled with their fascination towards hand-drawn digital print and knit.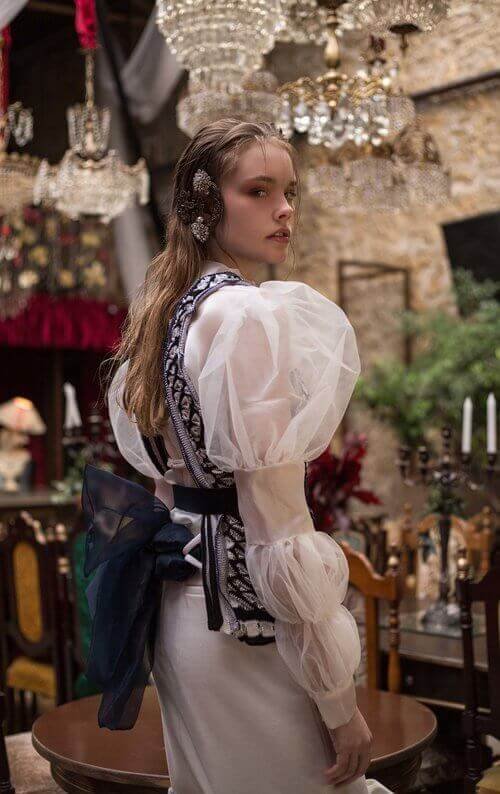 Hard work pays off indeed if you have the patience to see it through as did Demetra and Eirini Skalidaki. Here are the fashion-forward sisters talking to AISPI about everything and then some taking us to an alternate universe of fiercely romantic fashion.
From a degree in Biomolecular and Genetic Science to owning your own fashion label. Did science make you realize that you really belonged in fashion?
Biomolecular and Genetic Science is definitely a multidisciplinary field of study with promising prospects in medical advances nowadays. However, our natural inclination in Arts made us shift and follow the pathway we are most passionate about. Our experience from our scientific background actually collocated with our studies at Central Saint Martins, where individuality matters, and that made us always wonder if someone has to be a scientist to be an artist.
The Arts and Sciences are sometimes described as separate entities, incompatible and conflicting with each other, but Art and Science are not so dissimilar. They both require careful observation, research, dedication and discipline as well as intuition, inspiration, and passion. The human form is often a muse for artists and close-up, even our smallest cells arouse a sense of beauty and awe.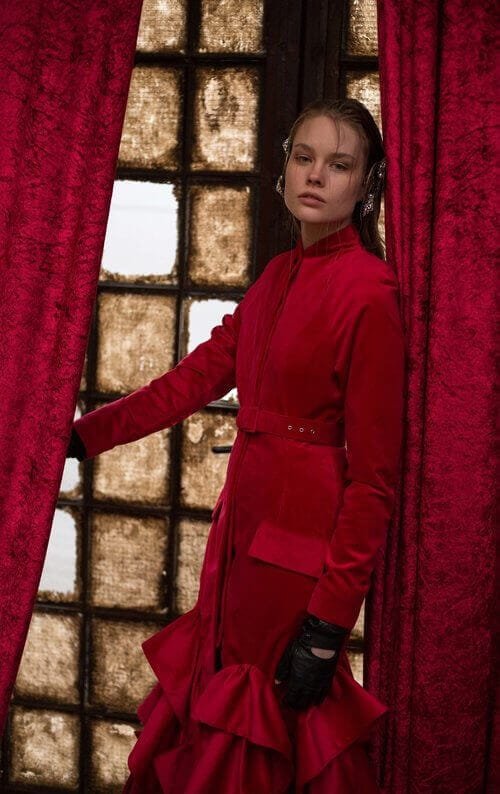 You've worked on the design teams of Gucci and Chanel. What was your take away from these designers?
Artisan techniques were the most precious elements taken from those designers which hinged on handcraft, repetition and slow fashion. We tried to incorporate those details in our brand's DNA by using natural yarns hand weaved in order to produce three-dimensional outcomes featuring intermittent stripes throughout the knitted patterns in puckering effects, inspired by some Gucci textile samples. Our vision is to create fully fashioned knitwear in combination with well-known techniques, chunky knitwear, and finest knitted lace, as well as hand-knitted crochet, macramé, and fully-fashioned bespoke pieces. Working closely with a designer of Maison Lesage for Chanel we understood the value of persistence, quality, and ambition of hand weaving and embroidery.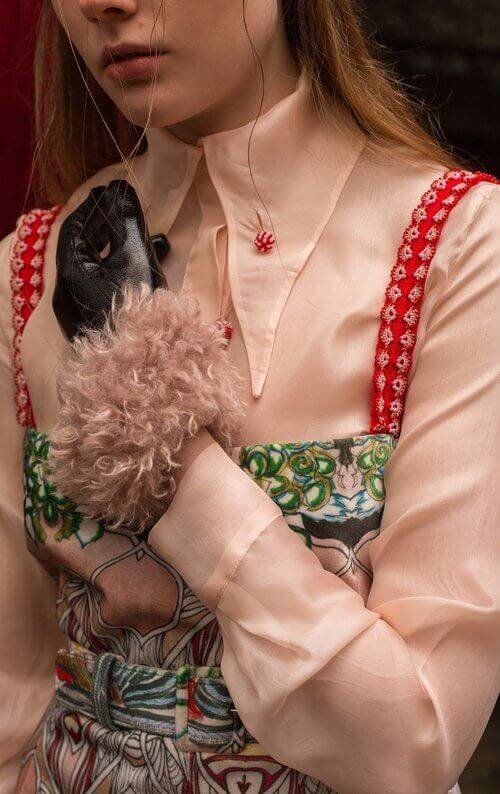 You've also gained industry experience at Mary Katrantzou in heavy embroidery. Is embroidery much used in your designs at Laviate? What other techniques from your previous experiences have you incorporated into Laviate?
We recall admiring Mary Katrantzou's work since we were students. The embroidery department where we interned was definitely an inspiration for our brand as we later tried to explore how we could start making 3D effects on our prints and knits. For our SS19 collection, we experimented with applying chitin to real flowers and creating jewelry pieces that we hand weaved in our knitwear, embellishing our garments. Our brand aspires to launch a balance between personalized fabrics with an elegant touch and thoughtful designs.
In our previous collections, our printing process involved the combination of submerging pure drawings into the high tech photoshop manipulation in order to create either huge abstract motives, symmetric illusive landscapes or repetitive patterns, which we carefully try to apply on the body in order to have a strong story and a flattering silhouette. For our AW19 collection, we interpreted drawings into jacquard motives which partly replaced digital print. Personalization and craftsmanship are themes that we have in mind when developing a collection.
Your story may really be evidence that twins do in fact have similar tastes and passions. Tell us a bit about how you became a creative duo.
We kind of work together without losing our individuality as each of us has her own strong approach. We are both excited every time we have to find a story. Be part of it. Feel the atmosphere and vibration. Then we try to interpret our ideas into shapes, fabrics and contemporary characters without forgetting our initial inspiration. Romanticism and Bold are two words that define us. Our pathways in Print and Knitwear at Central Saint Martins proved that our similarities are our strong differences, however, we really enjoy working together as we criticize and push each other's work. The most important thing though is that we really support and understand each other as it is a very demanding and competitive field. Having someone always by your side to criticize and push us forward is like talking with your alter ego.
Let's talk about the 'Ones to Watch' award. Which notable models from your collection bagged you that award?
The 'Ones to Watch' experience gave us the strength to believe that we are doing the right thing. It was really encouraging that this supportive team believed in us and our vision among so many talented designers. It was an opportunity for us to pursue our dream and make the best out of this unique experience. We believe that the pieces presented to the jury served the need for personalization through unique prints, storytelling and craft details which finally gave us the opportunity to have our SS19 catwalk during LFW.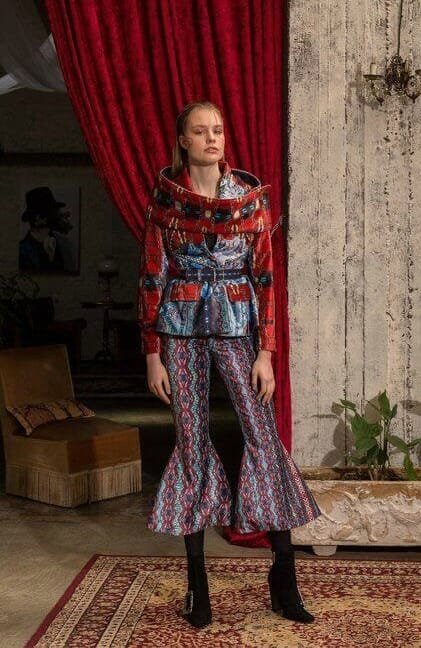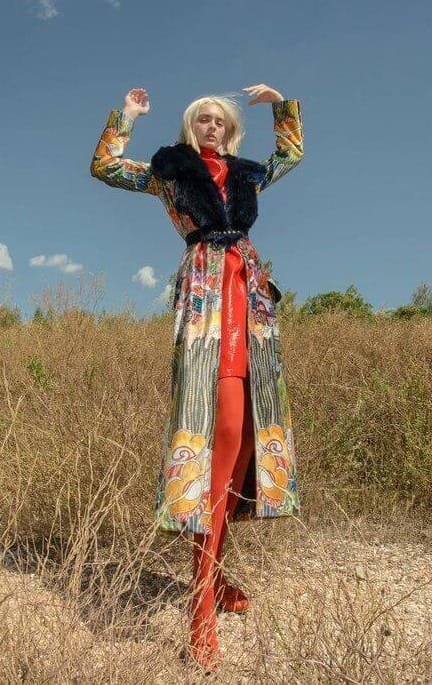 One of your ethos is 'feminine power'. How do you convey this message through your designs?
The fact that people always panic with how women look like was the initial challenge for us when starting our own label. Empowering the appearance and upgrading the women of modern society has always been the inspiration of the brand. As the appearance of women is always on the spot, we emphasize feminine power giving voice to all women besides her culture, religion, social or political status. Through our designs and print patterns, we serve the need for uniqueness and reveal the character that the wearer has.
History has proven that unique and powerful women have influenced all social groups. We always admired women with bold personalities, who are daring, constantly in search of whatever is challenging. Muses who inspire us in every step of our process are women like Diane Vreeland, Isabella Blow and Valerie Von Sobel who are driven by and draw inspiration from aesthetics all around them. Shapes play a huge role in them, as well as emotions and senses. Laviate classic compositions are applied to those women who are heroines of today, free from limitations and dare to embody different lifestyles.
Please tell our readers what techno style fabrics are according to you and is there a future in the fashion industry?
The combination of technology with the quality of handcraft is what defines our perception of "future" fabrics. Eco-fabrics are and will be of primary importance as well as performance materials, smart fabrication and the possibility of opening new pathways between garments and health. Technology coupled with craft are the elements that determine our brand's identity. That is a goal that we are trying to achieve and develop in the future.
On the other hand, sustainability is in the spotlight and is considered to influence the future of the fashion industry drastically. As designers, we are very much intrigued by this movement. This is why we used printing methods that have a much lower environmental impact in terms of energy, water, and chemicals as well as avoid the use of metal complex dyes and PFC to reduce pollutants in water and environment. Our jacquards were weaved from recycled polyester fibers which are derived 100% from used plastic bottles, require less water consumption, energy, and CO2.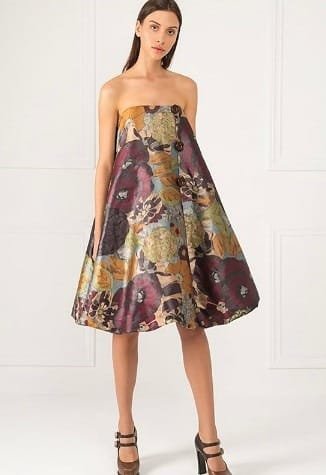 We loved the jacquard prints with flowers, chain motives, and twills in combination with butterfly 3D knitwear in your 'News from the Unknown' collections. How do you connect the theme and the designs?
Our AW19 collection launched with the name "News From The Unknown" where images and shapes of the past merged with the current figure of the woman and have led to feminine silhouettes revealing the power of past, present, and future. Jacquard prints with flowers, chain motives, and twills in combination with butterfly 3D knitwear are some of the elements of the collection. Romantic figures merged with a youthful essence create a new upgraded look deriving from different periods. Feminine, nostalgic and bold silhouettes reveal floral patterns and laced knitwear, symbolizing beauty, vitality, and life.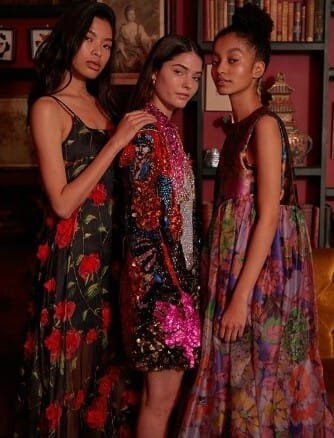 Are there enough opportunities for emerging designers to showcase their designs and enter this competitive industry?
Even though the fashion field has become more competitive and demanding than it used to be, there are still opportunities for designers who have something new to propose and aim to change the future. The proliferation of values messaging on social media has made status clothing more obsolete than ever and meaningful clothing more important. We see the present and future of the fashion industry as digital, demanding a keen eye for quality and personalization. Although fast fashion is in the spotlight, craftsmanship and hand-made products still create an intriguing narrative into the fashion landscape giving space to even more communication between brands and costumers allowing designers to reveal creative storytelling behind their products.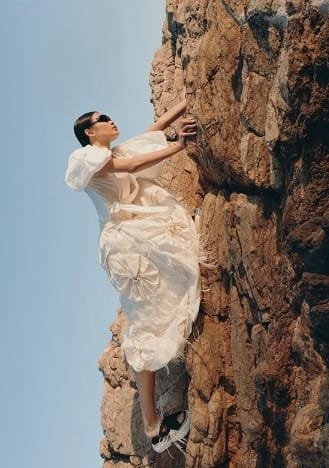 How do you think concepts like AISPI aid emerging fashion designers in creating a strong ground themselves?
AISPI offers a great opportunity for emerging designers to get publicity and press, creating valuable contacts and communicate with the world and market. As getting the right people and support, in the beginning, is always difficult, AISPI is definitely a platform that could support upcoming brands to start making their own mark into the industry.
Hard work spotlights the character of people; some turn up their sleeves and some turn up their noses and we all know which kind Demetra and Eirini are. Life is a party, dress like it with Laviate!
All images are courtesy of Laviate. 
---
The fun doesn't stop here. Find more reads on and everything fashion in our blog section and follow us on our Instagram!
– Written by Sureka Naven