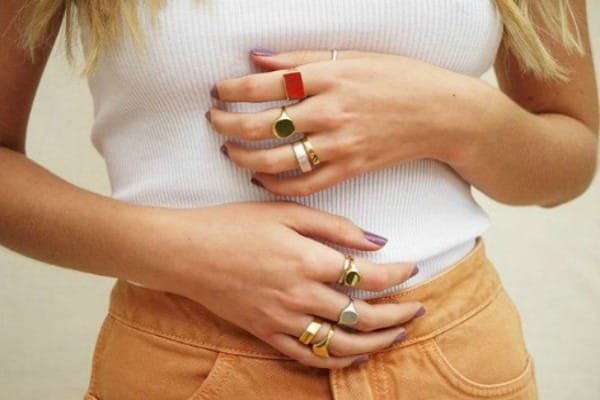 Be it the elegant pieces that emanate minimalism or the bold sculptural contours that can be worn either solo or tastefully in tandem with others, Lucy Parker's jewellery line is a must-have in your collection. Lucy's inclination towards fashion in different movements including the punk started early on, which took her down her path of interest leading her right to her destination – The UK based Independent jewellery brand, 'Lucy Parker'. Here is another young talented bespoke jewellery designer spotted by AISPI.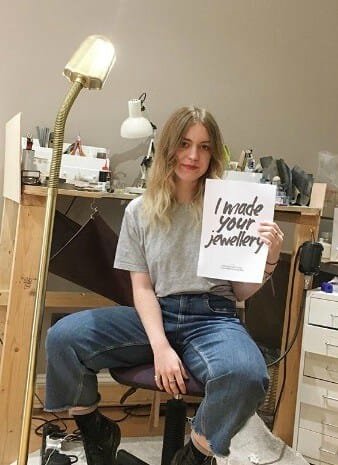 When did you aspire to become a jewellery designer?
When I was doing my foundation in Arts, I had to create a portfolio on wearable sculptures to apply for a degree in Fashion communication and it is then that I realized making these objects was what I loved most. I was accepted into the course at Central Saint Martins to study BA Jewelry Design and studying at such a prestigious college was an amazing experience where I learned how to design more intelligently. Throughout my studies I interned for a number of different independent jewellery brands, seeing one person build a whole brand was very inspiring and I was determined to take that path too.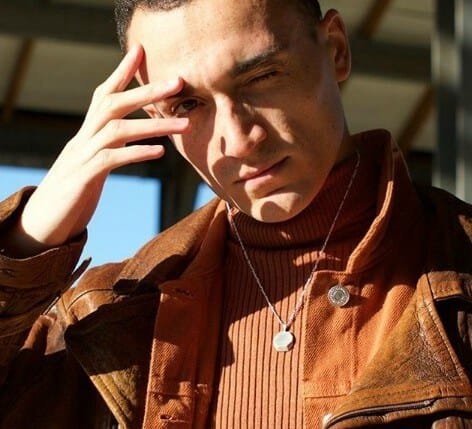 What story do you want to convey with your custom jewellery?
My experience working for a bespoke jewellery company has helped me put the client before my ideas. Of course, I would like to convey my style in all of my work, but with bespoke, it's mostly about that person. There's a reason they come to me, it could be a piece I've made before or it could be that they like my style. Whatever the reason, my style will come out naturally in anything I design.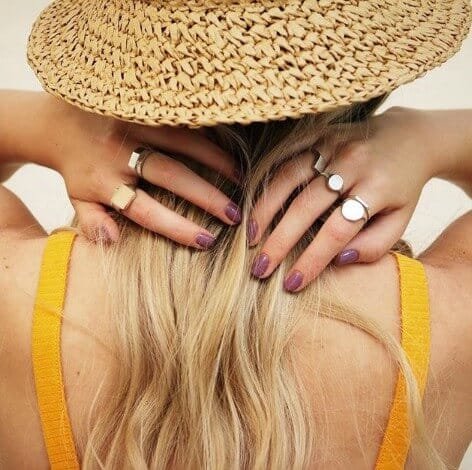 What type of woman do you have in mind when designing the line?
My jewellery is unisex and I design all the pieces in my collection for myself so anything that I don't think I would wear, I don't make. My ideal customer is conscious of the mass consumer culture and wants to buy from independents. He or she is looking for a timeless piece that they can wear for years and it does not go out of style, someone who is happy to save up for something special and doesn't take part in the throw-away culture.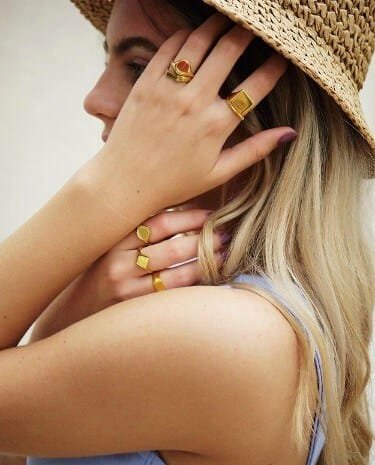 How would you describe your personal style: Classic? Contemporary? Casual? Vintage?
All my jewellery varies massively in style and I think that's one of the most beautiful things about jewelry, how each piece tells a story and the pieces that you wear don't necessarily have to go with one another. I have a Casio watch I wear every day which is gold and has an analog and digital face that looks pretty vintage. My rings are varied and they have come from different times in my life. The rings I choose to wear everyday are mostly my own designs and I always wear my golden Mini Triangle Hoops, even in my sleep!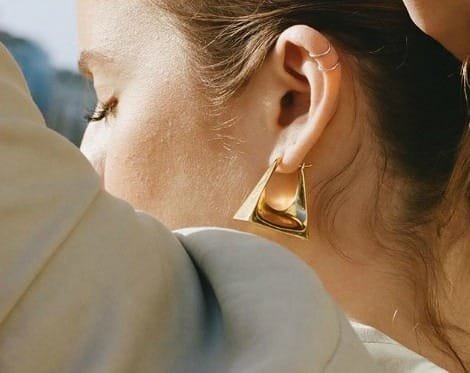 Describe your creative process.
Designing a new collection starts with the concept of a new shape or a certain way the jewelry is worn. This tends to stem subconsciously from my surroundings. Depending on where this piece will sit on the body (this may be the ear or a finger), I study that part and imagine what shapes would fit into it or contrast with it. After an extensive period of drawing and redrawing, I make models using paper or parts from old jewellery. When I finally have a solid idea, I start carving the prototype in wax. This technical process of making is very important as it often inspires ideas for a new piece too.

How do you get unstuck creatively? 
If I feel stuck, it's usually because I've been too busy to do anything else other than work. I feel more creative after reading books, articles and going to art galleries. Ideas come to me when I'm out and about with a clear headspace.
What is a standout moment so far in shaping 'Lucy Parker Jewelry'?
I did a photoshoot with a very talented photographer in February, which was two months after I released my collection. This was quite a pivotal point in the development of my brand's aesthetic. The photographer's style was a mixture of dreams and minimalism. The way she captured my jewelry was perfect and just seeing the photos really helped me move forward with my brand aesthetic.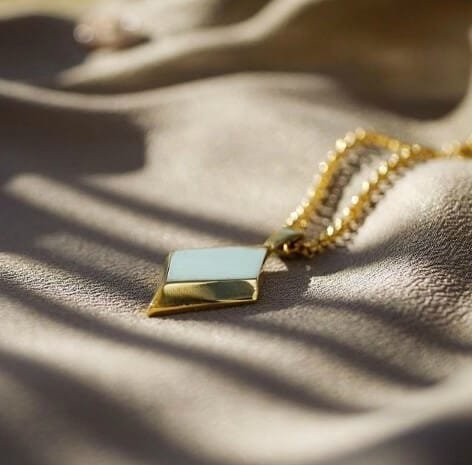 You are in training with a local stone setter for stone setting. Will your jewellery change from the bold minimalistic designs they are now to something else in the future?
So far in my creative journey, my style has remained consistent. Of course, having more flexibility with what I can do with gemstones and the knowledge I'm gaining will add to my pieces but I don't think the bold minimalist style will disappear.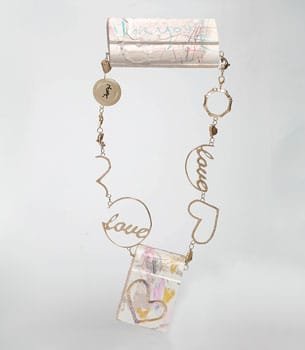 What's your vision for the future of your brand?
I've been having some exciting ideas and I'm working on some new shapes, which I hope to release at the end of next year. I would like my brand to start evolving into finer jewellery, using bigger gemstones and more solid gold pieces. In terms of bespoke work, I've made my first engagement ring this year and I'm doing a lot of wedding bands.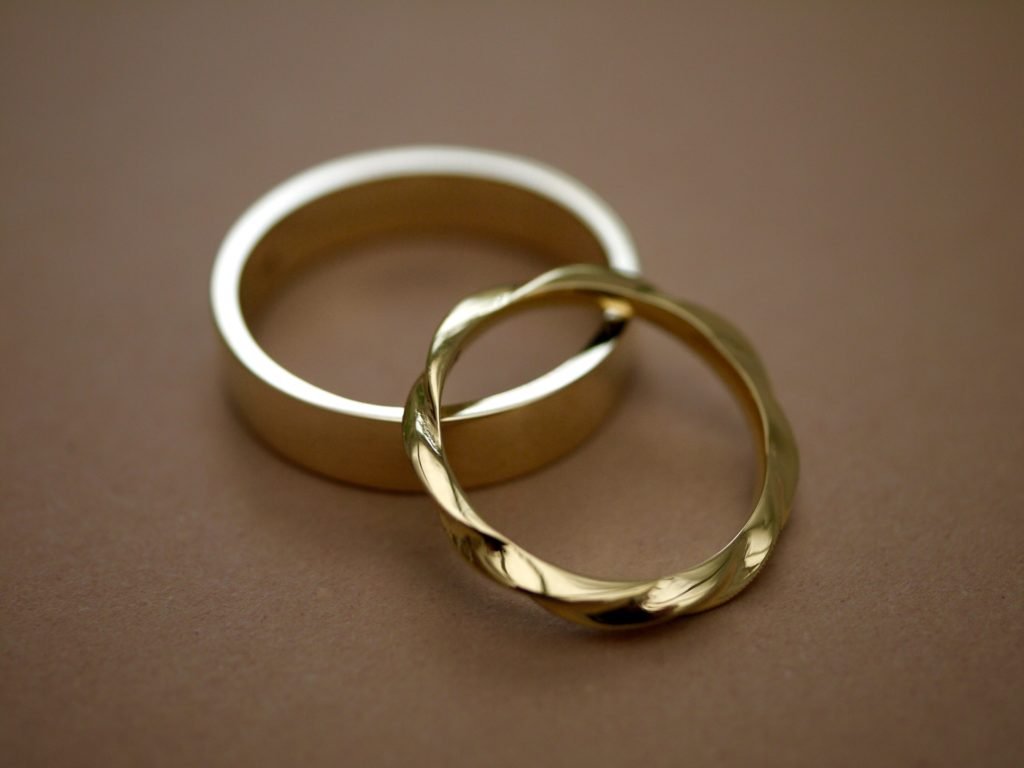 How effectively do you think AISPI helps emerging designers?
I think AISPI is a great platform for emerging designers. As it features the work of designers from many different places in the world, it's a great way to bring brand awareness to people in so many different locations.

---
– Written by Sureka Naven
For more interviews and fashion relevant news, visit our blog page and everything delightful on our Instagram.