It's that time of year again: wedding season! The time has come to begin putting together a romantic collection of the greatest in fashion, jewellery, and accessories for your wedding trousseau.
Despite the fact that this ceremony dates back centuries, brides today are still embracing it with the same fervour and enthusiasm as they did earlier. It's a time-honoured habit to bring your clothes and accessories to your husband's house. Trousseau refers to a collection of your personal items that you carry forward into your new life. And what better way to take the first step into a new beginning that with a perfectly curated collection of luxury handbags?
Not only will these accessories stylise your outfit, but also be serve as functional pieces for your trousseau. It's a well-known truth that a woman can never have too many wedding purses and choosing the proper one may completely transform an ensemble. From sophisticated clutches to traditional, multicoloured bags, AiSPi has selected the best luxury handbags you need to add to your bridal trousseau.
Let's get right in and investigate all of the wedding bag purchases that are worth purchasing, shall we?
Les Nuances Baguette bag by Vanina is handmade with sparkling Swarovski crystals and glass beads. This bejewelled bag features a gold plated brass top handle and linen dustbag. Timeless and elegant, this luxury handbag is definitely one you'll need for your trousseau. 
Easy to carry on your honeymoon or style with almost anything (just look at the multicoloured gems), it's a versatile bag that deserves a space in your bridal kit. Carry your phone, keys and lipstick in style. It's a momento you'll want to keep for the rest of your life.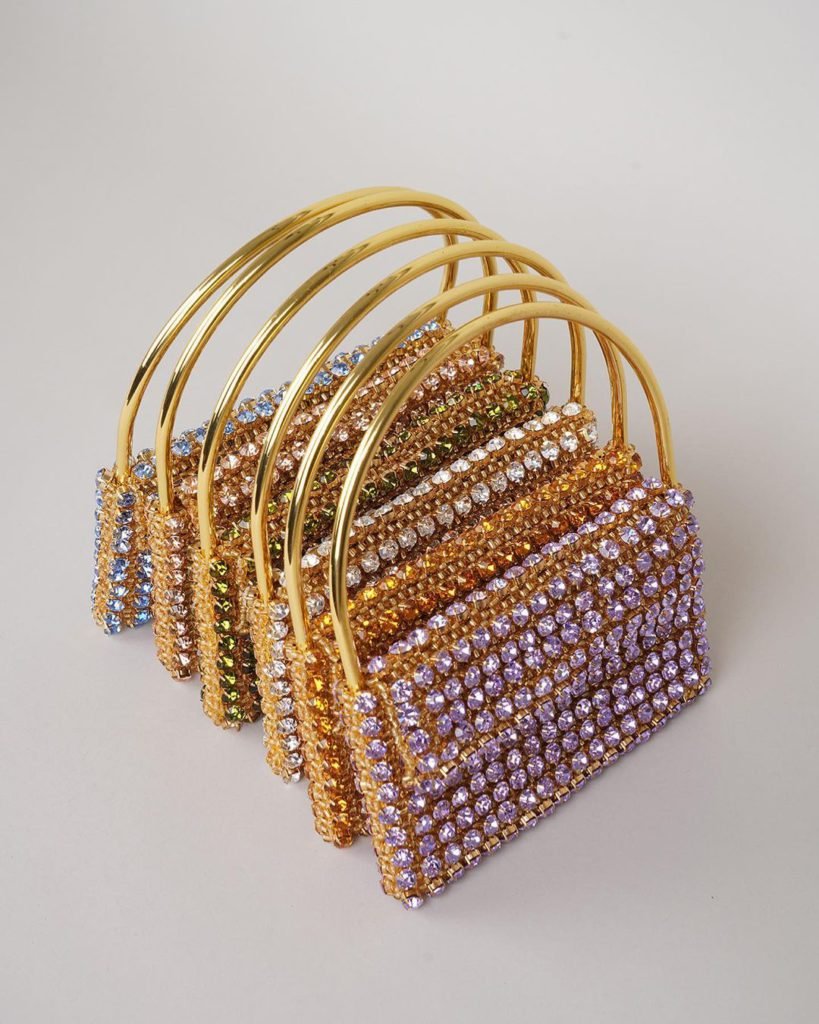 Statement Bag by Pipatchara
The mini Amu gold bag from Pipatchara is made out of croc leather. This is their signature bag in a smaller trending style. The classic item displays the brand's distinctive style and elegant appeal–highlighted by macramé design.
Make this a part of your bridal trousseau for all those parties and black tie events. Luxurious in design and appearance, wear it like a crossbody or carry it with the top handle, the choice is yours! 
Inspired by glamour and elegance, this hot pink Taliya Eternity clutch by L'alingi is their signature style. It features a diamond ring band which stands out against its vibrant colour. Made with a soft smooth satin, this show-stopping handbag is an elegant addition to any bridal trousseau. 
Adorned with crystals, the clutch will add an attractive touch to any attire–be it a clubbing party or garden party. Despite its small size, its luxurious appearance will add a bold sophisticated touch to anything its paired with.
Day To Night Bag by Mlouye
Mlouye is a Turkish brand which produces must-have accessories for everyone, be it holiday goers or brides-to-be. Mixing symmetrical design with a fluid, smooth leather, the Sera Tote is designed to complement all your day-to-night outfits.
With a top handle, suede drawstring top edges and 3D facade, add this distinct graphic design to your bridal trousseau. Spending a day at the beach and then have cocktail plans with friends? This is the bag that'll accompany your every ensemble–resortwear or evening. 
Glamorous Evening Clutch by Rosantica
This pearl rhinestone embellished clutch by Rosantica is called Super Holli. It's a must-have accessory for every bride-to-be. Fully covered in crystals, this mini clutch makes a big impact–making it perfect for any evening event.
Big pearls that act as a stylish top handle, take this glamorous mini bag to any event. Your wedding trousseau will be an absolute envy-inducing one with this addition. As time goes on, you'll find yourself relying on this one more than any other in your arsenal. 
The Camel Copa purse is a must in every woman's wardrobe and especially in her trousseau! This handwoven bag is made with vegan leather. It features a twisted top handle, and a removable and resizable brown strap with gold hardware.
This neutral artsy bag can be used for work, play or anything in between. This 0711 masterpiece is going to be your best pick on days when you feel like keeping things simple and uncomplicated with your appearance.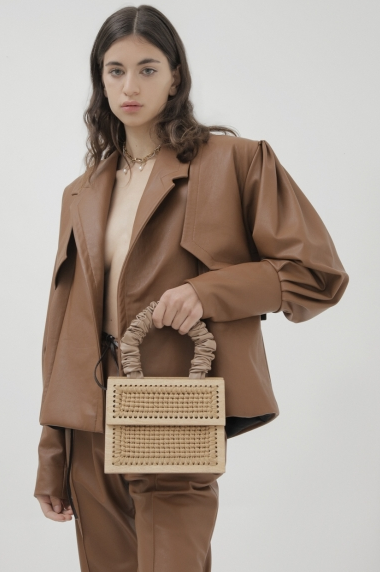 Written by Ravan Clowers
Explore more topics like this on our journal page. Follow AiSPi on Instagram for the latest updates about European fashion.