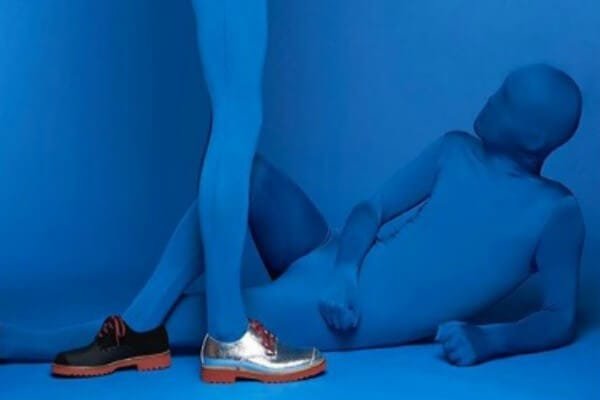 I have three words to describe Parisian sneaker designer Frédéric Robert, founder and designer of Me.Land. Fun, passionate, and quirky. Let's also throw in 'talented' there. What was supposed to be a quick browse through his Instagram turned out to be a lot longer than expected leaving me stunned seeing his quaint styles, and the interview AISPI had the pleasure of obtaining from him only confirmed my fair analysis. Let's meet this stylish shoes designer.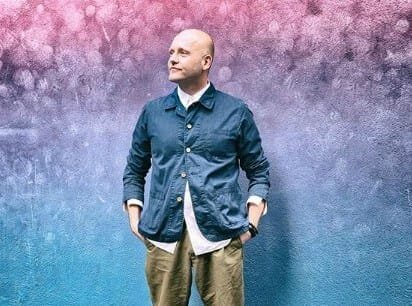 Having had an important stand in his previous workplaces or better put, empires, such as Dior, Kenzo, Lanvin and Hermes, Frédéric has now walked the walk and built a sneaker brand emphasizing comfort and style as he believes that shoes transform body language and attitude for the better. You have sneakers, you have trainers and you may even have loafers but do you have a meaker? Me.Land's one of a kind unisex sneakers made of exclusive materials keeping your luxury and elegance in mind, are definitely worth following up. You can tell this is a merited and peppy brand of Italian-made stylish shoes as Frédéric has identified ground zero that lacked the attention of a designer eye – somewhere between the frenzy that is sneakers and an obsession with conventional footwear.
"Me.Land is for good boys with rebel hearts who'll wear the sneakers with suits and the derbies with jeans."
You have been with fashion lords like Dior, Kenzo, Lanvin, and Hermes. How is Me.Land different from them?
When you work with big brands, you have to use their DNA to represent their image. Their values are unique and that's what makes it interesting because you need to compose using their ingredients. As the designer of Me.Land, I have to invent my own DNA, values and spread them into our products and images. We do not have any history so I have to create it from scratch. And this is an amazing journey!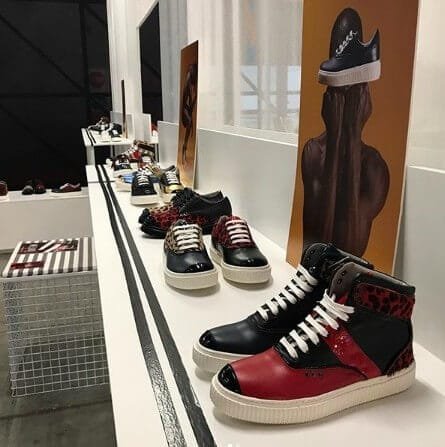 What are three words you want your buyers to think of when they hear Me.Land?
I would say:
Style: because Me.land is a mix of inspirations, materials, and colors.
Different: because Me.land is unique in the market and no other brand plays with colors and materials as we do.
Comfort: because Me.Land is firstly light and comfortable shoes. I wanted comfort to be the center focus of the brand. It is what my customers appreciate the best, as observed from their feedback.
Do your designs reflect your personal taste? What inspires you?
My designs do reflect my personal taste. There is a mix of retro inspiration from rebels of all ages in my designs. They have brought about a change in the world through either music, art or even business. I like the idea of being a rebel with a good heart. It brings a good balance to the products I design.
What are your criteria for a well-constructed and well-designed shoe?
My first criteria is comfort. We walk every day so this is the first point to sustain the body. I also like for everyone to be calm and stress-free and if our shoes aren't comfortable, we can have a very bad day. A well-designed shoe with comfort as its top priority would make our lives much easier don't you think?
Furthermore, craftsmanship is important. You won't be able to make good and comfortable shoes if you don't work in close quarters with the craftsman. A pair of shoes made uniquely for style would probably be good looking, but not comfortable enough. On the other hand, shoes made by craftsmen and technicians only could be comfortable, but style-wise it may not be the best. What I have learned from my whole career is that you need the hand of a craftsman to maximize comfort and the hand of a designer to create good designs.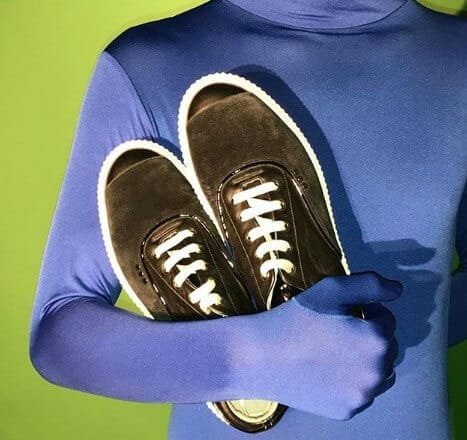 What has been your most popular shoe style/design?
I make colorful and playful shoes but surprisingly, the most popular styles are still full black and full white sneakers! They seem to be reassuring colors for the retailers and customers.
I was aware of the popularity of both these colors which is why I created them using 3 different skins so as to enrich them: Calfskin, Suede, and Patent calfskin. Plain white and black sneakers with little emphasis on comfort can be annoying!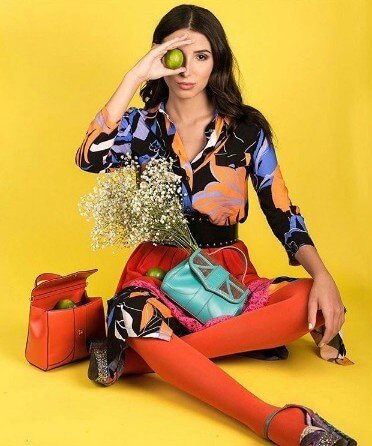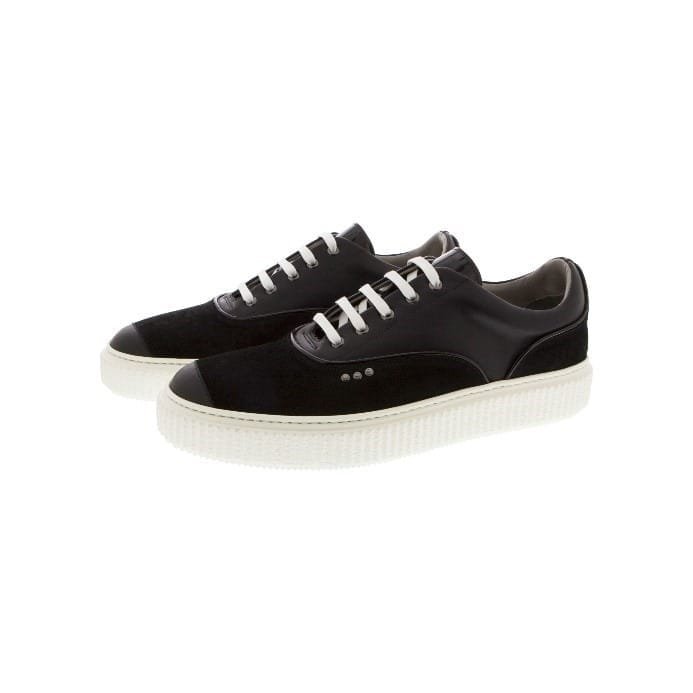 Are there any materials you would like to explore further?
My first collections were focused on leathers: smooth calfskin, patent calfskin, mat calfskin, suede and even goatskin used exclusively for ladies' shoes. Now I am leaning towards the idea of using natural and light fabrics such as cotton, wool or nylon since the lightness of the shoe is the key point of comfort.
In the future, I would be looking at new materials that would be resistant, durable, and natural which I have not found yet. Banana and Pineapple "leathers" are not yet trustable as they dry quickly and break on the shoe. And this is not good when you want to offer long-lasting items!
You have some interesting color choices and combos in your collection. How do you decide on the color of your shoes?
Thank you! This is really one of the parts of the job I truly like.
For every collection, I find my inspiration in a painting I like or liked from one of my exhibitions or museum visits. The painting gives me ideas for the color palette of the season. From there, I make renderings of all the color combinations that come to my mind. Then I envision what I would wear, what others would like to wear and what would tastefully push us forward.
I believe that shoes are unique pieces of your ensemble that you can play around with. So let's play and be rebels!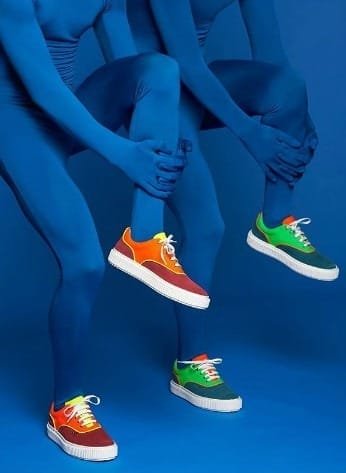 Looking at the present competition in the market, how do you intend to stand out in the athleisure space?
Craftsmanship dedicated to comfort, colors, and designs will definitely make a difference in a black and white world. I am fed up seeing everyone around the world with the same shoes. Let's be different!
I dream that one day, our iconic 'MEAKER' style will be available worldwide. But in different colors in different stores across different countries to adapt to the local customers. It would bring uniqueness to the customers who are in search of it.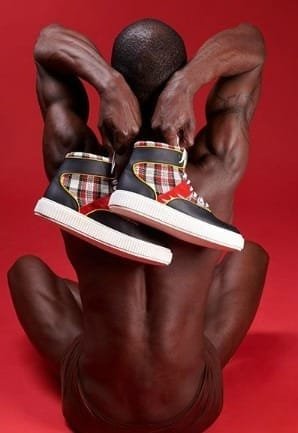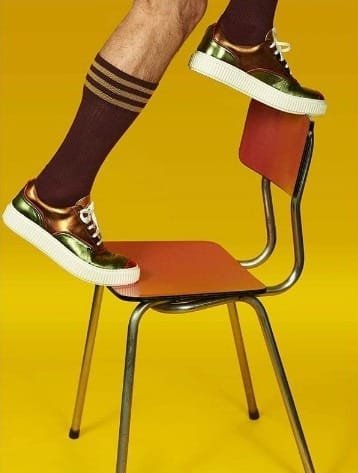 The photography for your collections is incredibly creative and intriguing. Is this you telling a story through your designs?
Thank you again!
Every season, when I start creating a collection, I work with different artists to paint a visual story narrating and depicting the collection. I'm better at producing things for the brand and the company, as opposed to making good photos and videos which is why I have talented people around me to help.
I brief photographers, video makers, and singers every season who then go on to creating a proposal using their creativity and expertise. We then produce different campaigns for different goals. So yes, we intend to communicate about our collections, brand, and values through the visions of different artists like an art gallery would.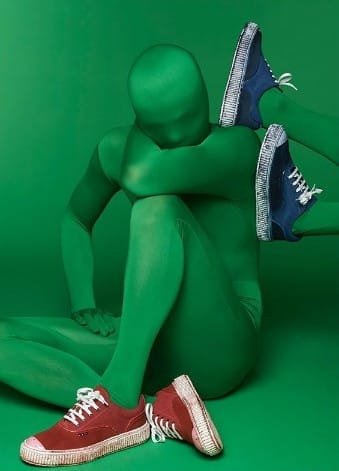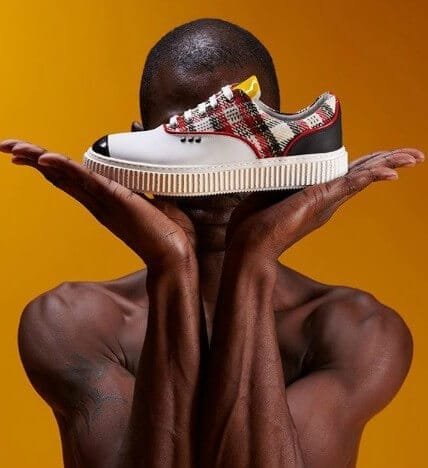 Where do you see a concept like AISPI fitting in an emerging designer's space?
Today a lot of people are looking to be different in the sense they are looking for local and ethically made products and I see AISPI answering these concerns and proposing a list of inspiring designers.
On the other hand, emerging designers needs help to express their values and get acknowledgment from the public and AISPI is a great shout out platform to push them forward.
It's always shoe o'clock somewhere so get into your stride and order your stylish shoes and meakers by Me.Land today because life is too short to wear boring shoes.
---
– Written by Sureka Naven
Look inside our exciting world for more amazing designers like Frédéric Robert and unique fashion through our Instagram and blog.