Behind every successful woman, there is a fabulous bag. And behind Officina del Poggio (ODP), there is its very determined and passionate founder, Allison Hoeltzel Savini. The signature of ODP is defined by the modern leather bags with a strong emphasis on practicality, a subtle opulence, and timeless contours.
The fashion statement and aesthetic value Officina Del Poggio spell out durability, antiquity, and fine Italian artistry. All the bags are designed and produced in a family-run facility in Tuscany.
Allison's love for fashion dates back to memories of her grandmother letting her handpick designs and materials for her piano recital outfits. She had a rich artistic upbringing where she played the piano until she was 18 which secured her a scholarship to study classical piano at Butler University. What followed was an internship at the Bologna opera house in Italy and with this great experience, began a great desire for change.
Irresistible Italy transformed her passion for fashion into a career, developing and managing product lines for international labels such as Stuart Weitzman, Sonia Rykiel, and Alfred Dunhill. In 2014 she established ODP instigated by her desire for classic motor vehicles bringing us to the present day where ODP is collaborating with Arizona Muse, rethinking materials and designing sustainable handbags through the use of salmon skin leather. AISPI brings you Allison's journey.
You were in school with a music scholarship then changed course to becoming a bag designer. What is it about handbags that made you switch?
I have always loved fashion, so when I found myself in Italy and had the opportunity to work in fashion, it was just meant to be.  My first job in fashion was as a product developer, so I spent a lot of time in the factories, visiting tanneries and suppliers.  I love researching materials and discovering new techniques used to produce new articles or in some cases, re-discovering techniques and types of workmanship from the past that are still relevant now, like the rigidly structured bags.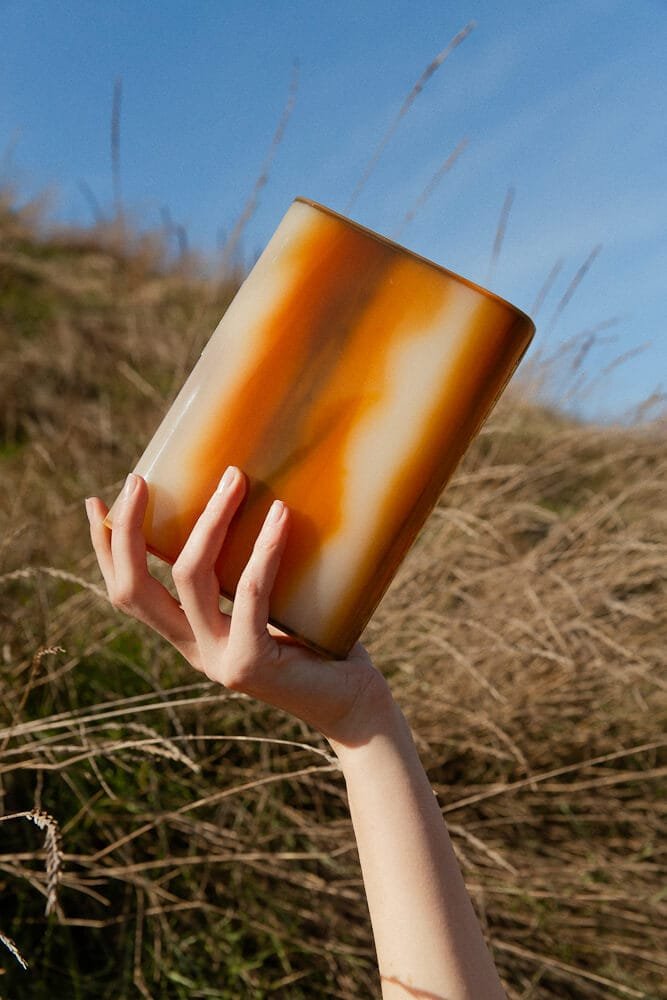 'Each season new materials are introduced'. What have you worked with so far? What other sustainable materials do you see potential in?
Our collaboration with Arizona Muse has introduced us to many sustainable materials and the importance of using by-products from other industries and non-virgin materials. For example, the salmon skin leather we use looks just like snakeskin and is a material that is excess from the food industry. The same goes for the Ostrich leg leather, which is such a beautiful and luxurious material. Arizona also taught me the importance of the dying process, as toxic chemicals are ending up in the soil and then in our oceans. Therefore one of the biggest things we can do is to focus more on using non-toxic dyes.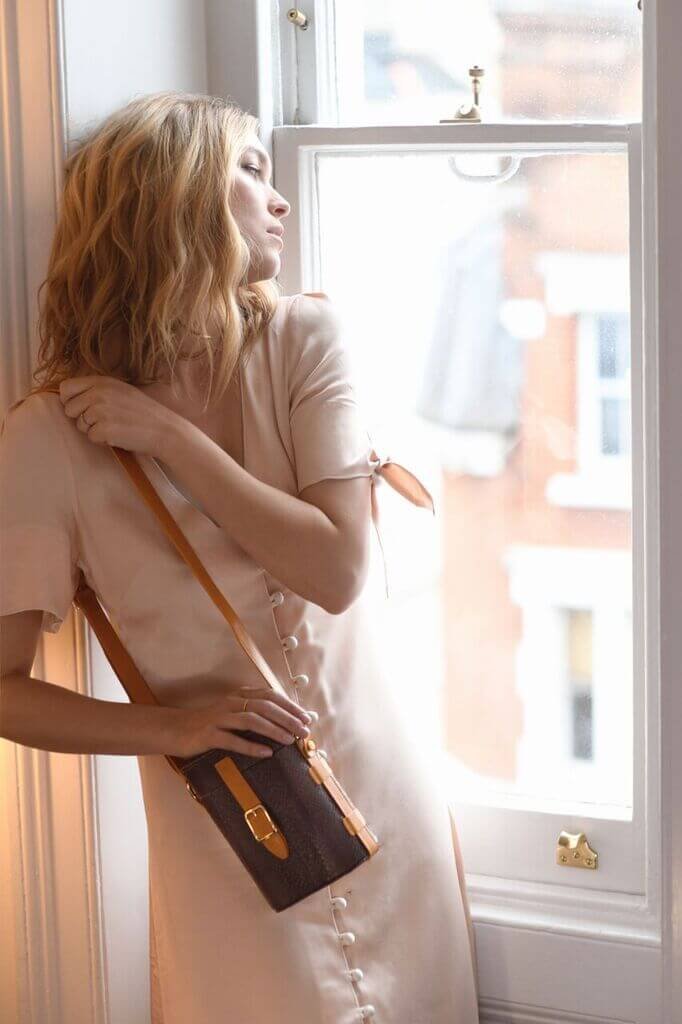 Your bags have a global audience ranging from New York to Japan. How did it feel when you saw Sandra Oh or Rosie Huntington use your designs and creations?
It is always amazing when someone famous wears the bags, and those two, in particular, were really incredible.  Yet I am also intrigued when someone from a country where we don't have a retailer wears our bags and tags us on Instagram. Sometimes we even reach out through Instagram and get to know some of our customers. 
You and sustainable fashion ambassador, Arizona Muse, are in collaboration right now. What besides amazing handbags can our readers look forward to?
We definitely have plans to extend the product line into other categories, although for Spring Summer 2020 we are introducing some softer and larger handbags, with a utilitarian DNA as they were inspired by Japanese fisherman bags.  And of course, for this holiday season, we are introducing some of our small leather goods again which make great stocking stuffers and holiday gifts.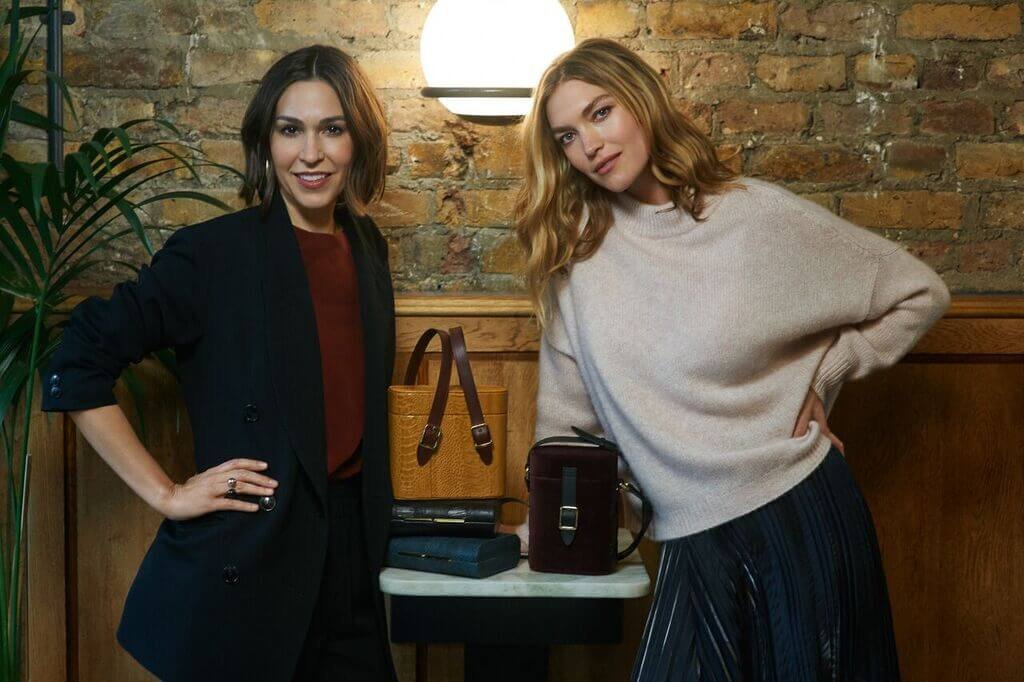 Bags are already such a saturated market. What is unique about you that will help you tide over?
We really seem to have a loyal fan base, so I believe that women appreciate the craftsmanship of the product. And even though the bags have a "fashion" element, they can be worn season after season.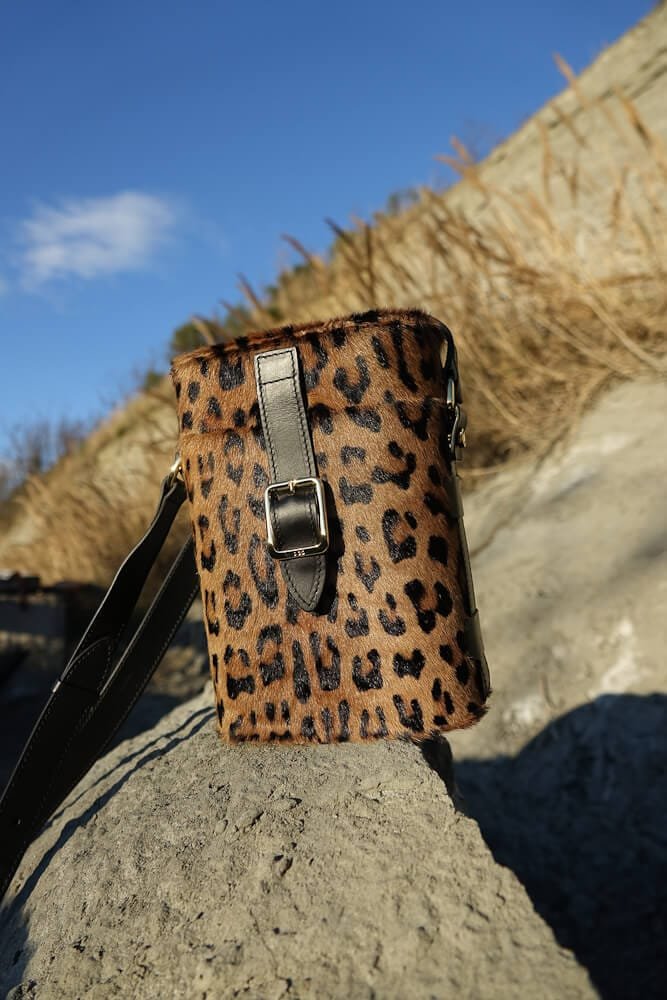 The plexiglass bags are an absolute treat! How successful were these designs and how sustainable are they?
I have always been a fan of plexiglass as I have a collection of my grandmother's lucite bags from the 1950s and 60s.  The material itself is actually recyclable. In the upcoming seasons, we will be working with material that is made only from recycled products. We really believe in the quality of the bag and hope the customer makes a thoughtful purchase and cherishes the bag for a lifetime. I also hope it is passed down to the next generation as my grandmother did with me!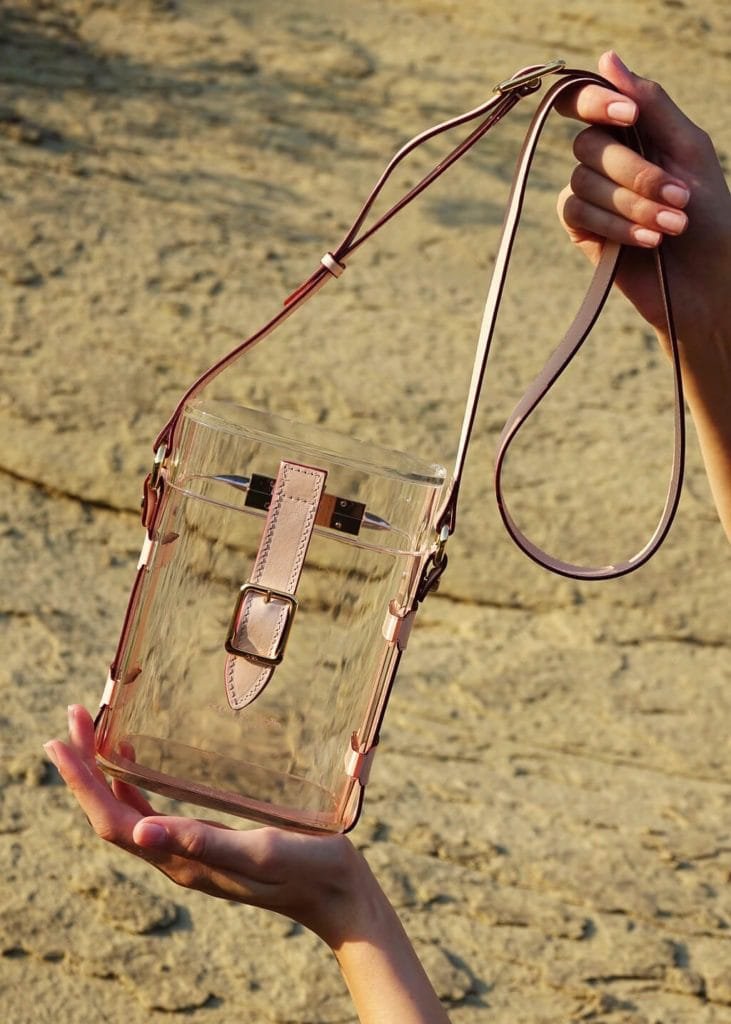 What specific challenges and benefits does sustainability bring to the design process?
The biggest challenge in incorporating sustainability is working with some new suppliers who are still solidifying their own supply chain and innovation processes, so we have to allow for enough lead time, both with sampling and production.  This is hard for companies who are working on a "fashion" calendar, as we need to always provide newness. 
What are the biggest challenges for emerging brands like Officina Del Poggio?
The biggest challenge is finding a balance of solid retail partners who help get the product out there into new markets, as well as developing a direct-to-consumer business that allows you to connect directly with the customer.
How do you currently sell and what is the most effective sales channel?
We strive to have a good mix of both strong retail partners as well as our own e-commerce.  It is important for customers and the press to see the brand in retail outlets to give us credibility. Yet our online presence is also important as we have customers from many countries where we don't have stores.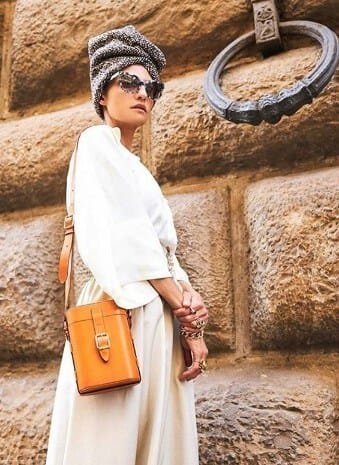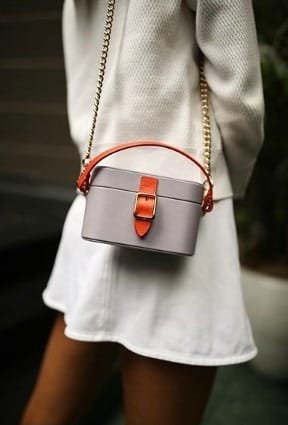 How do you think concepts like AISPI aid emerging fashion designers in creating a strong ground themselves?
The internet is so powerful now in helping emerging brands and also boutiques.  People are also traveling more and a platform like AISPI really helps in discovering those hidden gems, not only for consumers but also for retail outlets. I think this has changed the industry allowing new brands to be discovered and grow quicker.
A classic never goes out of style and Officina Del Poggio is a testament of that where leather that won't bother is found.
---
– Written by Sureka Naven
Find more unique European brands and designers from across the diverse and talented fashion space by following AISPI on our Instagram and Blog.