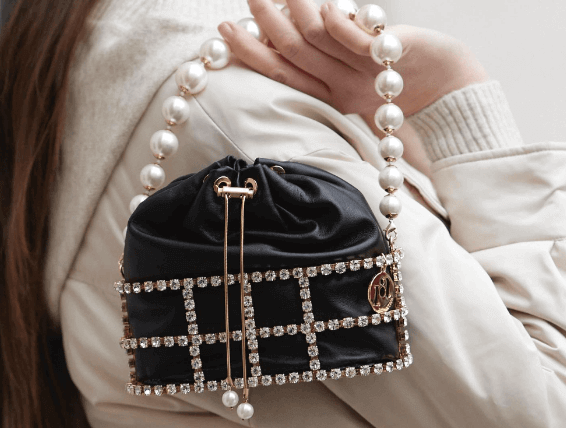 We've closely studied Rosantica's marvellous jewelled clutches to develop a carefully curated selection for our bridal edit. Discover these enchanting pieces that will complement your outfits and empower you during the most important day of your life–and for eras to come after.
These iconic handheld, jewelled bags are the perfect additions for any kind of style and bridal attire. Classic rich colours, contemporary shapes, luxe materials, radiant elegance, old world detailing, and "Made in Italy" quality compose the uniqueness of each clutch. Select any or all of them for your special celebratory events!
The Ginestra Bracelet Clutch by Rosantica is composed of a gold-tone cage silhouette. Its lovely body is embellished with crystals and faux pearls that add a glam touch to its dainty shape and soft colour.
Another sumptuous touch is added by the velvety beige interior pouch with a contemporary drawstring closure on top. This clutch plays with glamour and daintiness for an overall elegant, feminine vibe. This potli-inspired bag is a definite must-have for all brides around the world.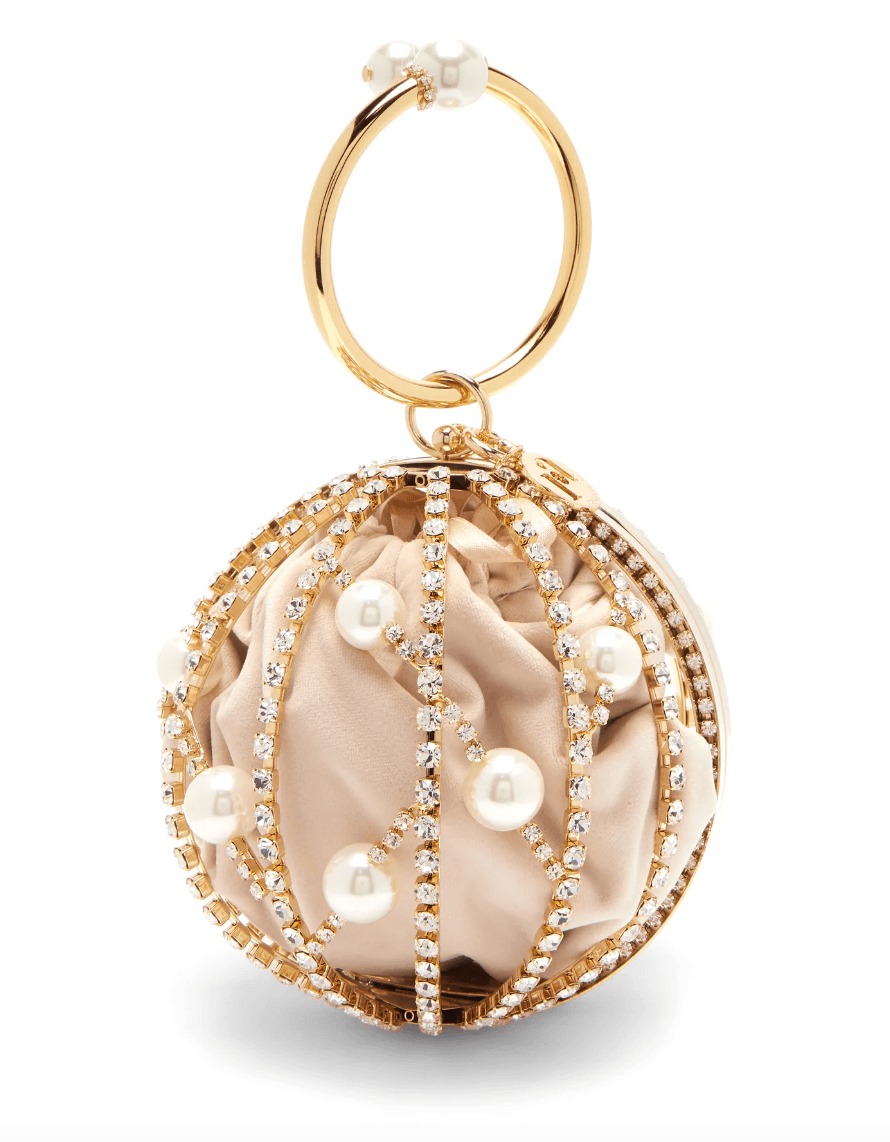 The hand-made Chloe Mini Clutch will add an opulent touch to any outfit. Rosantica is known for using round shapes and silhouettes to create unique, feminine handbags and this clutch is no exception.
The Chloe series are jewelled clutches made with a gold-tone, crystal-encrusted cage body in a spherical shape. As if it wasn't dazzling enough, it is also embellished with faux pearls. A soft beige taffetà interior will allow you to elegantly carry your belongings. Definitely a gorgeous piece that can instantly become any bride's best friend.
Rosantica's Kingham Grey clutch is the epitome of handbag royalty. Completely hand-made in Milan, this clutch's craftsmanship and overall look is impeccable, it's been amongst the best sellers at AiSPi.
It is composed of a taffetà fabric pouch with Rosantica's iconic drawstring closure on top. A gold-tone base, which is fully crystal-embellished, connects to a matching handle. The lavish design details of this clutch will simply leave everyone in its presences breathless.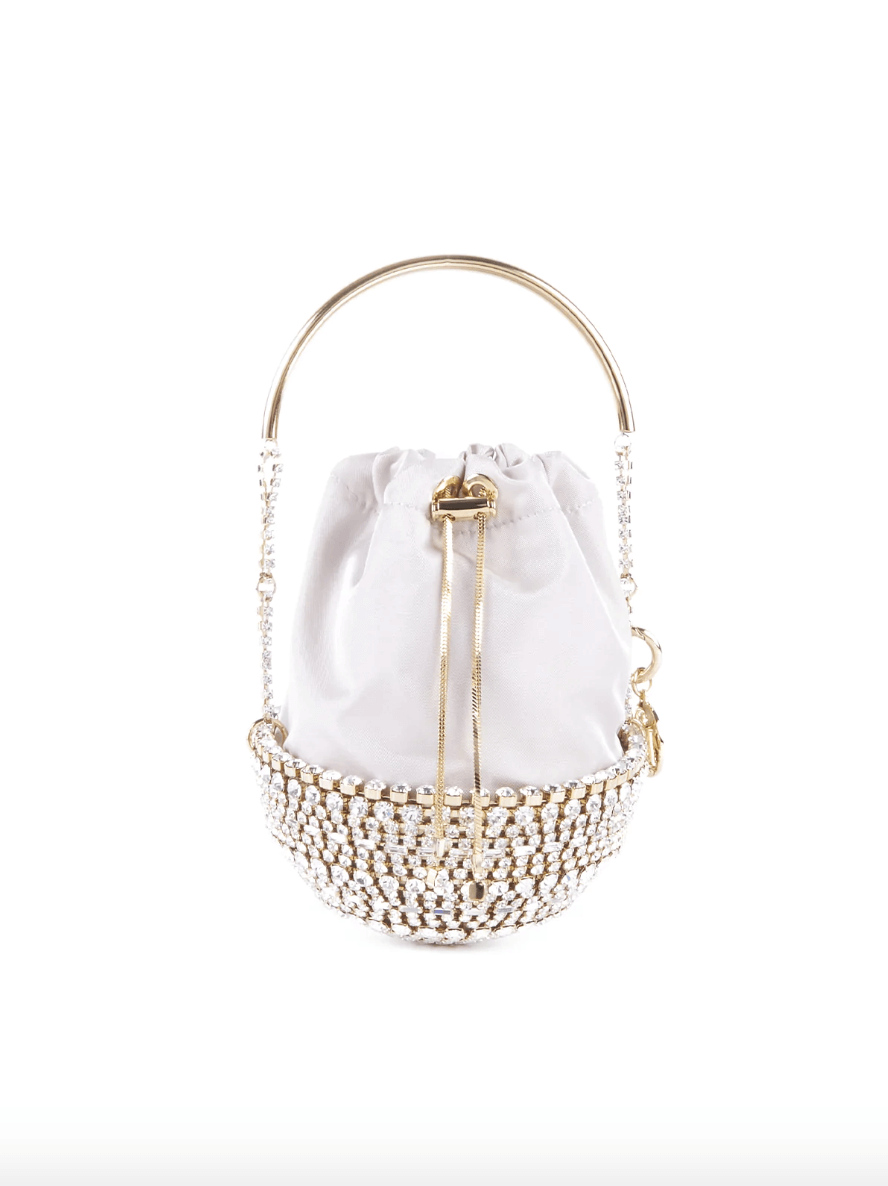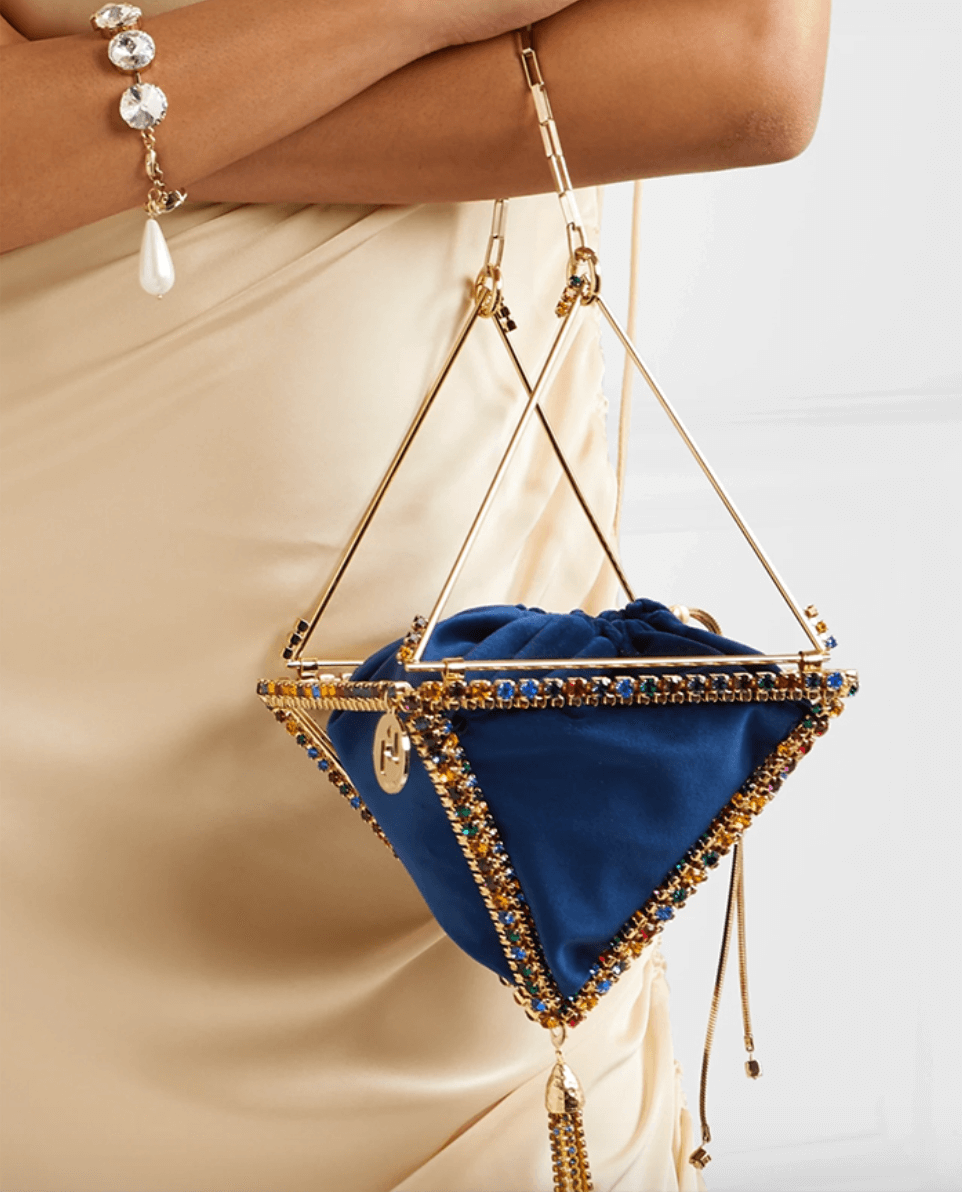 The exclusive Vernita Clutch is a splendid piece by itself! It's a special addition to anyone's wardrobe, especially a bride's who needs something blue in representation of fidelity and love's purity. This Italian-made beauty is part of Rosantica's Egyptian-inspired collection.
The gold-tone upside down pyramid-shaped frame is encrusted with multi-coloured crystals. The rich sapphire blue colour of the velvet pouch inside is enough to make you love it, but it has a lot more to offer.
The colourful crystals that embellish the tassel that hangs from the bottom of this clutch adds a romantic, eye-catching movement. It contrasts with the pyramid shape that's decorated with crystals. The full sight of this clutch, will have you head over heels.
Holli Convertible
Bucket Bag Clutch
The Holli by Rosantica sets itself apart thanks to its convertible bucket bag feature. The brand's classic silhouette repurposes itself for greater use. This luxe piece is not only versatile, but also has been crafted using the most premium materials.
The bag features a base cage that is fully embellished with shimmering crystals and attached to a dreamy faux pearl handle. The facade beautifully contrasts with its interior leather pouch, which closes with a gold-tone drawstring. The ideal clutch for a bride that is not afraid to flaunt elegance and edge in the events surrounding the wedding.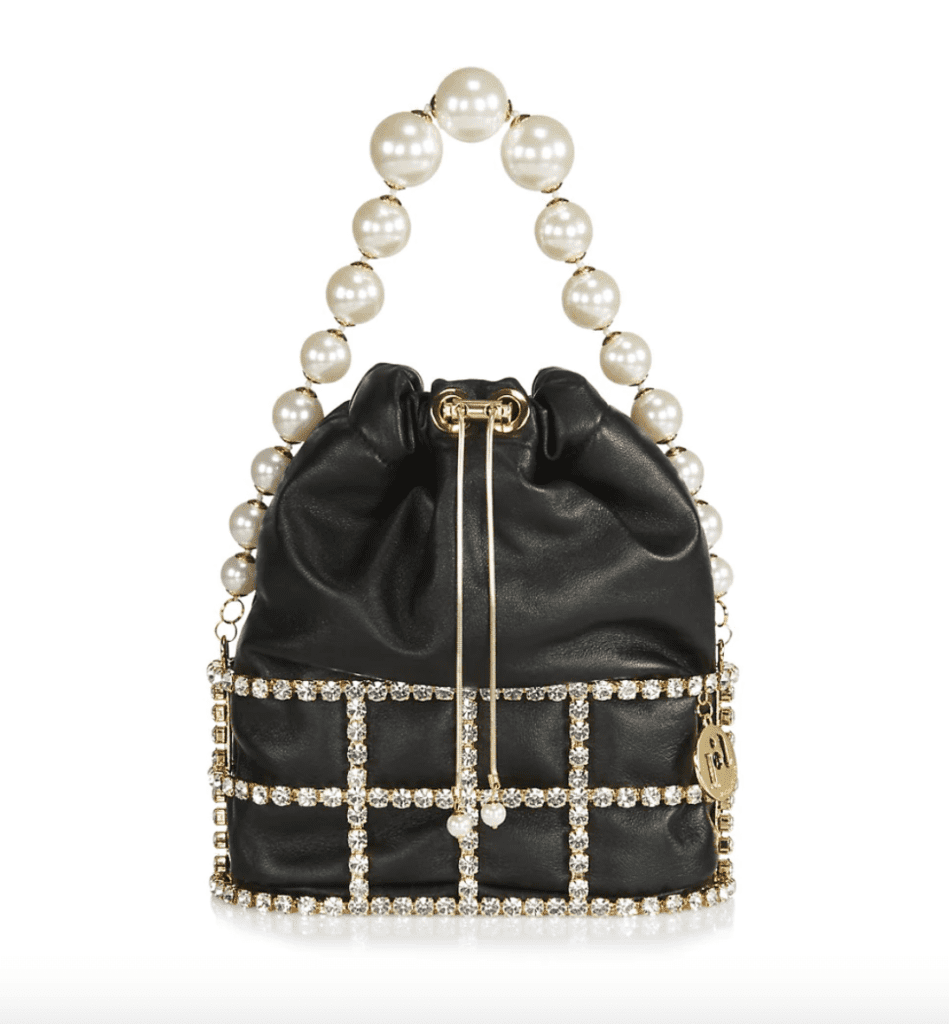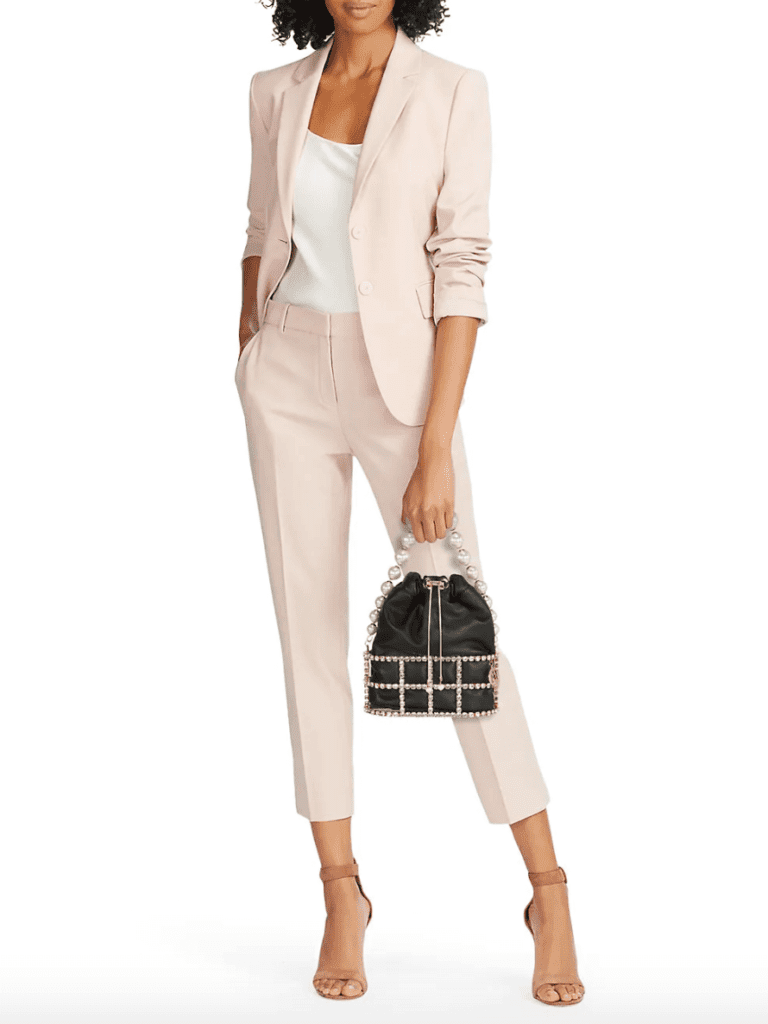 The Holli Clutch is not only a signature Rosantica silhouette, it is a definite bridal must-have piece! The strength and elegance of the Holli clutch is accentuated with the richness of the ruby-red coloured taffetà and crystals.
And what's more, it comes in our favourite wedding colour–red! Its an important colour for weddings as it represents of new beginnings, romance, and feminine strength. The charming gold-toned cage body is complemented with the faux pearl top handle. 
This classy lifetime piece that will make the bride feel special each time she styles it.
Written by Hannah Gabriella Armstrong Méndez.
All images are courtesy of Rosantica.
Explore more Milanese boutiques through our City page. Visit our Instagram to know more about the latest European trends.