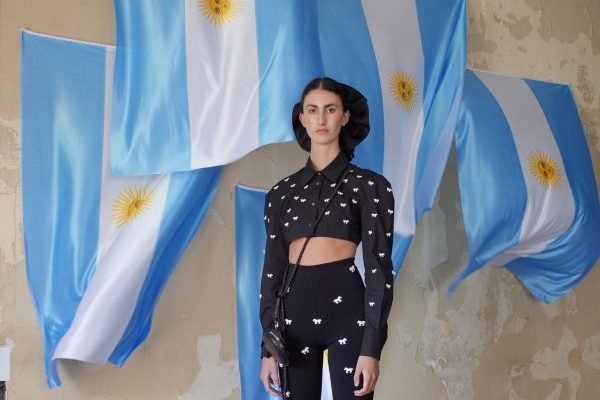 A Belgian-Argentinian brand that explores the roots of founder Juan Hernandez Daels, Sadaels explores the collision of cultures between that of Juan's ancestral Argentina and the city of Antwerp that he calls home. This collision is what defines the brand and gives it a unique richness and also aims to deconstruct, rethink and give value to the brand's original roots. Born and raised in Argentina, Juan studied at the Royal Academy of Antwerp. The brand is always looking for ways to highlight the typical attires of the gaucho and pampean culture, but with a twist and with a satirical, urban and youthful spirit that comes none other than from the Academy of Antwerp.
Sadaels believes that Argentina is much more than the caricature of just a gaucho and a horse, and has multiple sources of influences that go beyond the ancient cultures and extend up to Italian and Spanish influences that makes us rich and eclectic. The name of the brand comes from this game of words referring to Societe Anonyme-DAELS and the saddle of the horse. The logo is a pixelated horse and shows the chakana – a cross from the andes that was inherited by the gauchos in their ornamental weaving motifs and textiles.
Can you tell us a little bit about Juan and his creative journey from the Royal Academy of Art to Sadaels?
Juan's first ever connection to fashion was this renowned and prestigious school, so all his understanding of conceptualizing and deconstructing fashion, shape and colour comes from here. 
We love the sharp tailoring that is evident in almost all of Sadael's designs. Where does the brand draw its inspiration from? How does the creative process work?
The sharpness and tailoring comes from the belief that woman dont need to wear dresses to be feminine or sensual. In fact, we feel a lot of our clothes are genderless and could be worn by men too. The inspiration comes from a lot of different sources; it could be a book, a movie, anything really. This season the inspiration was the rosette given to horse riders in competitions, it was all over the collection though embroideries, prints and other details.
Who is Sadael's muse? Can you take us through the details of what makes a Sadael woman?
David Bowie is the ultimate Sadaels muse – androgynous, creative and unique. Tilda Swinton too! People who have an allure, who don't want to fit in and who are restless and unabashedly creative all count as our inspirations for doing what we do. A Sadaels user is a sharp and discerning, brave enough to show their vulnerable side. We dress individuals who value quality and would like to pass on their valued curated garments to future generations. We would like to be the vintage of the future.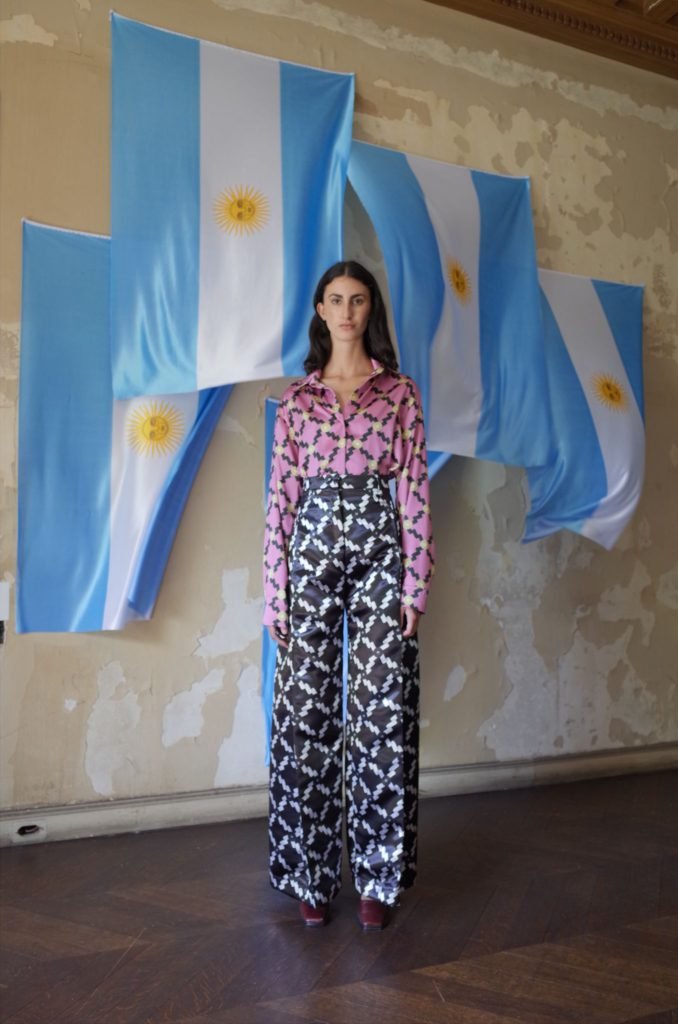 What are your thoughts on fashion bloggers and influencers? What kind of a role do you see them playing in the industry today?
Undeniably the industry has seen a shift in power and influencers deserve a certain credibility because they're relatable. Some of them are incredibly talented and creative people! It's just a change in opinion makers, which is good – we have to embrace change and stick to the new ways of consumption and symbolic value creation.
Speaking of influencers, can you tell us a little bit about your collaboration with Sophia Sanchez De Betak?
Sofia Sanchez de Betak created her line CHUFY, which is inspired from her travels around the world. In every season she collaborates with local artisans or creators and for her collaboration with us, she designed a co-branded capsule of 5 pieces referring to her Argentinian roots. It was  distributed and launched with very beautiful events at Bergdorf Goodman, Colette, The Webster and MatchesFashion.
Online vs off-line, which is the mode of retail that you prefer? In today's times, where a global pandemic can impact retail and the fashion industry as a whole so drastically, do you favour a particular method to sell your work?
I think offline retail will always stay in fashion as it is an instrumental to the industry as a whole. I would say that online retail will grow and expand as technologies improve, but there's a certain social aspect to fashion consumption and value creation that I think ought to remain as a physical experience. This being said, it also needs to be an omnichannel strategy in order to sustain on a longer term.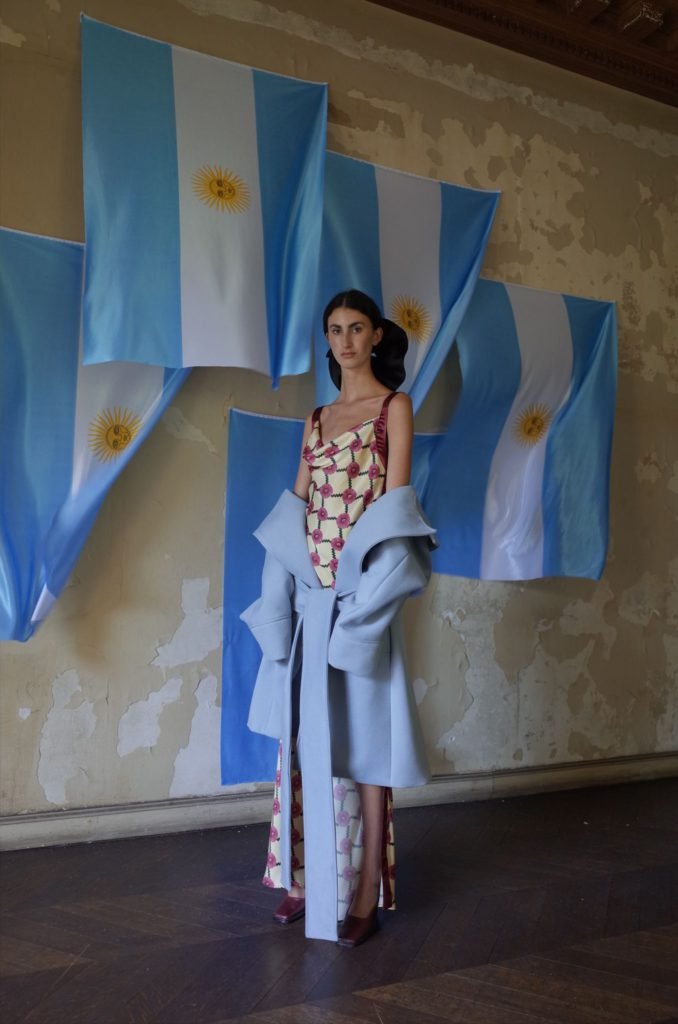 Other than Europe, what are the other markets where you see Sadaels being able to create a dent in the retail space? 
China and North America. South America is already a strong market for us where we have distribution and our own boutique.
Please tell us a little bit about Juan's Argentinain roots. How has his heritage played a role in his career as a designer?
Argentina is where Juan grew up and a part of his culture. It is a place that influenced his perspective of life and how he sees the world. Its also a very rich culture, hard to define in one word and full of contradictions. Its a constant source of inspiration for our brand.
What is your advice to the young designers of today? What do you think a new brand needs to keep in mind in today's highly saturated industry where it's easier to design a collection and launch a brand than ever before?
Well, product is essential but sadly, now a days buyers and direct consumers will be looking a lot at how you communicate your brand story (sometimes even more than the gorgeous product itself). Authenticity and legitimacy to tell a story is important, as that is what resonates with the customer. What I recommend is to avoid caricatures or mimics or to just blindly follow trends, because those fade quickly and so will your brand.
What are your thoughts on sustainability? How do you think the industry needs to work to ensure that it incorporates sustainability at every level?
Sustainability is a major concern within the industry as fashion is the second more polluting industry in the world. As designers we have a responsibility and in our case we use stock fabrics and natural materials and don't produce in large volumes. For us sustainability is also means creating pieces that will last and which won't be thrown in a year. The most sustainable thing you can do is to create pieces that can be passed on to future generations.
All images courtesy of Sadaels.
---
– Edited by Soha Joshi
Follow the AISPI blog and Instagram to discover brands like Sadaels and read more on the hidden fashion gems of Europe.