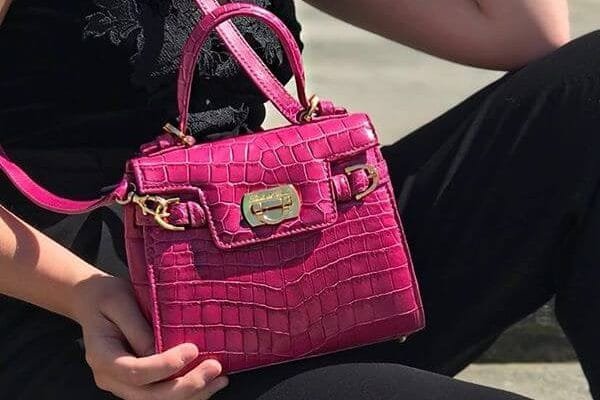 Even though it is far from emerging, the Scuola del Cuoio (School of Leather) is still one of our must-visit in Florence. Beatrice, granddaughter of the founder Marcello Gori, gave us the opportunity to know more about this unique fashion experience that is waiting for you in this historical and artistic city.
Could you tell us something about leather tradition in Gori family before the creation of the School?
My grand father is the one who founded the school 1950. He was actually an artisan and he has always been an artist. He was constantly exchanging his work for some lessons to become an artisan and also a painter. After many years, when he saved up enough, he decided to open his first laboratory in Via del Corso.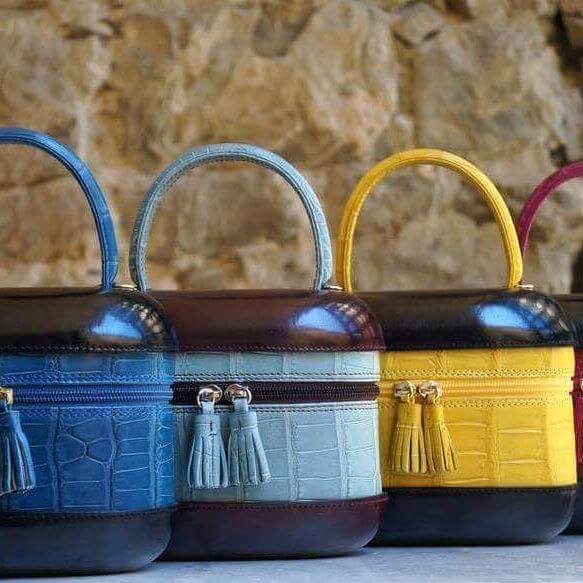 When created, the School had the aim of giving orphans the opportunity to learn a trade and make a living out of it. What did those orphans learn? Are current students learning the same things?
The first students used to learn all about the different products they could sell, while current students are mostly focused on bags, small cases, and those kinds of items. One of those first students was still in the School, Carlo Sieni, teaching and making all our items like the desk sets, jewellery cases, boxes that are more artistic. Recently, he passed away, he was 83 years old and he has always been a passionate worker, an incredible artisan and specially a great man.
By the way, one of the first desks sets they made was for President Eisenhower! He knew Marcello Gori and he was one of the first clients, so he asked them for it when he became President.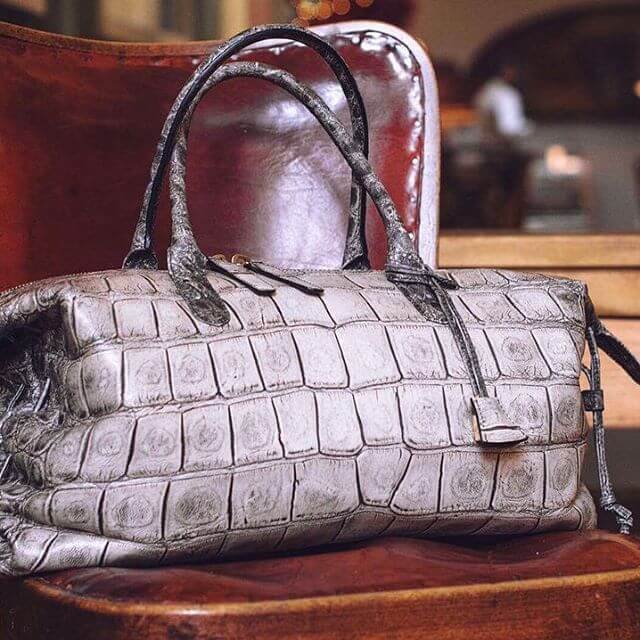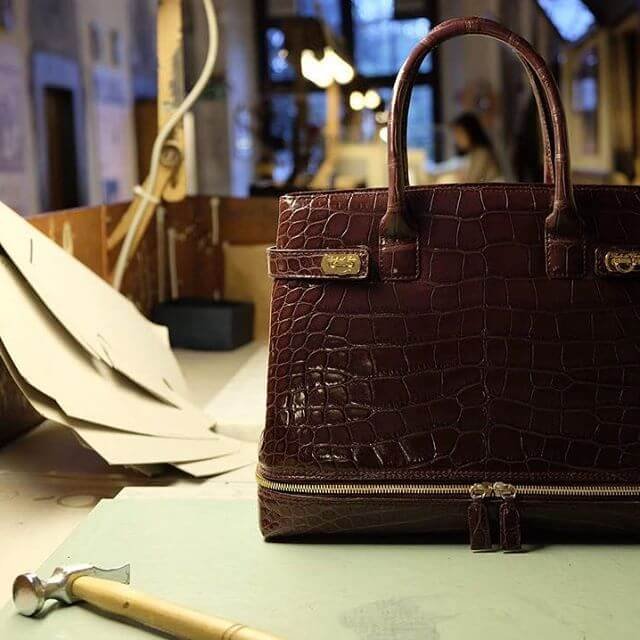 Apart from the artisan tradition, the Scuola has a great history of social care.
Following the tradition of my grandfather, Scuola del Cuoio has continued the tradition by training the unprivileged people in the neighbourhood and also giving classes in the city jail. Indeed, my grandfather received a medal by the Government for the re-education of the prisoners. At the beginning, they were just orphans but then they started to be people that needed a way to make a living. Nowadays the school is international and people from all over the world can come in to learn the leather craft from our master.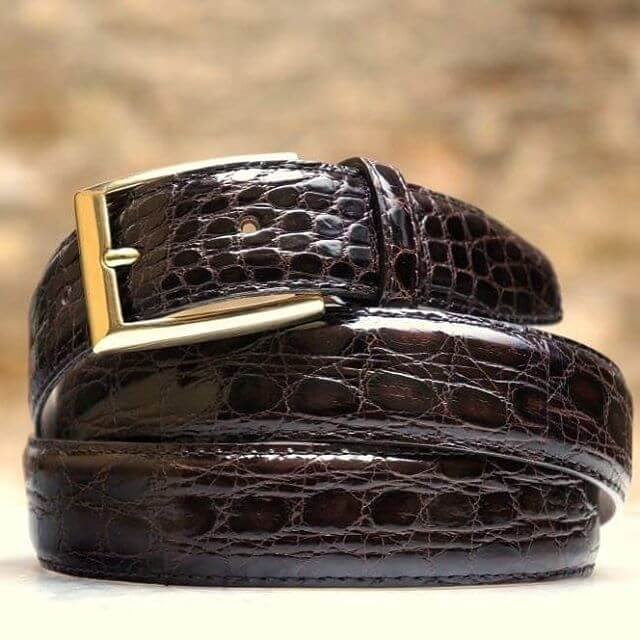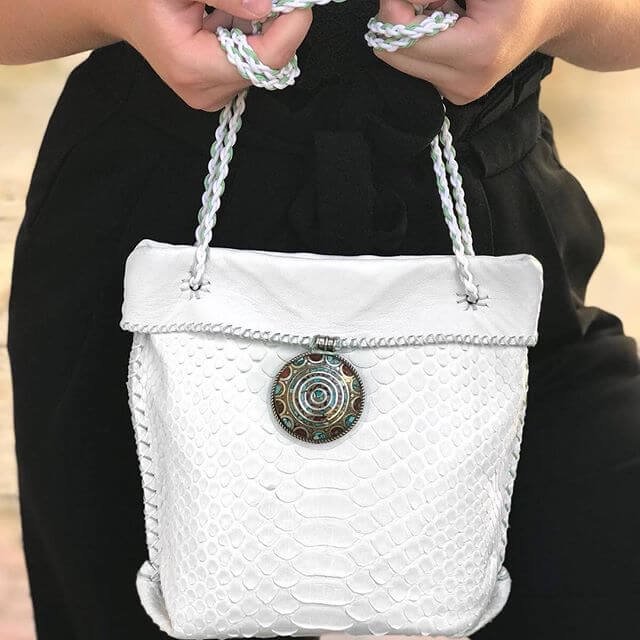 What type of products can people find in Scuola del Cuoio? What is the price range?  
We make literally every product. From wallets, to jackets to boxes. Indeed, in the new collection, there will be a pair of pants and a skirt as well. It is the first time we are making it! We are quite traditional, but we also like to be fashionable, to follow fashion every year and experiment with different things. The price depends of the type of product and material, so we have a very wide price range.
The small leather goods can be from 20€ up to 500€ if we talk about alligator.

Concerning the handbags, let's say min 300€ up to 16.ooo€ if we speak about alligator. If we speak about lamb or calf skin, we start from 300€ up to 900€.

Jackets also start from 300€ up to 1000€
In AISPI, we love customized products and we have heard you make it possible! How does it work?
We make bespoke products, so the client gives us a sketch or design they want, and we make it for them. Also, we can make changes and customisations by adding some pockets, some compartments inside, add an extra shoulder strap, crochets and more. For both, we need the advice of our artisans. They will make an estimation and tell us if it will be a good idea. We always try to satisfy our clients, even if it is something we have never done before.
Continuing with the uniqueness, Francesca Gori started a new line of hand-stitched one-of-a-kind handbags collections. Tell us more about it! 
Francesca (founder's daughter) used to work in the shop, in the cash register, but she didn't like it. It was just after Marcelo Gori passed away that she started a collection of bags. She decided that each piece of her collection had to be one-of-a-kind, so nobody could copy it. She personally and carefully includes unique details such as jewels or embroidery to guarantee this exclusivity.
She takes inspiration from anything. Sometimes she just wakes up and starts designing something she dreamt about; sometimes she finds a jewel that inspires her to make a new line. For example, the embroidery bags are inspired from a book about Florentine embroidery that her mother left her when she passed away. Francesca is always looking for more inspiration. She doesn't want to be classic; she wants to be special and unique.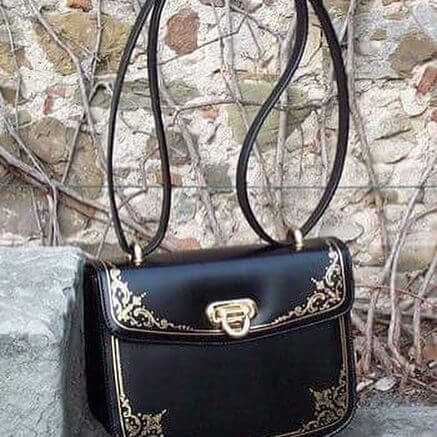 Today, with the topics of ethical fashion and big fashion houses giving up use of leather and skins, how do you see this going forward?
For us, I think it is different. Big fashion houses follow what fashion says. So if fashion says that plastic is fashionable, they will make everything with plastic; if the trend is leather, they will start producing leather goods. We are in another reality; we make everything with leather.
We tried to make a small collection of bags made of leather-like alternatives, but it is not the same thing; actually, the result is totally different. When we launched it, we saw that, even though vegan products are very popular, people still loved (and love) having high-quality, real leather products. That's we why think this won't really hit us.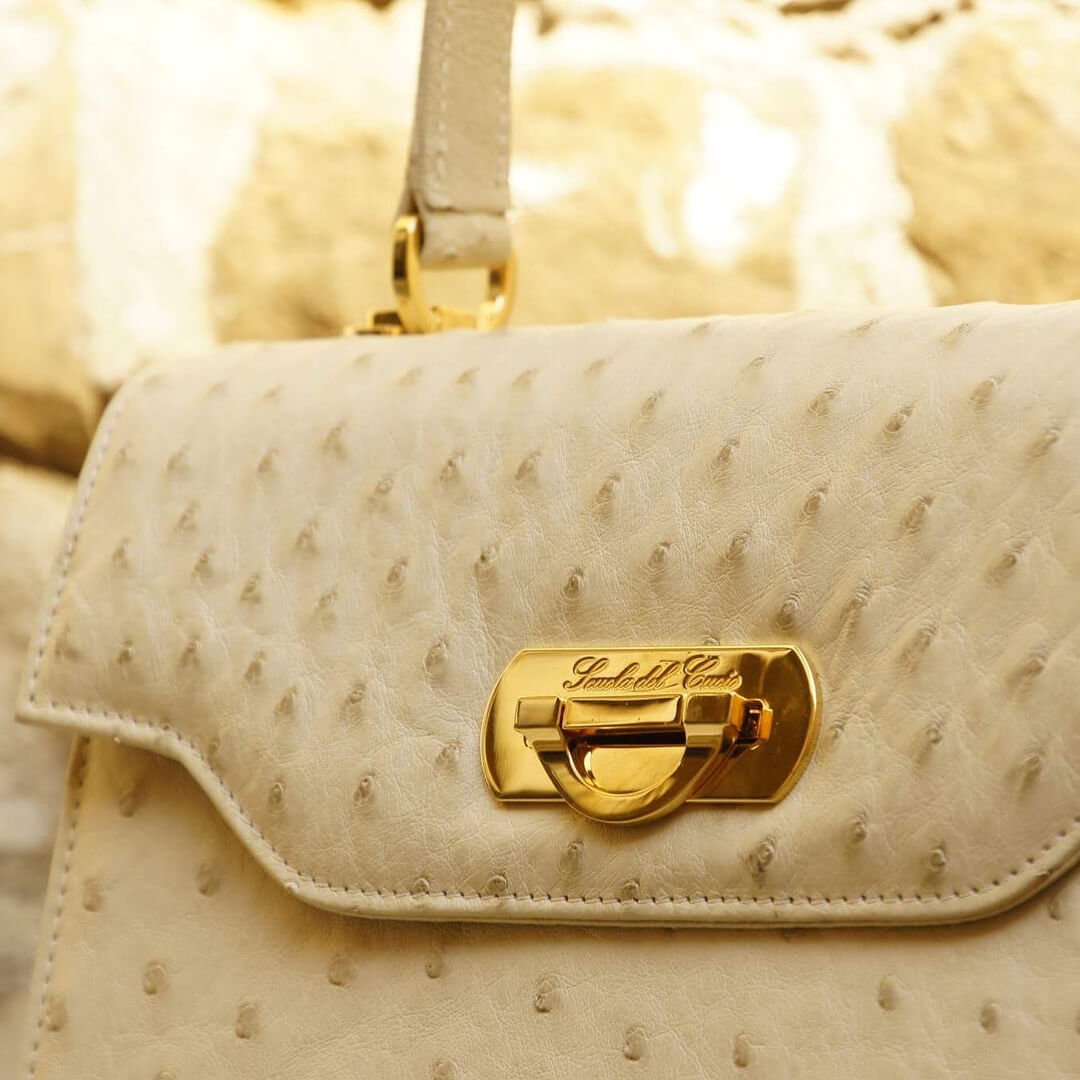 The Scuola del Cuoio experience and quality products have attracted many celebrities. Do you have any anecdotes about any of those special visits?
Once in 2008 or 2009, Ozzy Osbourne visited us. He came wearing a hat and a pair of glasses, to try to remain hidden from the fans. While he was there having a look, we heard a very loud scream, from a girl who had recognised him. A lot of people started to come into the shop and to take pictures and started screaming in excitement. We didn't expect his visit so, when we understood what has happening, we had to actually close the door of the room and lock him in so he could finish his shopping with us. It was crazy!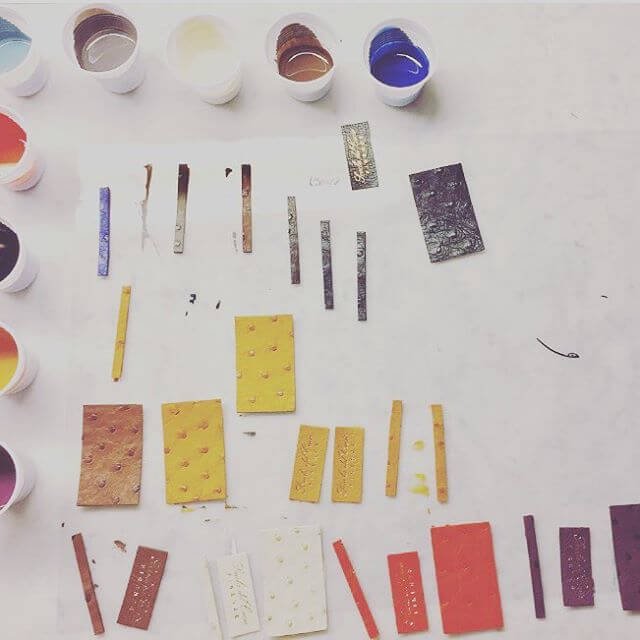 You are experts in the business, and you count on a great history behind, but you also had a start. What would your grandfather say to those emerging talents and designers who are trying to start a big project like this?
Knowing my grandfather, I'm very sure he would have said: never give up. He never did.
He lived in a very different time, when he was a kid (in the '30s) not everybody could go to school, so he always did his best in order to excel and he never give up. That's what he taught to his students when he opened the leather school in 1950 and what he always taught to his daughters and grandchildren.
He always encouraged us- me, my brother, my cousins- to follow our dreams, and I'm sure that's also what he would say to all emerging designers and talents: again to never give up, focus on what they really want and be more self-confident.
---
– Interviewed and Edited by Virginia Lite
Inspiring, right? Be always updated on unique experiences and designers by following or Instagram account here. And don't forget to visit this School of Leather next time you're in Florence.