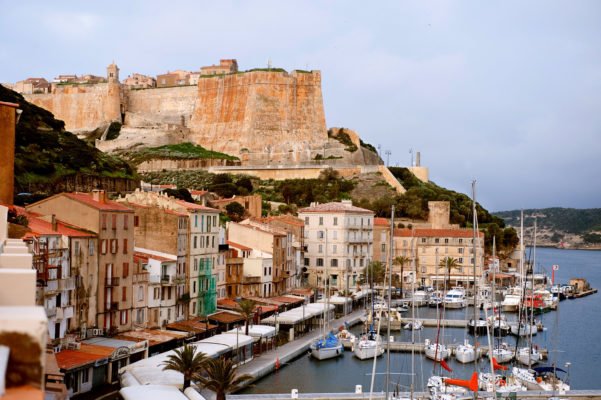 Ready to explore the isle of superlatives? The mountain jewel set in the middle of the Mediterranean will do nothing but surprise you. Corsica offers a wide range of activities, combined with mediterranean savors and the best European boutiques to level up your experience. No matter who you share your journey with: family, friends, partner, even just yourself! Corsica's vibrant pulse will unwind your mind and AiSPi tells you how. 
Prepare your senses, book your flight et à l'aventure! 
To See
Corsica provides both: crystal water coast and cultural heritage that leave no space for indifference. Whether you prefer sun-kissed evenings in Tamaricciu or alluring sightseeing through the cobblestone streets of Bonifacio, Corsica has a unique scene for you. 
Our journey starts in Porto Vecchio. Located at the south west of the isle, Porto Vecchio is famous for its beaches, which have been blessed with a glow of their own. Carataggio, Tamaricciu or Santa Giulia are the names to bear in mind when visiting the area. 
Tamaricciu
Tamaricciu is one of the most beautiful beaches in South Corsica. It's postcard-perfect bay is filled with fine white sand, giant grey boulders and turquoise water. Isn't it inviting?  
As it is one of the most photographed beaches on the isle, parking and access are not easy to find! Although we all love a tiny adventure, just make sure you prepare in advance. 
The picture below shows the Tamaricciu view from the hill above. The rocky islet on the center-left is named Folacca and it is the perfect spot to practice snorkeling.  
In case you want to make the most out of your experience, yacht rental services are offered in the city. Drinking, chatting or just horizontal lying turns into a brand new experience when surrounded with profuse blue and caressed with gentle breeze.
Mare à Mare
More into hiking? Mare à Mare, or "sea to sea", is a walking trail traversing the south of Corsica. First stage, Porto Vecchio – Cartalavonu, will lead you from Porto Vecchio to Cartalavonu plateau through 14.2 km of medium difficulty trekking and a river. If your body craves serotonin and your visit takes place in between April and October, do not hesitate to go deep in the mountains and breathe fresh air.  
Bonifacio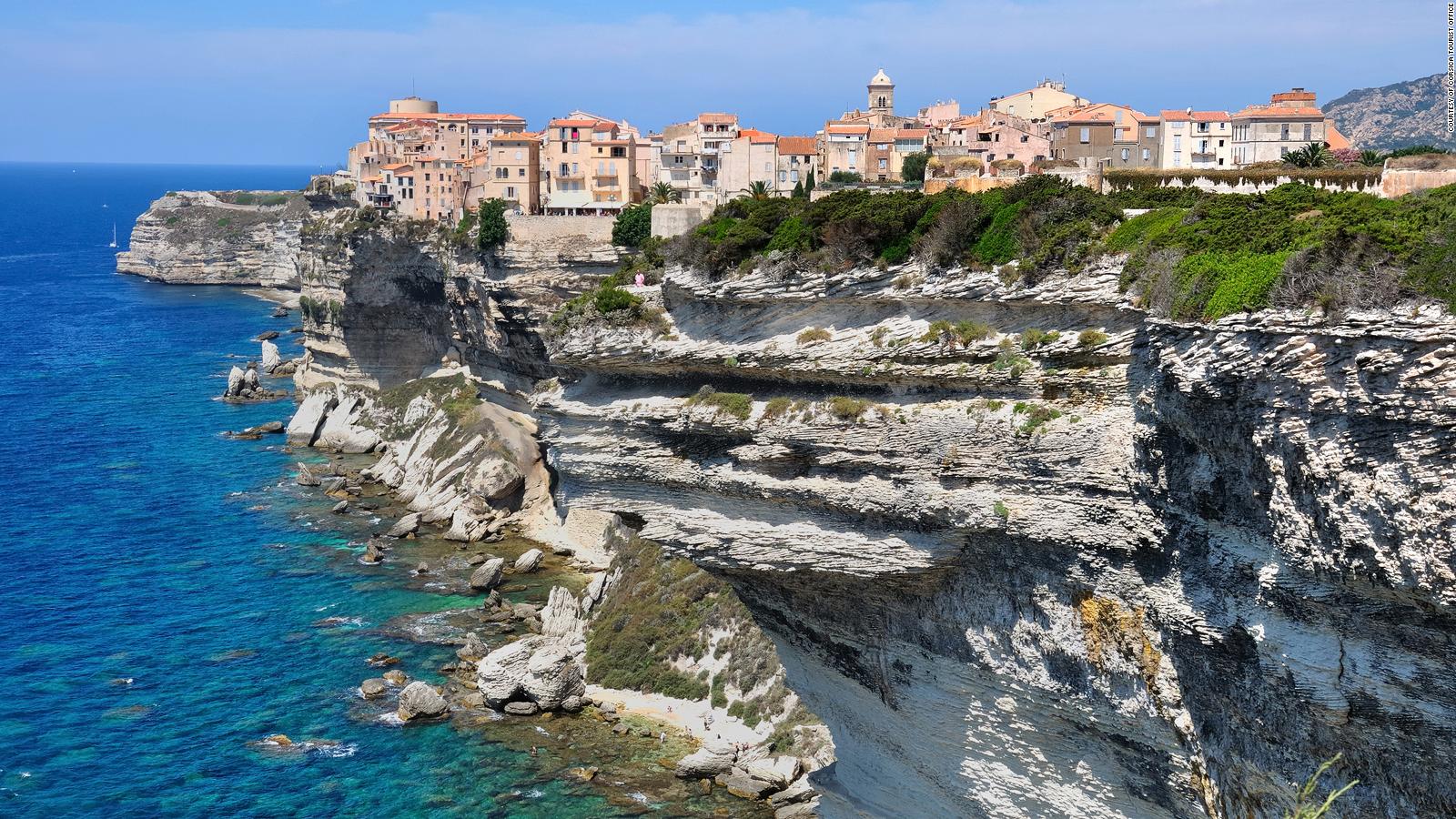 Next stop: Bonifacio. Haven't you had enough with the crystal clear waters of Porto Vecchio? Complete your trip with the beaches of Bonifacio: Saint Antoine, Du petit Sperone or Faro de Capo di Ferro are some of AiSPi recommendations in this region.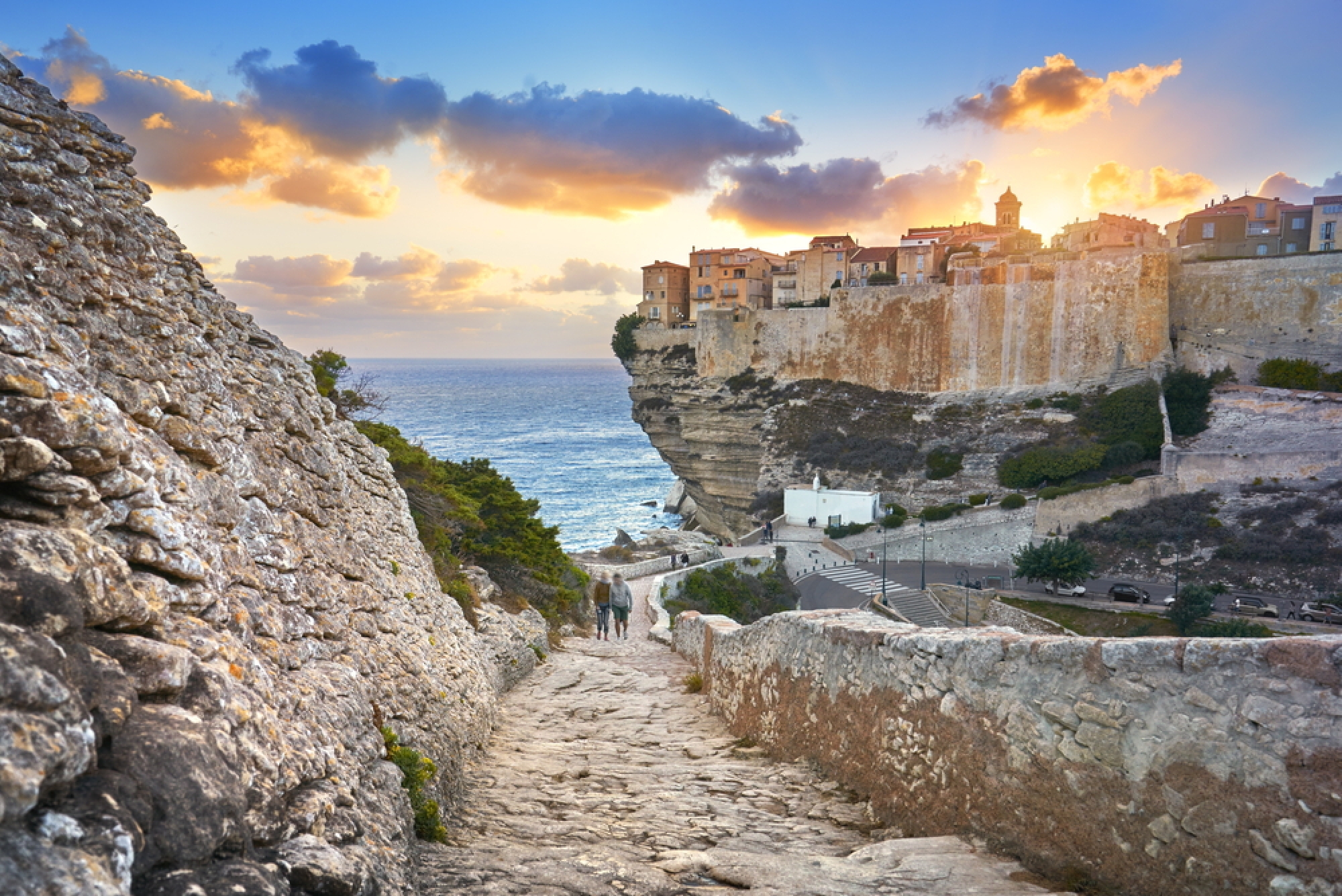 Bonifacio old town is a conglomerate of magic old streets covered with cobblestones.  Tonge twister aside, you can book different tours that transport you through the history of the city or… just get lost in the maze of streets and shops.
Also, when referring to sightseeing attractions, Bonifacio Citadel and the King of Aragon staircase merit special mention. 
Lavezzi Islands
Lavezzi archipelago is located 10 km south of Bonifacio. The easiest to get there is to take a boat from this city (you can even rent your own!), but access is also possible from Porto Vecchio. The entire archipelago is listed as a protected nature reserve. It is perfect to enjoy walks, discover endemic flowers scent and appreciate vibrant colors of fish.
Cavallo
If you are going on a full day cruise to Lavezzi islands, or if you get there with Bonifacio ferry, you will sail along the only inhabited island in the archipelago, we are talking about Cavallo Island, a.k.a "The Island of Billionaires" due to the celebrities properties that crown the isle. 
Bonifacio Natural Park
Still craving more adventure? Bonifacio Natural Park is a great area with cliffs by the sea, marked trails and wildlife.
The Natural Reserve of the Mouths of Bonifacio, that separates Corsica and Sardinia, is not just a sanctuary set between limestone cliffs and chaotic granite blocks, but a great reference in terms of international protection of marine heritage.
Sipping by the sea
Did you get hungry after all these activities? So did we!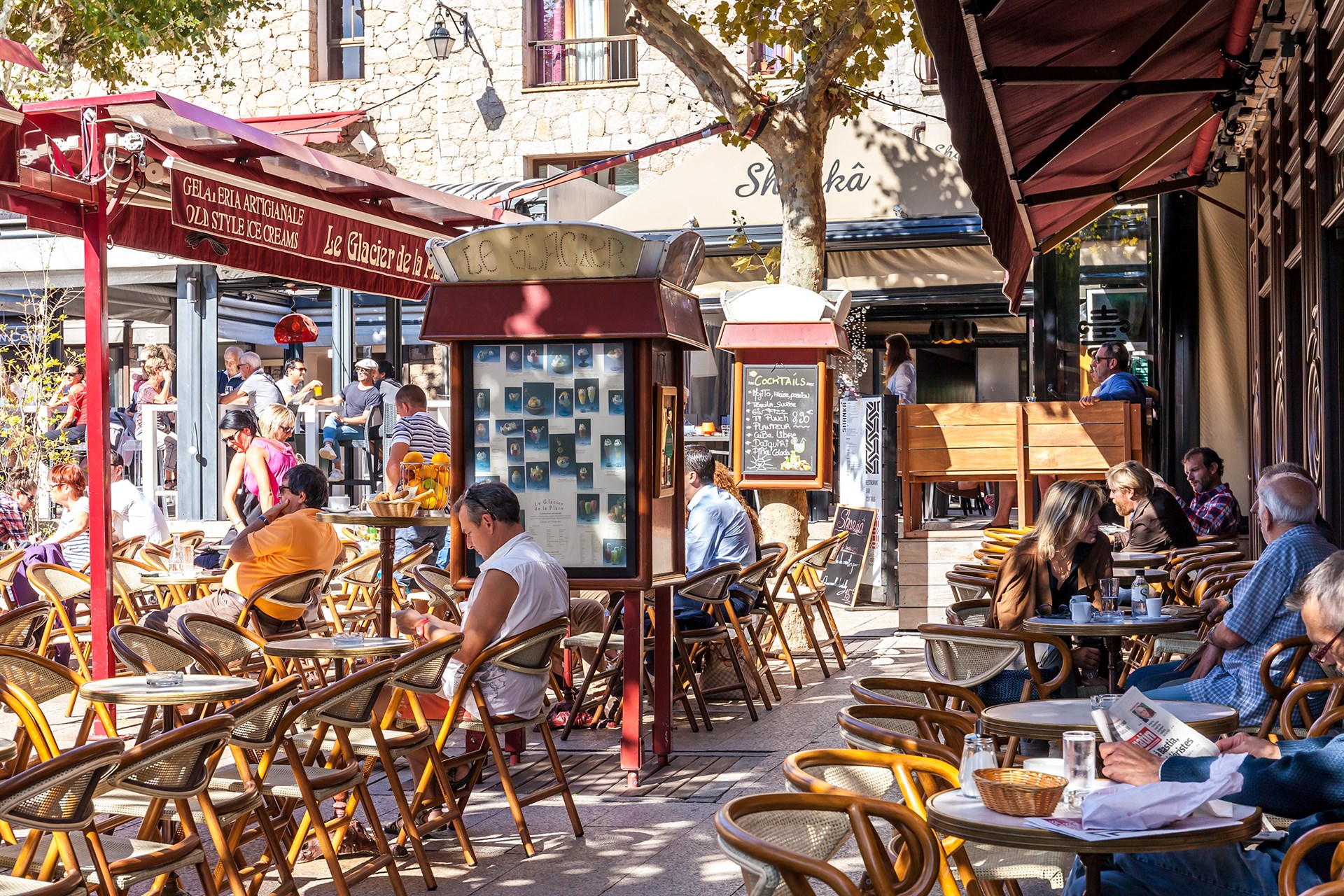 Corsican diet combines the elements of the traditional Mediterranean diet with the unique flavour of the mountains. Designation of origin wine, 6 varieties of honey, brocciu (or goat's and sheep's milk cheese) and olive oil are some of the most common elements of the island's diet.
Les Bain de Caldane, Fior De Lecci, Alta Rocca, Le Point de Vue are some of the recommended restaurants. Take a break and enjoy the unique flavors that the island has to offer!
Unique Boutiques
But you did not come just for travel tips and restaurants, did you? Here comes the main course: our curated boutiques. Leather, white crocheted and cashmere prints are the basis of bohemian chic Corsican style. Feel free to accompany us through Calarena, Kalliste creations, Karma Koma and more!
Calarena
Dive into the universe Calarena. Collections created in Corsica and inspired by the Mediterranean to offer you a feminine and colorful summer wardrobe.
From the beach to the end of the night, Calarena offers elegant pieces with clean lines, combining luxury and creativity. Using emblematic material and know-how, these handmade, innovative and timeless creations offer a unique style.
Kalliste Creations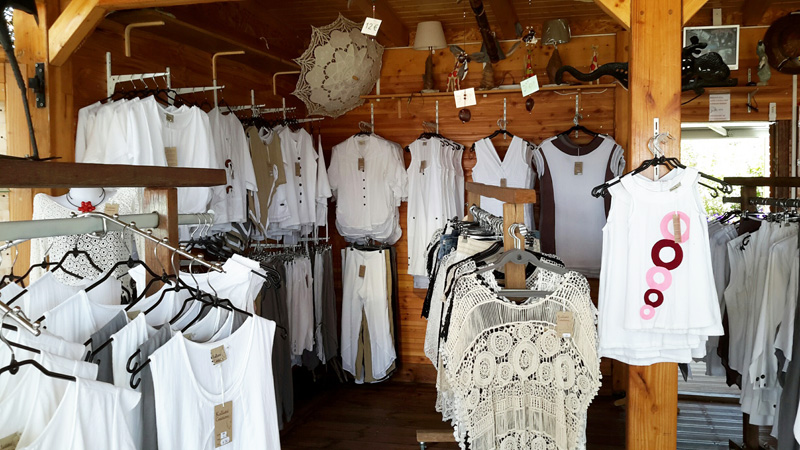 Sunbathing evening? The pieces of Kalliste Creations are bohemian white crocheted clothes that will highlight your glowing tun. They are fresh and ideal for going to the beach or a dinner by the sea. Do not hesitate to pass by and see which one suits you best.
Karma Koma
How has your journey twisted your life? The owner of Karma Koma visited Bali in 2003 and brought back a piece of it with her. Today there are 12 stores and an e-shop in France. The style combines the Balinese essence and the quality of France. The result? Check it out by yourself!
Pratalina
What if you study what you're most passionate about in the city of your dreams and decide to open your own store in collaboration with other creators and experts in the sector? Pratalina founder studied fashion in Milan and launched her first initiative at her hometown, Porto Vecchio.  The shop combines local Italian and French designers along with her own emerging label.
Benoa Creations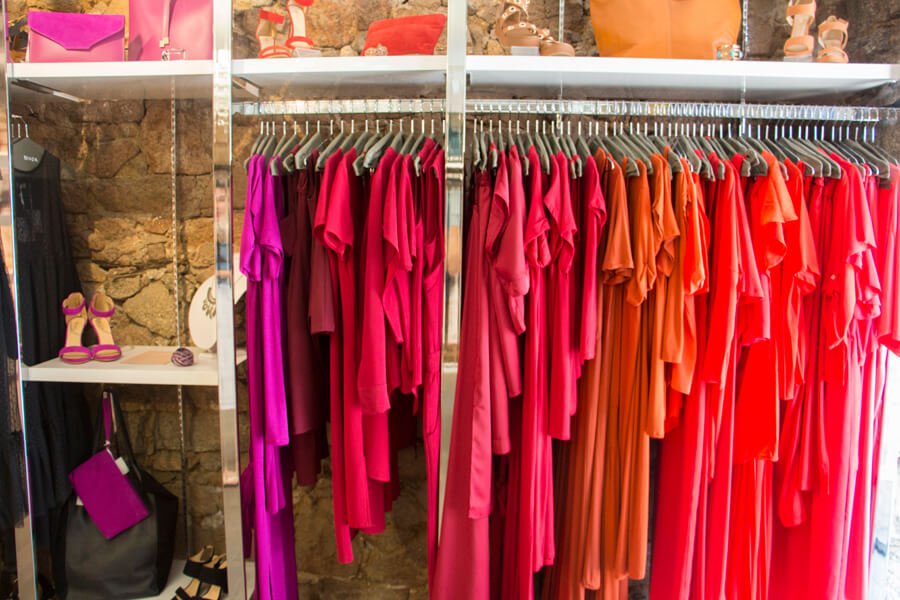 Have you ever heard the saying "no rain, no flowers"? Benoa Creations completely defies this mantra and transports you to a lively rainbow. No rain, welcome flowers. The shop is chromatically organized, all a pantone of clothes ready to fit in your wardrobe!
---
– Written by Clara Antúnez Martínez
To know more about this beautiful isle, visit our Corsica page. Follow us on Instagram for a daily dose of the best of European fashion.