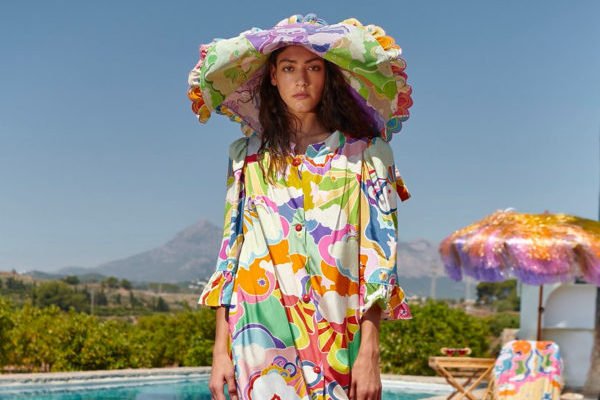 Undoubtedly, summer is a season of leisure blending seamlessly with adventure. The hot months are all about getting that perfect tan as you lounge around on the beach along with finding those niche experiences and falling in love with new cities. If your summer consists of two things: travel and more travel, then you're in the right place. 
Are you unable to dream about anything but the streets of London and the beaches of Mykonos? Then we've got the perfect cure–it's time to book your tickets! And only one small hurdle stands between you and your dream vacation and that is deciding what to pack.
Expert travellers know that packing is an art. Finding ultimate wardrobe staples that not only works for the elegant London clubs like Annabel's but also outdoor dining spaces like Nammos in Mykonos, while reflecting your personal style is a task. Unfortunately, travelling also means limited luggage space (especially if you love to shop while you visit these beautiful European cities like we do).  
To help you out, we've put together the ultimate list for what to pack when you're shuffling between cities and beaches, cabanas and clubs or even day and night. The only 12 (ok 13 if you count separates) pieces you need to master summer style like a true fashionista. Be it Annabel's or Nammos, we've got you covered. 
A Handbag: Gedebe's Cookie Satin
How many times have you asked yourself the question, "What handbag should I take on my vacation?" If the answer is one or more, then know this–you're not alone! Finding the ideal handbag can be quite tricky as it acts as the cornerstone to the rest of the outfits. It's an item that gets worn day in and day out, which makes it extremely important to find one that can comfortable, stylish and versatile for many different outings. Use it as the cornerstone of your packing list–matching outfits to the bag to make the most of it.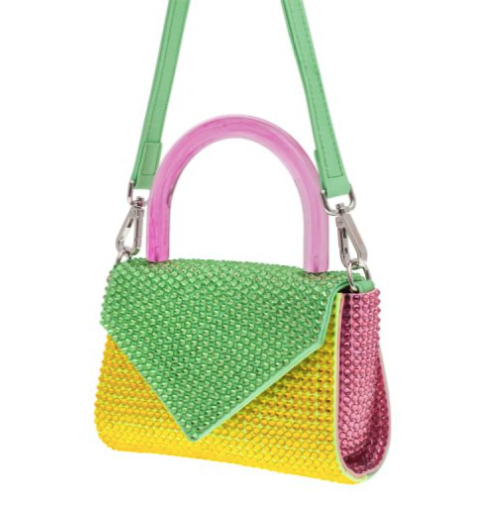 For a holiday that takes you from a bustling city to a leisurely beach, we highly recommend Gedebe's Cookie Satin bag. Crystal pavé is embedded on a satin lining, this stylish yet highly functional handbag features a plexiglass handle for easy carrying. With a multicoloured body of fun lime green, neon yellow and vibrant pink, this statement making bag is a statement by itself. 
It'll spruce up even the simplest outfits and add the right amount of colour and bling the occasion calls for! You can wear it with a printed midi at the beach or use it as a highlighting piece in a tonal black-on-black outfit. It's versatile and its shape and structure will match with many different wardrobe staples, from jeans to dresses. And the crossbody strap will ensure you carry it easily on the dance floor. 
Another Handbag: Baguette Sable Nacre
The AiSPi team agrees that no one should go on vacation with just one handbag. Trust us, you'll want at least another option to mix and match with your other outfits. Now that we've covered a bright, fun piece for the summer, let's talk about an option that'll add a touch of glamour without taking over the entire piece.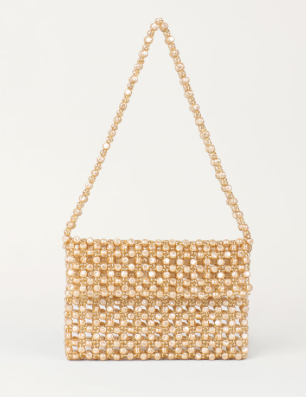 Vinina's Baguette series is a great travel companion for all your future European trips. Along with the '90s baguette shape, it also features gold pearl detailing which sparkle and shimmer in the sunlight or club lights—whatever your preference may be. 
From wearing it on your shoulder with a laid-back look to styling it up for a night out, this bag pairs easily with every vibe and mood. And the best part is that it can transform into a clutch by simply tucking in the strap–a handheld jewelled accessory at your literal fingertips!
A White Dress: Pixie Won't Play
Everyone knows a black dress is a classic, no matter the day or season. But what about a little white dress? Sleek and versatile, a white dress is to summer what LBDs are to women's wardrobe–an absolute must. 
This summer of 2022, make sure your travel plans include a little dress in the colour of clouds and cream. Pixie Won't Play's Nocturnal Swan slip dress will soon be your favourite. Made using sleek satin, this slip dress glides off your body, highlight your best features with subtle femininity and incredible style. Easy to pack and even easier to wear, you can layer it under a tailored sequinned jacket for a night out or with a colourful Celia B kimono for a boho-chic look. 
Give into the feminine silhouette and cut of the dress when you pair it up with Kat Maconie heels and Pepper Chocolate jewellery. Wear this versatile dress your way, be it with a shirt or a cardigan. It's a must-have that we can't do without on vacation. 
A Versatile Piece: Marques Almeida's Shirt Dress
The versatility of a shirt dress is one of its best features, apart from its luxury-leisure look. It's very easy to style up when headed to a party or down when you're just having breakfast with your girlfriends.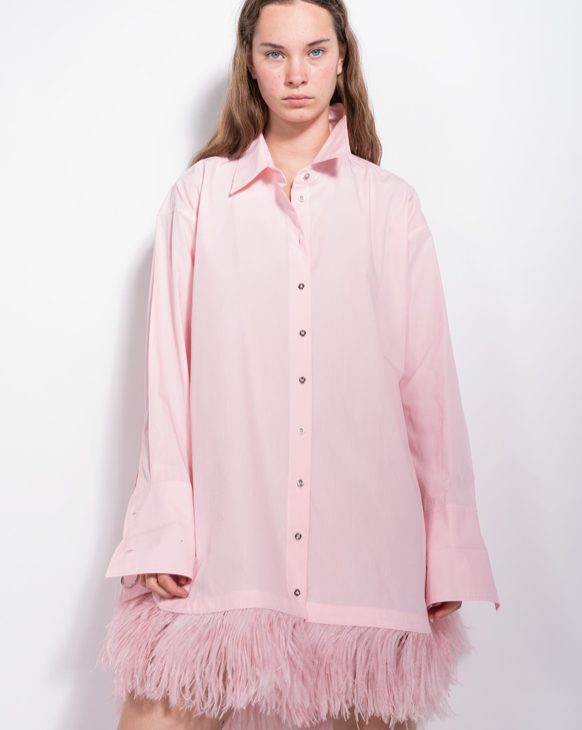 This pink shirt dress by Marques Almeida features a feather trim at the hem, adding a playful touch to the look and setting it apart from all the others. Its soft pastel shade reminds us of European sunsets and its feather details of flamenco dancers who steal the spotlight. All you need to complete this outfit are the right pair of shoes for the occasion, be it high heels, comfortable flats or metallic sneakers. 
For the beach, you can wear it with flip flops and a large straw hat to make your walks easier and shielded from the sun. Pair this oversized shirt with skinny jeans for a day in the city. 
It's easy to fill your suitcase for a city to beach holiday with dresses and bikinis, but remember–smart separates are an investment that will take you a long way. Pick pieces that work well together as well as separately, are versatile while being easy to maintain without lessening their impact.
A Shirt: Hanane Hotait x Soraya
Smart dressing brings to mind classic shirts. But this time it's a little more fun. This oversized taffeta shirt is the result of a collaboration between a designer and Instagram personality. Although all the pieces in their collection can easily be styled with multiple others—giving you an overwhelming number of styling opportunities. Highlight the fun colour when you style it with the Gedebe's Cookie Satin bag.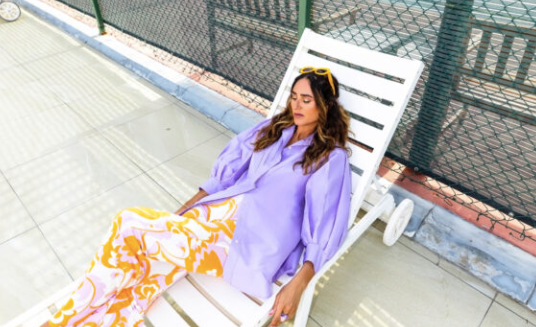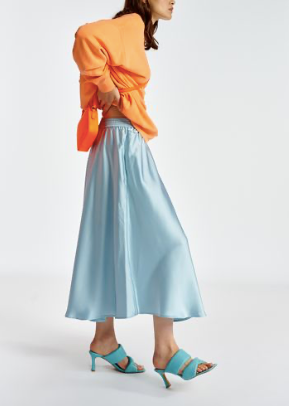 A Skirt: Essentiel Antwerp's Blij
Who doesn't love a skirt? The Blij skirt by Essentiel Antwerp comes in a soft, power blue colour. This A-line skirt flows fluidly down to right about the ankles, giving it a beautiful silhouette. Knot the Hanane Hotait x Soraya shirt and pair it with this, giving into the summer's cool pastel vibe. Take the Vanina bag out on the town for a laid-back look. 
Don't get lost in the sea of options out there. Instead, remember to pack a few pieces that anchor the outfit. 
Dress: Celia B's Lukas Dress
When packing, consider all the different events and spots in your itinerary. If you're going from the hustling city of London to the calm beaches of Mykonos, you'll want to pack an outfit you can wear to both: a brunch date or a beach day. A resort-ready look that is also city-appropriate.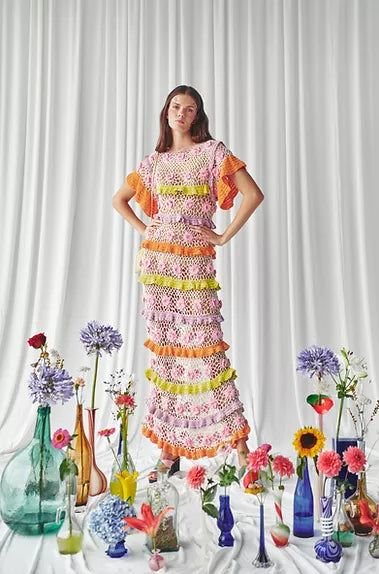 Consider Celia B's Lukas dress. This crochet dress features floral designs and bright colours, each of which reminds us of the best aspects of summer. You can throw it on over your beachwear for a beach day or pair it with a slip dress for a brunch event. Its feminine silhouette and fun colour palette will weave magic wherever you go. 
An Overlay: Celia B's Hidra Kimono
Overlays are extremely versatile garments; they can work well on their own but also be a dress, shirt or a kimono. The only limit here is your imagination. So whether you're using it to level up your airport style or are simply lounging around the pool with this as a coverup, it's a garment you won't regret packing.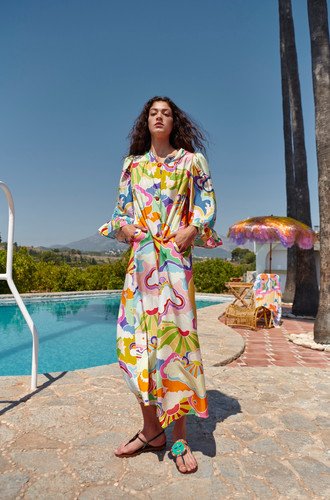 This colourful, whimsical Hidra kimono by Celia B adds a boost of energy into any look. You can wear it day or night, buttoned up or open, at a poolside or to a beach party, with heels or with flats—it's a piece you can't get enough of. 
A Jumpsuit: Sundress' Cary
Put it on in the morning and it'll carry you with ease through the night. Yes, we're talking about jumpsuits! These one-pieces are an outfit by themselves, making them very easy to style.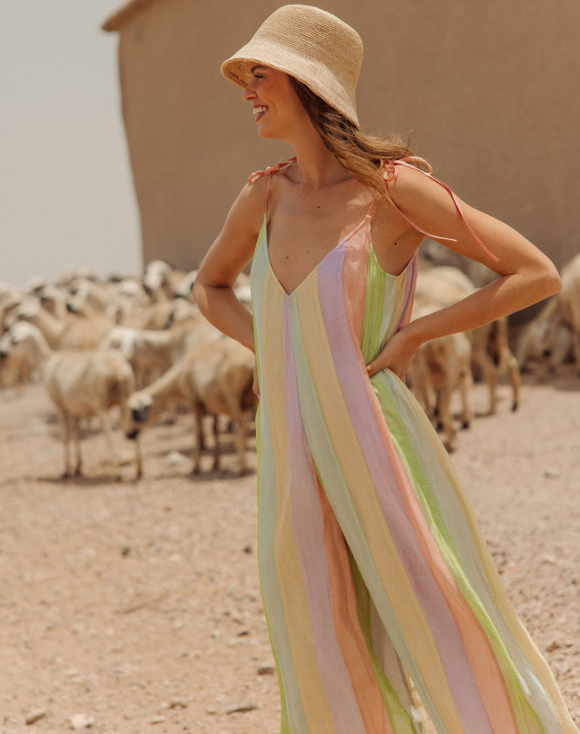 Sometimes you just want to be spontaneous on a holiday. And for all those holiday-related spontaneous plans, you need to have the right jumpsuit in mind. We recommend Sundress' Cary jumpsuit. You can just have fun in this pastel-coloured piece without worrying about where you will end up later in the night. Put this jumpsuit on in the AM and let the party commence. You may be dancing all night!
Layer it over a plain tank top for a demure day look. If you're in the mood for bold, pair it with the Marques Almedia shirt as a cool overlay and start a fashion conversation wherever you go.
An Emergency: Aje's Falling Water Dress
What's the emergency dress? The piece you can always count on to make you feel and look good. You may need it in case of a fashion emergency. When you can't figure out what to wear, turn to this. Trust us, it'll pay off whether you're in London or Mykonos.
These beaded Arco Iris sandals by Alameda Turquesa spell summer like no other. Its boho-chic tie-up details elevate the outfit more than any other footwear. A striking piece on its own, its addition to a quiet outfit or a busy one is both seamless. Whether you're out for a stroll, cruising cafes or making a dash to the beach, this sandal will ensure you have no loose ends where footwear is concerned. All the clothes chosen in the edit can be paired with these sandals for an inspired and on-trend holiday look.  
The Sandals: Alameda Turquesa's Arco Iris
When you're going from the city to the beach, you need to find footwear that is comfortable, fashionable, wearable over long periods, works well with different outfits and can transition from day to night. A shoe that'll let you sip, saunter and sashay.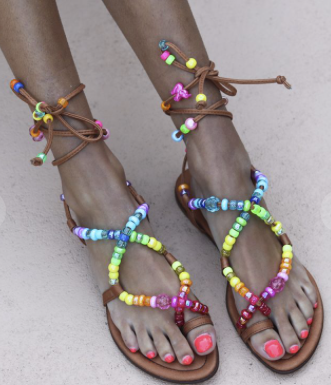 Fluid, feminine and lush, Aje World's Falling Water dress is a statement in style and comfort simultaneously. The cotton dress features cut-out details at the waist and voluminous sleeves for a goddess-like look. Its cerulean shade reminds us of all our Mykonian dreams. Soft, billowy and beautiful, it's perfect for when you've swapped sand for the streets.  
The Slippers: Emma Hyacinth's Leni
Now that you've found the perfect sandals for the day, what about shoes that can glam up any evening look? It's time to find your Cinderella slippers that are versatile and pair well with all silhouettes and cuts.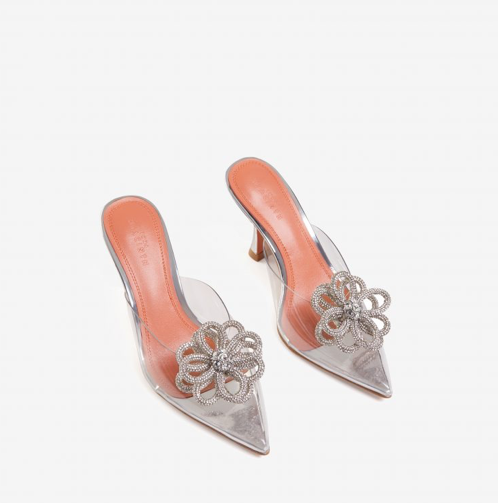 Emma Hyacinth's Leni slippers are an ideal fit. They are made out of transparent material and feature an embellished floral detail on top, drawing everyone's attention at a party or during lunch. Made using Plexi glass and crystals, they add just the right hint of sparkle to any summer look. Returning home at midnight isn't mandatory with Cinderella slippers. Style it with your Pixie Won't Play dress or smart separates, the choice is yours.
With an admittedly strong and imposing edit focused on clothing garments and footwear, the accessories should serve as complements to the looks. However, complementary does not mean boring, and the need to add jewellery and other accessories to an outfit is ever present. Minimal and easy, you can carry them effortlessly into your suitcase to accompany your looks. 
Earrings & Bracelet: Kat Maconie
Tog your ears in Kat Maconie's huggie hoop earrings that add a fun yet discreet element of chic to any outfit. You can pair it with her stackable bracelets which she calls, "the ultimate throw-on-and-go-piece." The gold earrings with tiny coloured gems and matching gold bracelet with fun grooves add a little chicness and fuss-free flair to any look. 
For Art's Sake's Sunglasses
Last but never, ever the least, especially when the sun is shining brightly during the summer months: you need the perfect sunglasses. Hide behind these pink lenses and see everything through your rose-colored lens whether you're in London or Mykonos. This pair from the For Art's Sake collection will make you ''feel in the pink'' all summer long.
Written by Team AiSPi
All images are courtesy of their captioned brands.
Know more about European cities through our city page. Spy with us on the best of European fashion through our journal. Follow AiSPi on Instagram for the latest updates on fashion and designers.