Mykonos is a place that's present on every traveller's bucket list. If you're planning a trip to this city, then you must take a look at the amazing suggestions by Elena S Petchenikova. 
Elena is a fellow fashionista, mother and founder & CEO of Millenials Board. We spoke to the traveller about Mykonos, her favourite city and all the places we loves within it.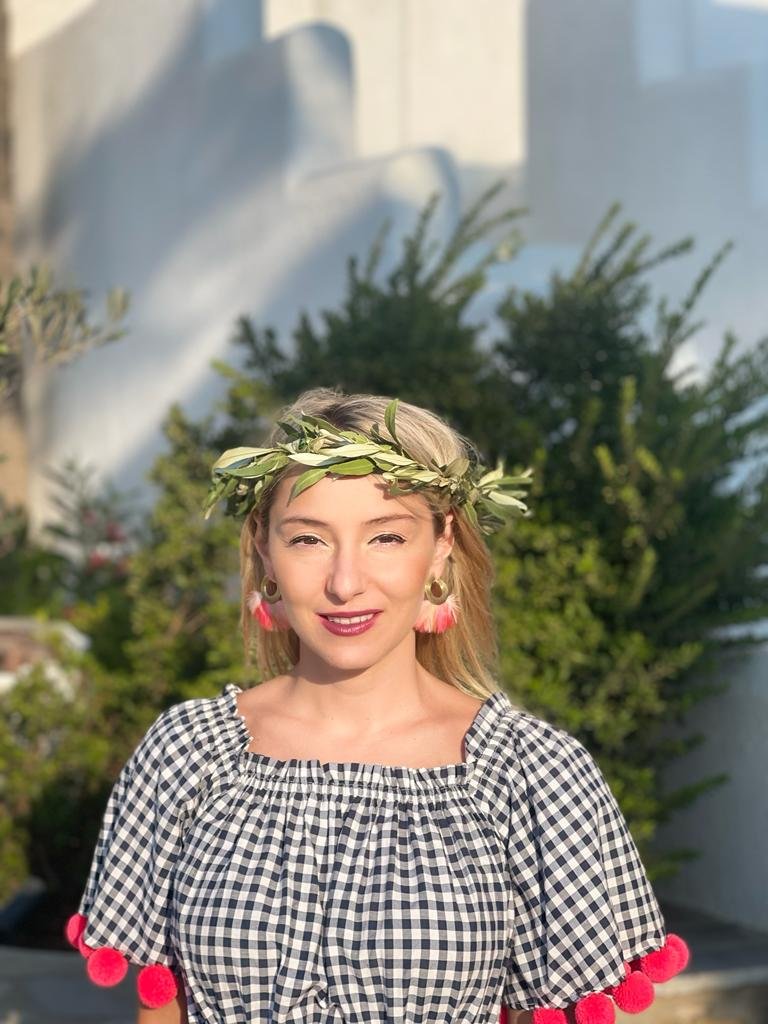 "Hi! I am Elena. I am Bulgarian by origin and have been living in London for almost 20 years. I came to the British capital for my University degree and have been living here ever since. I was always passionate about fashion but soon after my university I sought a career in private banking. After a while, I realised that I don't enjoy it as much and decided to follow my passion. I took some fashion courses and eventually founded Millenials Board.
Millenials Board is a company that help fashion start-ups get off the ground. We do different things with the brands and help them take off, by teaming up with PR companies, hosting and planning exclusive events for these brands. We partner with them and then preparing them for the next stage of seed funders. I also love what I do, but family comes first. My work allows me the flexibility to work around my family of my husband and 2 boys as it is seasonal and often revolves around the fashion weeks."
How often do you go to Mykonos and what is the best way to get there?
"I visit Mykonos almost every summer. I absolutely love it there and am never bored of it! I like to think of it as London but differently charming and by the sea. I have been to many different summer holiday and party destinations but I love the vibe of Mykonos. It's not elitist or over the top, and I have discovered different things to do every time I go.
My ideal time to spend in Mykonos would be 2-3 weeks every summer in July. We usually go by flight and there is only one airport in Mykonos. Get ready for a bumpy journey, there is a lot of wind! Another way to reach to the island is to fly to Athens and then take a ferry or a helicopter."
What is your ideal 6 day itinerary for Mykonos?
"If I had to make an ideal itinerary for 6 days it would be:
Day 1
Have a lazy morning breakfast overlooking the beautiful Aegean sea either from your villa or your hotel.

Spend some time by the pool and then follow it up with a late lunch at Nammos for music and dance. Next, explore the beautiful boutiques in Nammos Shopping Village.

Relax with a sunset cocktail and have a quite romantic dinner in town at Katrin.
Day 2
Visit the beach at Alemagou and have a lovely lunch there.

You can't miss the Nusr-Et steak house experience for dinner.
Day 3
Take a day trip via boat and swim in water.

Head for late lunch at Spilia and enjoy the music–maybe dance a little too!

Dinner in town at the famous Greek food Sea Satin by Gryparis restaurant.
Day 4
Visit the Principote beach in Panormos and enjoy a delicious lunch overlooking the water.

Walk in town and visit Lio's entertainment show.
Day 5
Take a little time to relax by the pool and eat lunch at Scorpios.

Enjoying the sunset at Scorpios and dance till you're exhausted with a DJ Party.
Day 6
Spend a morning hiking around the island–I like to go near Ornos.

Enjoy lunch at Soho Roc Mykonos.

Dine at St Georgio's pizza by little Venice. 

After dinner, take a beautiful walk around town and all the fashion boutiques."
What is your favourite property to stay at in Mykonos?
"I like Soho Rok Mykonos, I love the design of the hotel. It is well located, child friendly and relatively close to the centre of town, and walking distance from 'Scorpios'- a chic vibrant beachfront resto-bar.
Santa Marina is also a good option for a family trip. Another alternative is renting a villa, which works well especially if you are a big group of people."
What is your most favourite restaurant there?
"Mykonos has so many nice restaurants. I like Beef Bar Mykonos for an easy relaxed evening. Katrin is another favourite and it is located in centre of the city. It has all the delicious Greek meals. For a happening evening restaurant, there is the newly opened Noema with a hidden courtyard and nice DJ MUSIC, as well as Lio's show."
"Where can I begin?! Mykonos is filled with so many restaurants where you can enjoy loud music. All are so different from each other, particularly, the day restaurants. I like Spillia for the day as it is more intimate and Scorpios in the evening. There are some night clubs in Mykonos, but I rarely end up there. I also go to Zuma, Noema, Nammos, and Alla Magu. All are so diverse and different yet so fun in their own way. I am never bored!"
What is your favourite sites to visit in Mykonos?
"My favourite non-touristic thing to do at Mykonos is the beautiful hiking paths and views over Ornos. Not many people know about this or are even bothered to do this. But the views there are breathtaking.
My favourite touristic thing to do are the windmills. The town is extremely beautiful with the white houses and architecture."
Tell us a little about the culture and vibe of Mykonos?
"The vibe there is super relaxed. If I had to point out something similar, it reminds me of the atmosphere and energy of Coachella. You don't need any high heels, you feel down to earth and one with nature. It is usually not an elitist or over the top place like some places in South of France.
People are really international. A lot of people from London are usually there in the summer. There are so many French people as well (which was a surprise to me), Italians, many people from Israel, Lebanon, Greece, America and more. In general, people are these who like to be entertained and go out."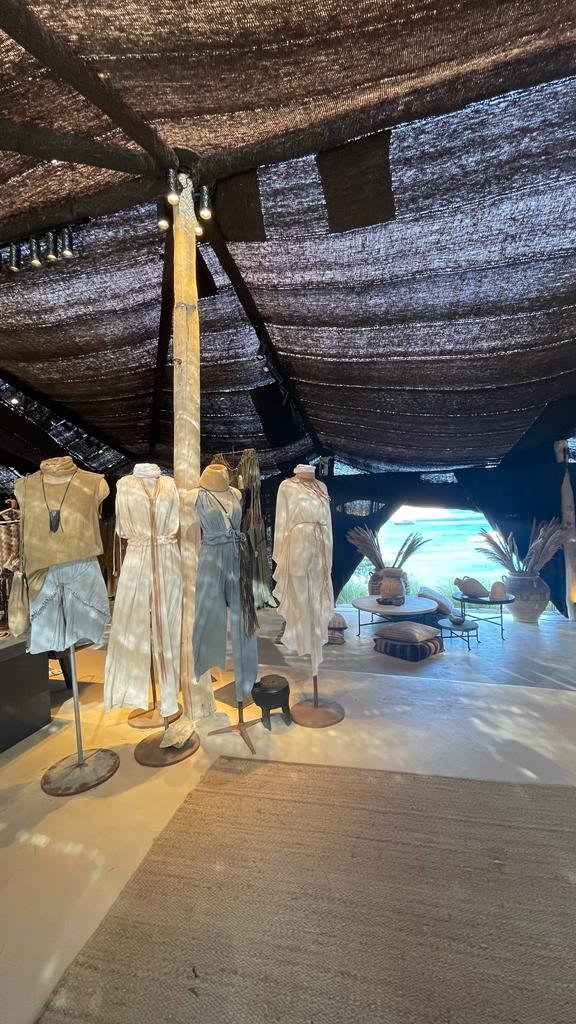 Which is the one place to visit while in Mykonos without which your trip is incomplete?
"Mykonos Little Venice. It is one of the most romantic places in Mykonos. This neighbourhood is carefully situated along the sea with gorgeous old houses that are situated on the edge of the sea. I always have to make a visit here and sit by edge and take it in, without this my trip is incomplete."
Which is your favourite non mainstream clothing and accessory label ?
is your ideal outfit to a day club in Mykonos?
"I love colours and pretty girly clothes. I do not like wide and loose clothing. I prefer clothing that is fitted and compliments me and my body.
I could wear a Caravana Land dress and would absolutely love it! I also wear shorts with swimwear under and platform shoes."
With thatm we conclude the lovely chat with Elena. We loved her personality and have bookmarked her recommendations for Mykonos. Have you?
Written by Parishi Shah Jogani
To know more about the places to visit in Mykonos, visit our city page. For more updates on European cities and fashion follow us on Instagram.