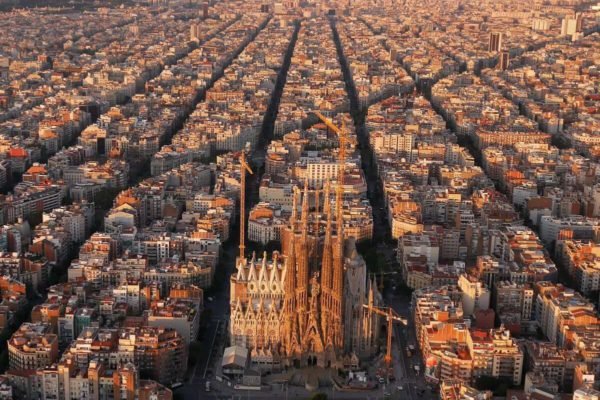 Barcelona has become one of the most famous tourist destination of the world, and rightly so! It is full of history, charm, beautiful beaches and works of modern art like Gaudi, Dali and Picasso strewn across town. Another reason it is so popular with the tourists is because it is known as a city that never sleeps. While the city has enough to entice uncountable tourists year after year, on the other hand it is the locals who know the cities ins & outs and can help create the perfect guide around it to maximise our experience. So, let's have a look at all the "rem-arc-able" places to eat and shop through the eyes of the Bru Sisters. Maria & Marta Bru have lived in Barcelona for a long time, and their blog is a fun guide to local hotspots, fashion, and a monthly agenda on what's new and happening in Barcelona. "Maria Bru is an Experience Specialist and Concierge of the hotel Le Méridien Barcelona (Starwood Hotels & Resorts Worldwide) & Maria is responsible for Marketing and Events at Trovel and a Fashion Advisor."
Barcelona, as you may already know, is home of ZARA, Massimo Dutti, Stradivarius, Sfera and many other labels as well as so many fashionable lesser known boutiques. While the general fashion style of the people here is romantic and flirty, a majority of the people take a keen interest in dressing well and are in sync with the latest trends. Lets explore some of the exclusive places to shop recommended by The Bru Sisters:
Founded during the roaring 20's of the last century, LUPO is a Spanish firm surrounded and inspired by art and mediterranean life. –  Lupo
They make all their high-end leather goods in Spain itself. They are defined by their excellent quality and know-how. You can really see how inspired the brand and its pieces are by the art surrounding Barcelona and it effortlessly blends together the zeitgeist, timelessness, quality and style into one product.
The name literally translates to "the Rings of Lola" and their tag line in "Hoops to live Life". This jewellery brand is very newly developed and has a wide range of hoops and ringed earrings. What i find really cool is – you can customise the earring and add the beads and charms you want to the earring and make them yours.
"Quality, exclusivity, design and perfection guide their entire process. These principles also are the inspiration for this new concept: jewellery as a fashion accessory. Aristocrazy is self-proclaimed as a mentality, a way of living and feeling, a spirit. It represents authenticity, evolution, transformation, transgression and freedom. This innovative perspective, combined with the origins of Aristocrazy, make it an exceptional brand. One that immerses itself in the latest fashions, without forgetting the essence and tradition that make it unique."
A store that "differentiates itself by a very defined concept, exclusivity. The Be concept was born from the need to dress with personality. A place where garments and objects are unique, selected one by one." – Be The Store
This store is conceptualised very interestingly. Firstly, it has something for everyone. You may feel like shopping, dancing, drinking a glass of cava/ freshly squeezed juice, eating and reading a book in a nook in the same premise. Secondly this store is divided into 4 parts – fashion in one part, objects in another, a cafe in another, a cute little backyard nook in another. To sum it up, it is a place where you can endlessly spend time doing your favourite thing.
Thinking Mu became one of the first sustainable clothing brands in Europe. However, at the inception they didn't think to make the brand about sustainability but wanted to make clothing with "common sense", which then evolved in awareness of how important sustainability is. The next step became more control on each step of the production process. And now their entire brand is all about minimal waste, recycling and harmless dyes. They also have an entire collection that is made out of trash, don't worry, not literally trash but completely recycled materials. But this in no way compromises on the look, feel and fashion element of the fabrics. 
If you go on the Instagram page of Style by Bru, you can see that they are really fond of amazing experiences and restaurants all over Spain and that is something to keep an eye out for on their stories. I have handpicked a few out of their recommendations and some of them are:
Renowned Chef Dabiz Muñoz says in the Canibales, who has many high-end experimental restaurants all over Spain, that he has opened a "fast food-style haute cuisine" called GoXO He is well known for his absolutely whimsical, experimental and artistic cuisine. This restaurant will be like a high-end self-served diner with a gastronomical kick to it.
In its initial conception Gatblau had already decided the key principles on which they wanted to build their image and service – "sustainable and healthy cuisine, with local, seasonal, organic and fair trade ingredients" and they set out to do just that without sacrificing their gastronomical ambition.
This is one of the most iconic restaurants in the city. It was founded in 1836 and has been in business since 185 years. It is famous for its traditional rice dishes and Catalan cuisine. – 7 Portes
Stylish cocktail bar with a jazzy vibe & terrace seats, dishing up traditional tapas & rice dishes. – Gats Barcelona It has artistic facade –  a 3 storey building with cats on it and a very cool vibe. A must go! The founder also has some other noteworthy restaurants in Barcelona worth checking out – Gallito, Palmito, Isla Tortuga, Llop & Blue Spot. 
Port Olimpic in Barcelona is known for the nightlife. It has many amazing clubs, the most popular one being Opium, and also a casino. It is super lively and happening until late evening and in the day it is just as picturesque for a beautiful run/walk by the beach. Just close by is the iconic W Barcelona which is a must visit for its amazing views and great music from the rooftop club Eclipse.
Enjoy live jazz, Catalan cava and romantic city views from the rooftop of one of Antoni Gaudi's most famous buildings. Casa Mia is one of the most popular buildings in Barcelona and a live jazz night at the rooftop of this architectural wonder is just what you need to kick of a night in Barcelona. You can also include a dinner to heighten the experience of being in Gaudi's iconic yet controversial creation. More information here. You can also indulge in a full day of culture by taking the Wanderbeak's Gourmet Gaudí Food & Architecture Tour, which is a boutique guided tour with gourmet Michelin-starred food & Antoni Gaudi's modernism. 
Writen by Parishi Shah Jogani