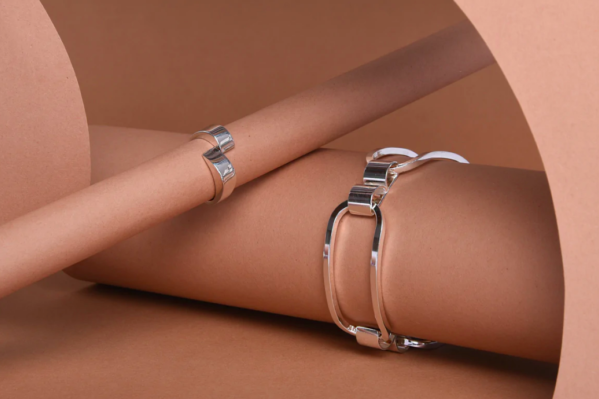 'Behind every successful man is a woman' is one way of saying it. Another is having four women behind a successful jewellery store Studio Collect. Their philosophy is to create simple, yet inventive jewellery with a strong and fresh look.
AISPI had the pleasure of speaking with Saskia Govaerts, one of the four brilliantly creative minds at Studio Collect. Learn more about Studio Collect's success stories firsthand right here!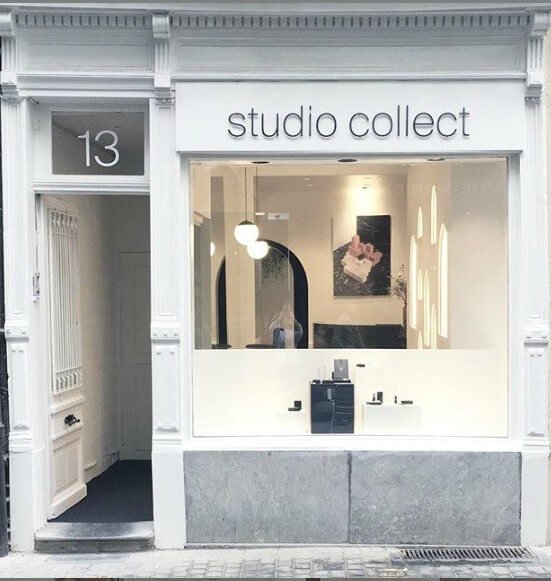 Four women designing jewellery means four beautiful pieces to be worn by women. But that also means four visions. What is the secret to your success for making Studio Collect work?
It is true that each person has her own vision and interpretation but the overall picture is something we all share – same view; same style; same atmosphere. When a collection comes out, it contains a variety of pieces made by all four of us but they all breathe the same atmosphere. It's also probably why our customer base is wide and varied with students, women, working women, and even men.
Can you give us an instance where having a four-woman collaboration added strength, and value to your business?
Design is an area where strength is definitely reflected. Each person has her own individual talent so we make use of that in the jewellery design process. When one focuses on creating big and extravagant pieces which may be her forte, the other focuses on more subtle and refined pieces which may be her positive. We divide responsibilities between us so it becomes a talent pool where everyone contributes their own strengths and the result is what adds value to the business.
What makes your jewellery designs different and unique from the rest?
Our inspiration behind the collection is what makes us stand out, whether that comes from architecture, objects, modernism or brutalism, etc. Some pieces are graphic, some are strict but they all ultimately have the same atmosphere of the collection.
How do you induce an emotional response with your jewellery?
Ultimately, we create something that we would like to wear ourselves but when we are in the design phase, we do have a persona in mind. It could be an image, what that person likes, what they do for a living, or what they'd be interested in wearing. On some occasions, we've even seen a piece designed for an elderly person being picked up by a youngster, the complete opposite target audience. It's interesting and surprising to see who picks out what and who wears what when our work comes to life.
Yellow gold, white gold, sterling silver. Which material is the most popular amongst your target audience?
Right now, gold plated sterling silver. 18k gold would be the top choice but since it is on the higher price range, it unfortunately, is not for everyone.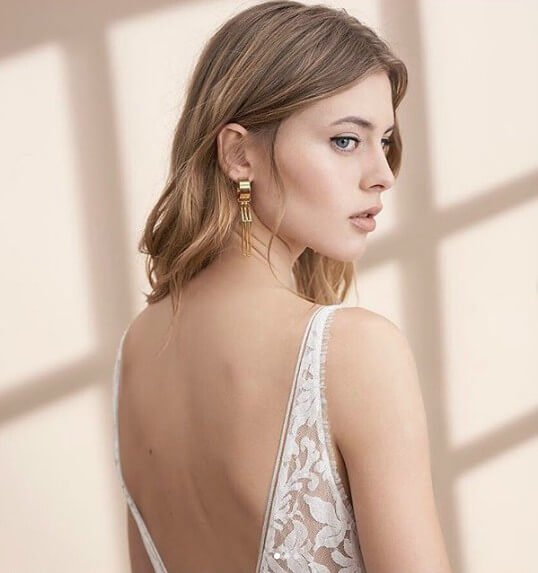 Your philosophy is to create simple, yet inventive jewellery with a strong and fresh look. How do you decide what you want to create?
It is a communication process. We work with mood boards, colors, stones, techniques, shapes, etc. Each person shares their ideas and we create prototypes in silver or brass. This 3d prototype makes it easier to analyze and communicate. We display our tryouts on a huge table and then begin the selection process. This is the crucial point where we decide which pieces reflect our inspiration the most and tell our story the best. It is also the longest because there needs to be a selection of big and small pieces and everything in-between as they need to collectively tell a story.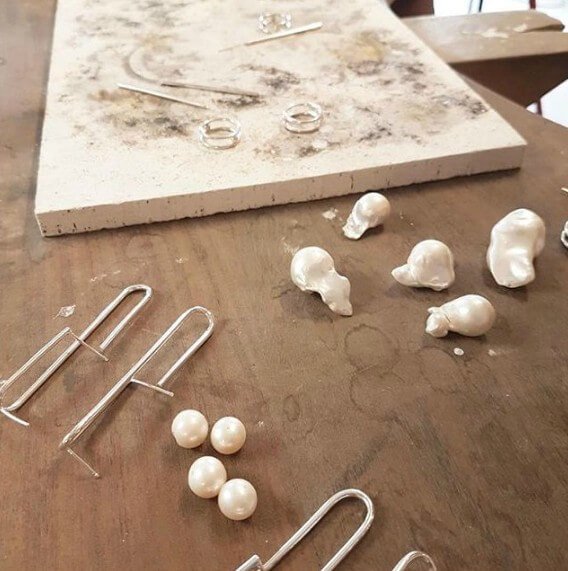 How do you stay up to date regarding fashion? What trends are you currently following in the jewellery sector?
That happens unconsciously. We don't focus on trends in existing jewellery but that also doesn't mean we don't pay attention to what's out there. It does influence us in a subtle way but we don't go looking for it. We have a story we want to tell and the inspiration is born there.
What role do you think social media plays in fashion today?
Social media has a huge impact on fashion. As a designer, it is something we can't avoid and have to participate in as it is an inexpensive way to get your vision across to your target audience. I also like the fact that Instagram and Facebook show a different perspective of jewellery as opposed to a brand website. We can tell the story behind the collection or individual pieces and be sure that it reaches many people. Social media has become the 'IT' tool to get your name out there.
"A shared passion and vision of jewellery design led to their collaboration." Your story is an inspiration for many young blooming designers but may not think they can do it alone. What is your advice to them?
The advice I would give young designers is to look at your personality, think about how you like to work and find the right people to work with. You need to be able to appreciate and respect one another's ideas and suggestions. Everyone has to weigh in their opinions as it gives others a chance to see things from a different perspective. It opens up your mind, challenges you to think differently and not stick to your own perception all the time. The four of us are four individuals but we step forward as one brand and this is what adds value to our brand.
What would say about the work we do at AISPI?
A platform bringing different brands from different cities is a win-win situation for both consumers and designers. The advice you give and the things you share is important for consumers as this will prompt them to visit a website or a store or look them up online, in turn boosting the brand label.
All images are courtesy of Studio Collect.
---
– Interviewed and Edited by Sureka Naven
Did you find this inspiring? Click on more blog posts below, log onto our AISPI website or follow us on Instagram for more stories and fashion discoveries.