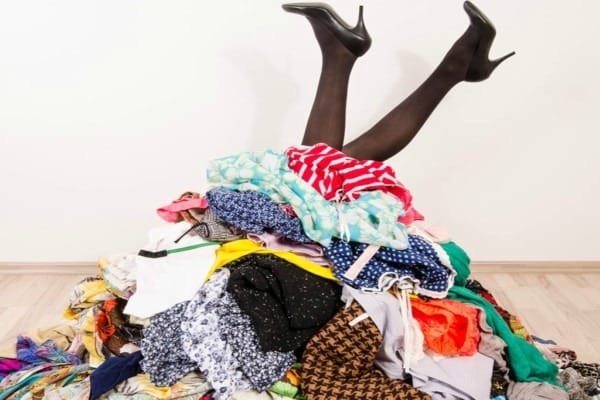 Ethical fashion, a recent sensation is spreading far and wide, reaching the nooks and crannies of the world and rightfully so, due to the integrity it encapsulates. Think about it. You stand for fair trade, decent working conditions, animal welfare and then there is the whole looking out for the planet ethics.
That being said, it can be tricky to shop ethically and sustainably as this lifestyle change comes with its own legitimate battles. We at AISPI totally get it which is why we've provided you with a checklist of the roadblocks and how to speed past them to be a full-on ethical fashionista!
All good things come with a price!
The Problem:
Let's face it. The price tag is always an obstacle between us and any product, irrespective of sustainable or not. But especially in this case, ethically made clothes do come with a higher price tag as opposed to the standard fast fashion stores. You may pay considerably less for the clothing at the latter but this also implies that someone, somewhere is bearing the brunt for it. To ensure that the chain of supply has been treated and paid in fairness, you do have to dig a little deeper into your wallet at checkout.
Our Solution:
Don't let the higher price tag stir you up as it only measures to higher quality clothes that will last longer, however, if you're still not sure about it, there is a tried and tested approach to saving the bucks while shopping ethically. Stop shopping! Not completely though, just stop shopping for half a dozen new items every quarter, and consider buying one or two pieces that you really love and think will pair well with other combinations and accessories. Go for styles that will stay in your wardrobe for years, and don't need to be replaced with each passing season.
Does ethical fashion have to be 'hippy'?
The Problem:
Why ethical fashion wears a 'hippy' name tag is something I'll never understand. I mean don't get me wrong, we love the comfortable flowing top, swanky fringe jackets, and chic denim bellbottoms but if this look doesn't excite you, then this mistaken reputation that ethical fashion carries with it might be disappointing.
Our Solution:
There are a good many number of brands and designers producing a variety of trendy styles which don't necessarily mean gypsy skirts, bohemian dresses, and blouses a couple of sizes over. Another fun thing you can do is revive your wardrobe by assembling interesting combinations with what you already have, creating a completely new and different outfit with your favorite pieces. Don't forget to pair them with your accessories!
Erm, excuse me but I can't find my size.
The Problem:
Ethical fashion – a concept with the right purpose and intent to back it up but a little slow on the size diversity part. Not to say that all ethical brands are dodging manufacturing from petit to plus size, there are some designers taking the range of sizes into consideration. The only solution to this challenge is up to you really.
Our Solution:
On the other hand, a large part of ethical production is less waste. What that means is most brands produce in small quantities, or when an order is placed or to your surprise even make custom clothes. Take advantage of social media and email and connect directly with the brand or designer to achieve change. Exhaust all avenues until product diversity and extended sizing is offered. Additionally, don't pinch pennies on the compliments and likes when you see a brand operating ethically and sustainably in a noteworthy manner. Tweet it, regram it, hashtag it, FB it – simply put, share it to be one step closer to the change you'd like to see.
Are you an ethical fashion brand in all respects?
The Problem:
Being an ethical fashion supporter doesn't mean that you purchase clothing that just says 'eco-friendly' or 'organic', but there are layers to this concept. It is certainly towering and there are one too many values to take into account before approving a brand that checks all your requirements. It's not good enough if you just know how a company manufactures its clothes. You have to start from where the raw materials were sourced from right down to the nitty-gritty of working conditions, minimum wage, animal welfare, etc. It probably will be a mountain of research before every purchase.
Our Solution:
This is an easy fix, what with the internet being a lifesaver and all! You can discover a world of ethical fashion brands on online directories such as The Good Shopping Guide and Ethical Brand Directory. Alternatively, you can follow several pro sustainable fashion bloggers who match your style and values. Get fashion updates, style advice, and expert evaluations on brands and designers straight from the power source. And finally, its not about all or nothing. A small step also counts – do what you feel comfortable with and progress slowly!
Alright you beautiful people, nobody said it will be easy being an ethical fashionista but compared to the damage and unpleasant effects on the environment that comes from fast fashion, the road less taken is the way ahead. And you can create a domino effect by supporting an honest eco-friendly designer. The bright side is that you and I are not alone on this lifestyle change, the fashion industry is continuously marching forward step by step in facing these concerns all guns blazing. As Mahatma Gandhi once said, 'You must be the change you want to see in the world.'
---
– Written by Sureka Naven
Have we inspired you yet? We hope so! Visit us at AISPI and follow us on our Instagram for more motivating topics, rousing designer interviews, and a whole lot of fashion goodness.